National Infrastructure Pipeline value falls due to lack of private sector oil and gas investment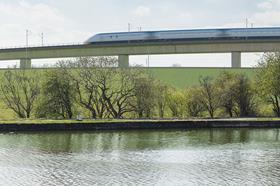 The National Infrastructure Pipeline value has fallen by £2.1bn after being hit by a lack of investment in oil and gas projects.
In an update published by the Treasury today, the total value of the pipeline of infrastructure work stands at £411bn, down from the £413.1bn value for the previous update after taking into account projects which have since been completed.
The Treasury blames the fall in value on a "lower value energy pipeline, caused primarily by falling private sector oil and gas investment".
Across the UK's regions, the North-west currently has the most infrastructure projects in the pipeline with 76 in total, 15 more than London.
It also has the most projects which are active or in construction with 42, which is more than any other region and three more than the capital.
The Treasury says the pipeline update is designed to give "visibility and certainty for investors and the supply chain while also allowing government to work more effectively to ensure that the UK's infrastructure needs are met."
The pipeline includes large capital projects and investment programmes worth £50m or more across communications, energy, flood defences, science & research, transport, waste and water.
The government is also using the pipeline to undertake an assessment of the skills required to deliver the infrastructure plans, which it says will "identify shortfalls or pinch-points in capacity, which could impact delivery."
The findings will be published in a National Infrastructure Plan for Skills in September 2015, which will set out a series of actions and recommendations to drive productivity growth and build the skills required to deliver and maintain the UK's infrastructure.
Building and Barbour ABI host the National Infrastructure Pipeline online at this address.