Contractor to carry out £60m deal at alma mater of Ian Curtis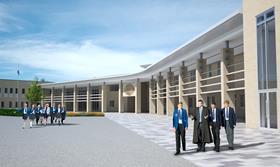 Vinci has won a £60m deal to carry out work at the former Cheshire public school home of Joy Division lead singer Ian Curtis.
King's School in Macclesfield, where fees are £13,000 a year, is spread across three sites which will be condensed into one area with the construction of a 350-room building.
Vinci will also build a sports centre with swimming pool, hall and indoor cricket hub.
Externally, works will include five new rugby pitches, a rounders field, two hockey pitches and six netball courts.
The school has funded the scheme by selling two Macclesfield sites to house builders.
Vinci is joined on the job by Pick Everard, providing design and engineering services, with completion expected in May 2020.
Other former pupils include Curtis's bandmate Stephen Morris, who later went on to help found New Order after the singer's death in 1980, and former England rugby union captain Steve Smith.