National Audit Office says business case for high speed rail line has numerous flaws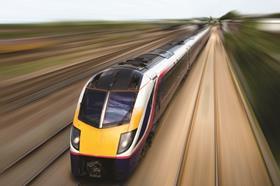 The government's business case for the high speed rail line to the north of England has numerous flaws and project management failings, the public spending watchdog has concluded.
The National Audit Office report found that the evidence for the claimed benefits of the HS2 project, such as the high speed line's ability to stimulate regional growth, still remained unclear over a year after the transport secretary gave the project the go-ahead.
It said the Department for Transport had not put its strategic objectives, including regional growth, at the heart of the management of the project and that it needed to improve its oversight.
The report said it was unclear if the government's business case covered both the first and second phases of the project, which would take the line up to Manchester and Leeds, or just the first phase to Birmingham.
It also said the government's original plan to introduce a hybrid bill into parliament in October 2013 was "overambitious" and its current plan to introduce it in December 2013 was still "challenging".
Margaret Hodge, chair of public accounts committee, said the business case was "clearly not up to scratch".
She added: "There is virtually no evidence in this business case to support claims that HS2 will deliver regional economic growth, one of the key aims and justifications for this project. We have been told that it will deliver around 100,000 new jobs but there is no evidence that all these jobs would not have been created anyway."
The report followed the announcement by HS2 Ltd, the company developing the project, that it intends to bore a 2.3km twin bore tunnel between Castle Bromwich and Washwood Heath, just outside Birmingham.
Eileen Munro, chief executive of HS2 Ltd, said the new tunnel was "less complex in engineering terms" than the original plans to run under the M6 Bromford viaduct.
Transport secretary Patrick McLoughlin said the "did not accept the NAO's core conclusion" because it was based on "out of date analysis" and "does not give due weight to the good progress that has been made since last year".
He added: ""Economic modelling is just the start of the story - if we only relied on modelling we would not have built the M1, parts of the M25 or the Jubilee line extension to Canary Wharf.
"We are not building HS2 simply because the computer says 'Yes'. We are building it because it is the right thing to do to make Britain a stronger and more prosperous place."