Consultant announces wins on major schemes in London, Dublin and Melbourne, Australia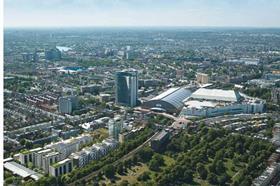 Engineering consultant Waterman has announced several major contract wins ahead of its annual general meeting later today.
At the firm's AGM, chairman Michael Baker will say the firm has been appointed as designers by Capital & Counties Properties (Capco) on three of its mixed-use retail and residential developments comprising almost 120,000 sq ft of space around Covent Garden in London, and also has picked up a role assisting the developer on its masterplan for the 77-acre Earls Court Development (pictured).
The firm has also announced it has been appointed to design the building services on the £96m Joan Kirner Women's and Children's Hospital in Melbourne, Australia, which will be the third largest maternity hospital in the State of Victoria.
Meanwhile in Ireland, Waterman has been appointed for the redevelopment of the Clerys building at O'Connell Street in Dublin, a £50m mixed use scheme for property developer D2Private.
Baker will say: "We have experienced continued growth in our markets during the first five months of the current financial year. The Board looks forward to announcing further progress when our half year results are issued in February 2016.
"I would like to take this opportunity to thank all our staff and shareholders for their continued support and valued contribution during the last financial year.
"We are continuing to recruit and I welcome all the engineers and environmental consultants who have joined Waterman in 2015, during which period we have increased our group headcount by 11% to 1,339."