Wates and Shepherd exchange contracts on buyout deal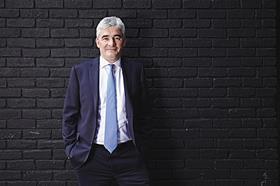 Wates and Shepherd have reached an agreement on a buyout deal for a number of Shepherd's subsidiaries as well as a large number of contracts and strategic frameworks.
In a statement the two companies announced that they had exchanged contracts for the sale of Shepherd Engineering Services (SES), Shepherd FM and a significant number of contracts and strategic frameworks from Shepherd Construction Limited (SCL) to Wates.
Speaking about the agreement Wates chief executive Andrew Davies (pictured) said: "We have exchanged contracts with Shepherd Group to acquire parts of their built environment business. Work continues to complete the transaction and to then transfer and successfully integrate these businesses into the Wates Group."
"The acquisitions make our business stronger and come at a time when we have a very strong order book. I am delighted that we have completed this milestone and look forward to working with new colleagues to build an even better business."
Chairman of Shepherd Group David Williams said: "Having exchanged contracts with Wates Group we will now continue to work together to bring this transaction to a successful conclusion.
"This is an exciting time, both for the businesses and people transferring to Wates and for those remaining with Shepherd Group. We look forward to continuing to pursue our strategy of focusing future investment on the areas of the Group with significant sustainable development opportunities. In particular, the sale will enable us to further develop the UK and European expansion of our successful Portakabin business."
Staff will also be transferred later in the year when the deal is officially confirmed in September.