Wates loses job to build research lab for the university, with Bam Construct now being lined up to takeover the project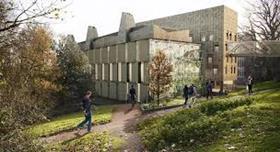 Wates has lost the £30m job to build a new research lab for the University of Exeter, with Bam Construct now being lined up to takeover the project, Building can reveal.
Wates was appointed as main contractor on the university's Living Systems Institute building last year, having beaten of competition from Bam Construct, Kier, Mansell and Interserve for the job.
But Wates has now confirmed it will not continue with the job, with the contractor and the university unable to agree on budget for the £50m project.
Building understands that Bam is now being lined up as main contractor, with the university confirming it was now in talks with Bam.
In a statement, Wates said: "Ongoing discussions failed to find a way to deliver the university's requirements within the allocated budget, therefore the university and the contractor have reached a mutual decision not to continue with the project."
Wates was appointed to the project through the Construction Framework South West in March last year.
The contractor is currently delivering enabling works for the project, which is designed by architect Hawkins Brown, and will cease site activity once these are complete at the end of January.
According to the university's website, main construction work is due to start next month, with completion set for November 2015.
Located on the university's Streatham campus, the centre is set to bring together leading mathematicians, physicists, systems engineers, biochemists, cell and molecular biologists and clinical scientists, to develop strategies for diagnosing and treating diseases.
It will be the first dedicated science building to be developed on the campus since 1968, and will have space for up to 200 scientists and technicians, ranging from postgraduate students to professors.
Its working spaces will include a large open-plan laboratory and dedicated engineering space for large-scale experimental research.
Gary Campbell-Dykes, business unit director for Wates Construction, Southern Home Counties, said: "We have worked closely with the University of Exeter to resolve the outstanding issues however, despite the best efforts of everyone concerned, this wasn't possible.
Hugh McCann, director of estate development at the university said: "We have done all we can to work in partnership with Wates and despite the fact we've been unable to reach an agreement this time, we are parting on very good terms."
Bam declined to comment.