Deal over £429m main Olympic stadium will be announced on Friday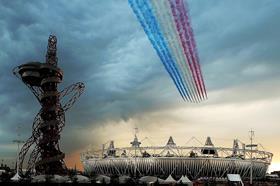 A deal to make the 2012 Olympic Stadium the home of West Ham football club will be officially announced this week, Building understands.
The deal - which has been the subject of lengthy financial negotiations between the club, the London Legacy Development Corporation (LLDC) and Newham Council - is set to see West Ham play its first match in the stadium in 2016 following a number of modifications, including changes to the roof.
The total conversion cost of the job is unknown but has been reported as between £150m and £190m.
Building has spoken to a source close to the deal who has confirmed press reports this morning that West Ham was expected be unveiled as the stadium's main tenant on Friday.
The source said the announcement had been delayed by wrangling over the price of the conversion and who would pay for it.
The source said: "That's what the argument has been about all along. The costs of the conversion will be split between West Ham, Newham Council and the London Legacy Development Corporation."
The conversion of the £429m stadium includes appointing a main contractor plus other packages of work including a specialist steelworks contractor for the roof – a job published on OJEU today.
The plan is to turn the stadium into a "multi-purpose and multi-function venue that will be capable of hosting winter ball sports, athletics, and other sporting and cultural events" many of which are due to take place before West Ham's move to Stratford.
Back in December, West Ham was made preferred bidder following unanimous agreement by the LLDC board.
The LLDC said then that a final deal was dependent on agreeing various issues including finanlising the adaptation of the stadium and a mechanism to protect taxpayers' investment in the venue.
Earlier this month Barry Hearn, the chairman of one of West Ham's rival bidders, Leyton Orient football club, pledged to mount a judicial review over the decision to make West Ham preferred bidder.