Two firms drafted in to help with designs for steel and concrete work on 62-storey Lipton Rogers London tower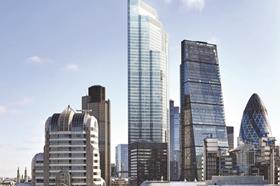 William Hare and Careys have been lined up for two major subcontractor packages on developer Lipton Rogers' massive 22 Bishopsgate tower in London's Square Mile, Building can reveal.
The two firms have been drafted in to help work on designs for the 62-storey scheme's steel and concrete works respectively and in the expectation they will go on to deliver the £40-50m and £30-40m packages should the scheme win planning. A decision by City of London planners is expected on the scheme by the end of the year.
The subcontractor packages are some of the largest in recent years – at 1.4 million ft2 of floor space, the 22 Bishopsgate tower will have similar floor space to the 309m-tall Shard, despite being more than 30m shorter than its neighbour south of the Thames, at 278m.
Building understands William Hare saw off competition from Severfield for the steel work, while Careys beat Byrne Bros for the concrete work, in bid processes for the packages.
Lipton Rogers is assembling a construction team ready to press ahead with construction as soon as planning is awarded, with Brookfield Multiplex lined up as contractor. Brookfield Multiplex is already on site working on a construction management basis during the pre-construction phase, but is set to take over the job at a fixed price once designs are finalised and subcontractors chosen.
The PLP-designed tower – which replaces the ill-fated KPF-designed Pinnacle scheme that had been long-planned for the prestigious site - will be able to accommodate 12,000 people once complete. It will feature a public viewing gallery at the top, next to a two-storey restaurant and bar.
Construction of the Pinnacle stalled in 2012 after Byrne Bros had built just nine storeys of concrete core – earning it the nickname "the stump" – which has now been demolished by Lipton Rogers. The new building, however, will retain the foundations and basements already built for the Pinnacle design to limit the disruption from the new proposal.
WSP Parsons Brinckerhoff is engineer, Alinea is the cost consultant, Aecom is the employer's agent and environmental consultant, Wilson James is providing logistics and DP9 is the planning consultant.
Earlier this year Building reported that Lipton Rogers was undertaking a resourcing review for the project because of the lack of capacity in the London market. This concluded that some smaller elements of formwork might be given to other contractors so the developer could be sure there would be enough dedicated resource to complete all of the work on time.
Careys had not responded to requests for comment by the time Building went to press. William Hare declined to comment.