Retail job continues contractor's relationship with Yorkshire town's council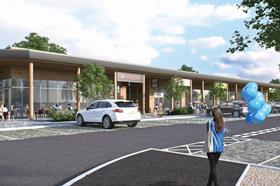 Willmott Dixon has been signed up by Doncaster council to build a £7.7m mixed-use scheme called the Herten Triangle.
The company will be constructing a new retail park (pictured), housing five restaurants and three drive-through units that are expected to host the likes of Costa, TGI Fridays, Taco Bell, Burger King and Dunkin Donuts.
The site was originally planned to be developed by an unnamed private sector developer, which was unable to make the project viable or attract the restaurant brands needed for the area.
Procured through Scape Group's Major Works framework, Willmott Dixon is working with DLG Architects and Rex Procter & Partners as project manager, with completion set for Spring 2019.
Doncaster mayor Ros Jones said: "Since this scheme halted under the private sector developer we have been working hard with the industry to ensure this project is completed.
"In just over a year we have been able to completely turn this on its head, brought in the national and international providers and ensured this can be developed."
Willmott Dixon is already working with the council's housing arm St Leger Homes on a contract to build 41 units in Conisbrough and 25 homes on Warde Avenue in Balby.
The homes will be a mix of two, three and four bed houses and two bed bungalows, also expected to be finished early next year.