Council comes to mutual agreement to cancel £150m highways contract two years early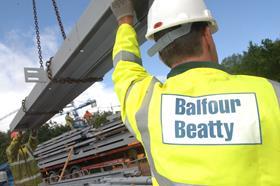 Balfour Beatty and Wiltshire County Council have agreed to end a £150m highways maintenance contract two years early.
The two parties have come to mutual agreement to end the contract in April 2016, two years earlier than the orginal end date.
In a statement both Balfour Beatty and Wiltshire Council said the contract arrangements were "no longer appropriate for either party".
A joint statement said: "A phased transfer plan to minimise disruption to the service is now in place. A number of existing subcontractor agreements will transfer to Wiltshire Council for continuity in major resurfacing, ground maintenance and grass cutting services. The council will now seek a service provider to start a new contract on 1 April 2016.
"In the meantime Balfour Beatty will remain responsible for street lighting maintenance and highways activity such as temporary repair works, paths and cycle schemes, and will continue to work closely with Wiltshire Council."