Workers that fitted out offices for Qatar World Cup organisers have not been paid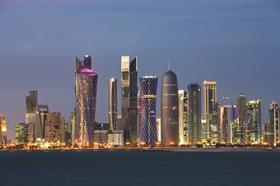 Migrant workers who fitted out the offices for Qatar's 2022 World Cup organisers in Doha have not been paid for more than a year, the Guardian has reported.
A number of workers who fitted out offices for Qatar's Supreme Committee for Delivery and Legacy on the 38th and 39th floors of al-Bidda skyscraper in Doha told the Guardian they had not been paid for up to 13 months' work.
The £2.5m luxury fit-out was commissioned directly by the Qatar government, according to the newspaper, and some of the unpaid workers were earning as little as £6 a day.
The 2022 World Cup award to Qatar has attracted a storm of criticism, sparked by concerns about pay and conditions for the construction labourers in the country and amid bribery allegations surrounding FIFA's decision to award the tournament to the tiny Middle Eastern nation.
A spokesperson for the organising committee confirmed it had been using the offices temporarily and was "heavily dismayed to learn" of the unpaid workers' situation, adding: "We strongly disapprove and will continue to press for a speedy and fair conclusion to all cases."