Helsinki authorities approve €259m Crown Bridges project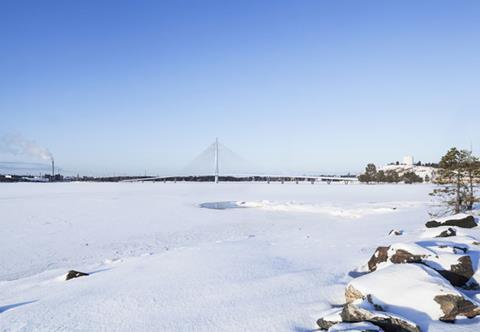 WSP Finland and Knight Architects have won planning for Finland's longest bridge.
Helsinki council approved the €259m (£223m) Crown Bridges project which includes the 1.2km cable-stayed crossing called the Kruunuvuorensilta.
It will carry trams, pedestrians and cyclists between the city centre and the 143ha Kruunuvuorenranta development to the east which will contain 6,000 homes.
Detailed design will now begin, with work due to start on site in 2018 and complete in 2025.
Knight project architect Tom Osborne said the bridge would extend Helsinki's public transport system, significantly reduce journey times, and create an important link to new developments.
"This will be a high-quality, lasting piece of infrastructure, which will be instantly recognisable and synonymous with Helsinki," he said.
He said the design refers to the historic crown ownership of the bay area: the distinctive form of the central 135m pylon of the symmetrical cable-stayed design is a slender diamond with multi-faceted surfaces designed to catch light and shadow during the day and night.
Knight, working with WSP Finland, won the project in competition in 2013.