WSP has won a role on the £50m cardiac wing at Great Ormond Street Hospital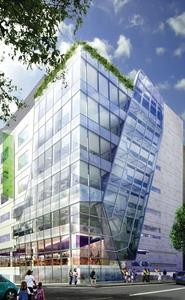 WSP will provide structural and services engineering services, having previously worked with Great Ormond Street Hospital on the detailed design of the Premier Inn Clinical Building, which will complete the Mittal Children's Medical Centre.
The new wing, which will be built by Skanska, is part of an on-going programme to redevelop some of the oldest parts of the world famous children's hospital, replacing outdated wards and providing more space for parents to be with their offspring.
Building revealed earlier this year that Skanska has won the contract to build the new wing, which will offer 116 beds, two integrated operating theatres and a post-anaesthesia care unit.
Completion of the project will be complicated by the fact that it will be delivered in a live hospital environment.
To minimise the effect of the building project on hospital operations, patients, visitors and surrounding residential areas, the team will use techniques that minimise noise, dust and vibration.
WSP's recent healthcare projects include the £167m Alder Hey Children's Hospital, New South Glasgow Hospital and the University Hospital of North Staffordshire.