Engineer WYG is on the hunt for new businesses to acquire to boost its growth as it plots a return to pre-tax profit in the next six months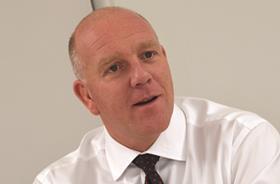 Last week, the firm reported a pre-tax loss of £745,000 in the six months to the end of September, down from a pre-tax profit of £38.7m over the same period last year.
But chief executive Paul Hamer told Building he still expected the business to make a pre-tax profit of £300,000 for the year to April 2013, in line with forecasts.
He added: "The UK region, for the first time in a long time, will be profitable. We expect in the second half [of 2012-13] that the UK will get into positive operating profit.
"We are now actively building an acquisition pipeline and there are a number of targets that are progressing through that pipeline,"
He said the firm would look to acquire "niche" businesses which helped WYG strategically to enter new technology markets such as carbon capture and storage or new geographical regions.
Hamer said he wanted high margin businesses and predicted he could return WYG to margins of between six and seven per cent in most sectors in around three years.
He added that margins for WYG were improving all the time as overhead costs from the firm's restructuring of the past two years, such as old office contracts, expired.
Commenting on the results, Hamer hailed an operating profit before exceptional items of £300,000 as a "milestone in the turnaround of the group".
However, the exceptional items, which included a £1.3m share option cost, pushed the group to an operating loss of £66,000 which combined with finance costs of £679,000 resulted in a pre-tax loss of £745,000.
The firm's revenue fell from £68.5m in the six months to the end of September 2011 to £61.8m over the period. Its revenue in the UK also fell from £35.1m to £32m.
The firm saw revenue in its Eastern Europe business fall from £18.9m to £15.1m over the period but revenue from the Middle East, North Africa and Turkey was flat at £6.7m. Plus, revenue from the rest of the world grew from £700,000 to £800,000.