Exclusive analysis shows one third of homes could be exempt from standard under new government plans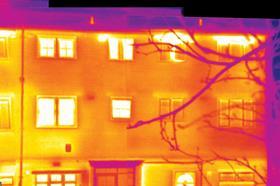 Up to a third of new homes could be exempt from meeting the government's zero carbon standard, under plans outlined this week in the Queen's speech.
In the Queen's speech on Wednesday the government committed to passing the long-awaited legislation needed to set up the "allowable solutions" mechanism, designed to allow builders to offset carbon emissions off-site, seen as the final part of the zero-carbon definition.
However, the government also said that homes built on "small sites" will be exempt from the requirement to meet the zero carbon standard in 2016. The government has not said how it will define "small sites", and has promised to issue a consultation on the level "soon". It already defines schemes of less than 10 units as "minor developments" in the planning system, but a spokesperson for the Home Builders Federation said sites of up to 50 homes would be "a good starting point for the debate" on where the exemption should kick in.
I suspect there has been pull-back on this from the treasury, and I regret that

Andrew Stunell MP, Lib Dems
An analysis, undertaken by construction data company Barbour ABI for Building, of residential planning applications submitted in the last year, shows that 12.4% of proposed new homes are on sites of less than 10 homes.
However, if the bar is set at 50 homes, the analysis shows that over a third – 36.4% – of new homes would be exempt from hitting the full zero carbon standard.
Housebuilding lobby groups welcomed the promise to set out the government's allowable solutions regime, and the proposed exemption for small sites, with the Federation of Master Builders saying it would create "more local homes."
However, environmental groups have reacted angrily to the news, with the UK Green Building Council describing it as "deeply worrying."
The former minister in charge of the zero carbon policy, Liberal Democrat MP Andrew Stunell, also hit out at the proposed exemption. He told Building: "I don't think there is any reason to exempt any buildings from this regime. The whole point of allowable solutions is to give developers the ability to mitigate carbon emissions off-site where it isn't possible on the site.
"This government has said it wants to be the greenest ever, but at every stage there has been pull-back from the Treasury. I suspect that there has been pull-back on this from the Treasury, and I regret that."
Nina Skorupska, chief executive of the Renewable Energy Association, said the announcement was "one of the worst row-backs on green policy of the whole coalition government".