Chancellor says land to be sold as part of £4.5bn austerity drive will include King's Cross stake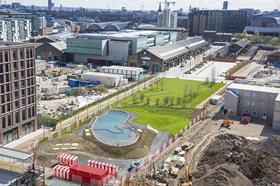 Hundreds of millions of pounds worth of public sector land will be sold off as part of £4.5bn of measures to bring down public sector debt announced by chancellor George Osborne today.
The planned deficit reduction measures, to be made in the current financial year, include the Department for Transport (DfT) selling its share in the King's Cross Central development, as well as the sale of land owned by the communities department.
A DfT spokeswoman told Building the department is looking to sell its stake in the King's Cross Central Limited Partnership which it holds through London and Continental Railways (LCR), and expects to raise £345m from the sale.
Overall the DfT will have to make £545m worth of savings, which includes the sale King's Cross property.
Also in the austerity measures are plans to raise money by selling public sector land owned by the communities department, which comes a week after community secretary Greg Clark set out a target to release public land for 150,000 homes over the course of the parliament. The department will have to make savings totalling £230m.
The Department for Education has also been told to make savings with cuts to the administration of arms' length bodies. It is unclear at this point whether the Education Funding Agency will have its funding cut.
Other planned savings announced today include the government's sale of its £1.5bn stake in Royal Mail, with government departments having to make total savings of around £3bn.