Construction's recovery was always going to bring higher wages and the upward pressure on salaries is almost countrywide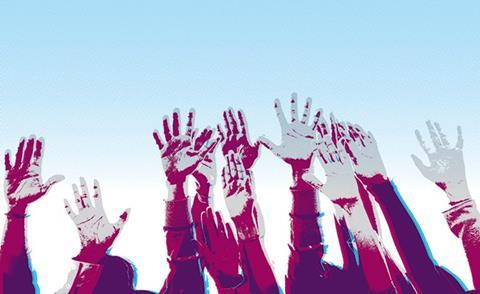 It will be a cause for cheer on the construction sites of Britain, but perhaps less welcome at the Bank of England. The degree to which wage inflation is lagging behind the wider recovery in employment has been the big economic puzzle of the last few months, helping to justify Threadneedle Street's continued refusal to hike the politically sensitive base interest rate.
However, the latest edition of the annual Hays' contractors' salary survey, shown exclusively to Building, reveals that after a half decade of stagnation, construction industry wages are back on the rise. The headline figure shows that average contractors' salaries over the past 12 months rose by 7.4%, which equates to nearly five times the current headline inflation rate of 1.5%. They follow recently published Office of National Statistics figures showing that across the whole industry, earnings were up 4% year-on-year.
And these increases are not being enjoyed in London and the South-east alone - the fillip to the housing market, brought on by the Help to Buy initiative, has rippled out across most of the regions. Only north-east England and Northern Ireland salaries have yet to see an improvement, according to Duncan Bullimore, building division director at Hays Construction.
Hays says the housing market boost has had a knock-on effect on specialist contractors such as cladding, building envelope functions and joinery trades people. With contractors increasingly able to identify a pipeline of work, pressure is on to find staff at every stage of the construction process from planning to on site.
Bullimore says: "There is sustained broad-based recovery of the industry reflected across many roles in many regions. Things are always amplified in London and the South but there is upward pressure on salaries in all areas."
Brian Green, analyst at consultancy Brickonomics, warns that Hays' figures are based on salaries placed by the recruitment agency, and are likely to be involve bigger pay uplifts than those of colleagues who stay put. Yet, the strength of the rebound still paints a rosy picture.
Senior vacancies
The survey contains particularly good news for those in more senior posts. Senior site managers, planners and assistant site managers all enjoyed salary increases of around 10%. Project managers and senior quantity surveyors saw average salary increases of 10.4% and 10.1% respectively, compared to the recruitment consultancy's figures for the previous 12 months.
According to Hays, a shortage of experienced candidates means that they are increasingly able to call the shots when negotiating pay and benefits. The premium enjoyed by relatively senior staff is particularly marked within quantity surveying. While senior quantity surveyors have enjoyed a 10.4% salary uplift over the last year, assistant QSs saw average pay rises of just 2%. The premium on experienced candidates reflects the industry's hollowing out over the past five years.
Bullimore says: "They were the people who were lost during the last recession. If you were over 50 at the start of the last recession, the chances are that you got out if you could."
But it would not make sense for contractors to lure them back, he argues. "It's going to require training and familiarising with new systems when you are only going to get a few years out of them, which is probably not attractive."
The pressure to get staff who are able to contribute to profitability from day one, cuts at the opposite end of the age spectrum too. Bullimore says: "In lean times people disinvest and in times of feast people feel they need to be productive straightaway." It could be three to four years before an apprentice is productive, at which point it is possible that they will be poached by a competitor, he adds.
Things are always amplified in London and the south but there is upward pressure on salaries in all areas

Duncan Bullimore, Hays
With graduate schemes and apprenticeships having stalled during the recession, Bullimore says employers are often taking on assistant QSs with only one or two years' experience. "Assistant QSs are often quite junior. They come out of university with a degree and very quickly find themselves in a role as assistants, so salaries reflect the fact that there are quite junior people in that job title."
Tony Williams, chief executive of consultancy Building Value, believes that contractors will increasingly look abroad to plug skills gaps. He says: "Language is not really a barrier: a Polish surveyor can work on a building site with a few words of English."
But Green argues that this route won't work for the more experienced roles that are in the highest demand. "It's difficult to ship in a project manager from another country who is not culturally aware or even qualified to work here."
In order to attract and retain in-demand staff, the Hays survey shows that contractors are widening the scope of their remuneration packages beyond standard features such as the company car allowance. Increasingly common additional fringe benefits include extra days of annual leave, above statutory minimum pension contributions, and the opportunity to work on CV-enhancing high-profile projects.
Andrea Singh, head of HR operations at Bam Construct, says her company tries to offer this kind of wider benefits package, with features such as BUPA health cover, across its staff. She advises employees to look beyond the headline salary figures when weighing up potentially juicy job offers. "One of the issues we emphasise to employees who are offered apparently attractive packages is to think through the long-term factors. If the project gets cancelled or delayed, the employee needs to consider what the long-term prospects with a new employer are and whether the new employer has a commitment to the individual and their development and future career path."
However, after so many years of deferred gratification during the recession, many employees will take the "jam today" option. And an increasingly tight labour market could have ramifications for the entire structure of the industry. More than half (56%) of employers said their salary bill had grown over the last year, with just 1% reporting the opposite. The power shift between contractors and staff is reflected in Hays' finding that 41% of employers worry about unrealistic salary demands among prospective staff, while 44% say competition from other employers could prove an issue.
Just under two-thirds (65%) of employers say they are concerned the skill shortages will have an impact on their business, 68% expect a shortage of experienced applicants when recruiting, and 41% say a shortage of qualified professionals is a future problem.
Strained margins
Increasing competition for staff will inevitably put additional pressure on margins, which will be painful for those companies still struggling to deliver contracts negotiated during the downturn. "There will be lot of legacy contracts that will be being run at a loss," says Green.
Contractors finding themselves in this boat will find it hard to reward their staff. "Margins are still quite tight across a lot of the industry so it's not like these organisations can be too generous about the level of salaries being offered," says Bullimore.
And as companies become more fragile, they will have to pay more to lure staff to stay or join, fuelling further market turbulence, warns Green. With more than half of employees telling Hays that their current firms are unable to offer sufficient job opportunities, labour issues will give a further spur to mergers and acquisitions.
Williams argues, meanwhile, that the industry will have to tell clients, who expect a good level of finish, they will have to pay more for it. But with the construction industry expected to grow at a 5% per annum rate until 2016, he believes "the golden years are back", meaning it will be easier to adopt this robust position on pricing.
In the meantime, Bullimore thinks that salary levels will start to taper off during the next 12 months as firms get used to more buoyant conditions. He also believes that, once short-term bottlenecks have eased, companies will focus on productivity "rather than making a dash for every candidate on the move".
One route, he argues, to greater productivity is to make more use of off-site methods. This could enable companies to tap a wider pool of potential recruits by drawing on people who have worked in less in-demand disciplines, such as assembly and manufacturing. In this scenario, many construction professionals would have to temper their expectations.
However, the policy makers at the Bank of England will no doubt smile on the industry's revival offering fresh opportunities for the UK's rust belt industrial regions.
Planners' pay 2014
| | Senior planner | Planner | Assistant planner |
| --- | --- | --- | --- |
| North-west | 48,000 | 38,000 | 23,750 |
| North-east | 46,750 | 37,500 | 22,000 |
| Yorkshire & Humber | 47,500 | 37,500 | 24,250 |
| West Midlands | 46,000 | 37,000 | 25,000 |
| East Midlands | 49,000 | 39,500 | 24,750 |
| East of England | 46,000 | 39,000 | 25,000 |
| Greater London | 57,250 | 47,250 | 29,500 |
| South-west England | 46,000 | 42,750 | 25,000 |
| South-east England | 50,000 | 37,000 | 25,000 |
| Scotland | 50,000 | 37,000 | 23,000 |
| Northern Ireland | 42,250 | 33,500 | 22,250 |
| Wales | 49,000 | 39,500 | 24,500 |
| National Avg. | £48,146 | £38,792 | £24,500 |
| Average change 2013 - 2014 | 9.2% | 10.0% | 4.6% |
Quantity surveyors' pay 2014
| | Senior QS | Contract QS | Assistant QS |
| --- | --- | --- | --- |
| North-west | 47,500 | 37,250 | 23,500 |
| North-east | 46,000 | 38,750 | 23,750 |
| Yorkshire & Humber | 47,250 | 38,750 | 23,750 |
| West Midlands | 42,000 | 33,500 | 27,000 |
| East Midlands | 46,250 | 37,000 | 25,000 |
| East of England | 48,750 | 37,875 | 24,750 |
| Greater London | 53,250 | 41,000 | 33,000 |
| South-west England | 46,250 | 39,250 | 27,750 |
| South-east England | 50,000 | 40,500 | 22,250 |
| Scotland | 44,500 | 37,250 | 22,000 |
| Northern Ireland | 43,500 | 33,500 | 22,250 |
| Wales | 47,250 | 36,125 | 22,750 |
| National Avg. | £46,875 | £37,563 | £24,813 |
| Average change 2013 - 2014 | 10.1% | 9.4% | 2.3% |
Contract/project managers' pay 2014
| | Contract manager | Project manager |
| --- | --- | --- |
| North-west | £49,500 | £44,750 |
| North-east | £46,500 | £41,750 |
| Yorkshire & Humber | £48,000 | £45,500 |
| West Midlands | £46,000 | £39,000 |
| East Midlands | £50,500 | £43,500 |
| East of England | £45,000 | £43,500 |
| Greater London | £51,250 | £50,250 |
| South-west England | £46,750 | £48,000 |
| South-east England | £53,000 | £48,500 |
| Scotland | £50,000 | £50,000 |
| Northern Ireland | £43,500 | £39,500 |
| Wales | £46,500 | £44,500 |
| National Avg. | £48,042 | £44,896 |
| Average change 2013-2014 | 9.0% | 10.4% |
Engineers' pay 2014
| | Senior engineer | Engineer |
| --- | --- | --- |
| North-west | 39,500 | 32,000 |
| North-east | 40,500 | 34,000 |
| Yorkshire & Humber | 39,000 | 34,000 |
| West Midlands | 36,000 | 30,000 |
| East Midlands | 38,750 | 31,250 |
| East of England | 35,000 | 29,000 |
| Greater London | 41,250 | 37,250 |
| South-west England | 38,000 | 34,250 |
| South-east England | 39,500 | 35,000 |
| Scotland | 37,000 | 32,750 |
| Northern Ireland | 32,500 | 27,750 |
| Wales | 41,250 | 34,250 |
| National Avg. | £38,188 | £32,625 |
| Average change 2013-2014 | 7.4% | 7.5% |
Health and safety professionals' pay 2014
| | H&S director | Senior H&S manager | H&S manager | H&S adviser |
| --- | --- | --- | --- | --- |
| North-west | 58,000 | 47,000 | 39,125 | 29,750 |
| North-east | 55,000 | 45,000 | 35,000 | 25,000 |
| Yorkshire & Humber | 60,000 | 49,750 | 36,000 | 32,000 |
| West Midlands | 61,875 | 52,250 | 39,000 | 33,000 |
| East Midlands | 63,750 | 48,750 | 41,875 | 31,625 |
| East of England | 65,000 | 48,000 | 37,000 | 29,000 |
| Greater London | 85,000 | 59,000 | 48,000 | 35,000 |
| South-west England | 70,000 | 51,000 | 40,000 | 32,000 |
| South-east England | 75,000 | 55,000 | 46,000 | 35,000 |
| Scotland | 51,000 | 42,000 | 35,000 | 28,000 |
| Northern Ireland | 50,000 | 42,000 | 35,750 | 26,750 |
| Wales | 55,000 | 45,000 | 35,000 | 27,000 |
| National Avg. | £62,469 | £48,729 | £38,979 | £30,344 |
| Average change 2013-2014 | 1.3% | 3.3% | 3.3% | 4.0% |
Site managers' and foremen's pay 2014
Senior site manager
Site manager
Assistant site manager
General foreman
North-west
39,500
37,250
27,000
25,500
North-east
41,000
36,500
25,250
26,000
Yorkshire & Humber
40,750
36,500
27,000
25,250
West Midlands
37,000
34,000
29,000
27,000
East Midlands
41,250
37,500
29,500
28,750
East of England
42,000
36,000
28,000
29,500
Greater London
44,000
41,250
36,500
29,750
South-west England
40,000
35,750
27,750
25,500
South-east England
53,750
40,250
34,250
29,500
Scotland
42,000
38,000
28,000
28,000
Northern Ireland
38,000
33,500
24,500
29,500
Wales
38,500
36,000
24,750
26,000
National Avg.
£41,479
£36,875
£28,458
£27,521
Average change
2013 - 2014
10.1%
9.0%
9.8%
4.5%
Estimators' pay 2014
Senior Estimator
Estimator
Assistant Estimator
Bid Manager
North-west
49,250
41,500
27,750
49,500
North-east
46,000
38,000
25,750
53,250
Yorkshire & Humber
47,500
41,000
25,000
49,500
West Midlands
49,000
38,000
27,000
50,000
East Midlands
49,500
39,500
26,000
49,500
East of England
53,500
40,000
29,750
45,000
Greater London
54,000
45,750
32,750
51,500
South-west England
49,250
43,500
27,000
46,500
South-east England
53,750
44,000
30,000
50,000
Scotland
47,000
39,750
28,000
49,000
Northern Ireland
43,500
34,250
26,250
43,750
Wales
50,250
39,000
27,000
46,125
National Avg.
£49,375
£40,354
£27,688
£48,635
Average change
2013 - 2014
5.1%
6.3%
4.3%
4.6%