Wage inflation among contractors may have slowed in the past year, but it's still a pretty good time to ask for a pay rise. Will Mann examines the latest salary survey from recruiter Hays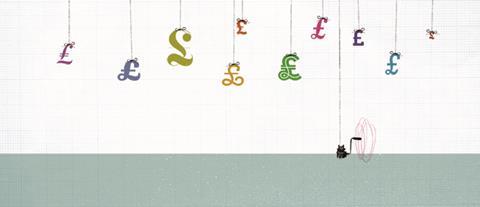 Construction salaries are continuing to climb at a rate way beyond the dreams of workers in other industries.
The latest annual Hays contractors salary survey, published exclusively by Building, shows average pay rose by 5% over the past 12 months – less than the 7.4% leap reported a year ago, but still more than double the 2.3% average increase across the recruiter's other industry sectors.
Hays building division director, Duncan Bullimore, feels the wage growth of the past year has been "more measured" compared to the "mad dash for staff" of a year ago – but sees no reason why it will cool down.
With the industry through the recovery and enjoying a boom, and with more and more hungry sites to feed, contractors are paying as much as it takes to recruit the best workers – with one firm reporting site-based staff jumping ship after offers to double their salary.
Site management roles, at all levels, have experienced the best pay rises over the past year, as was the case in 2014. The salaries of senior site managers climbed 10.1% on average in 2014, and have since jumped another 7% to £45,667. Assistant site managers saw their wages climb 8% to £31,875 – the highest rise of any role in the Hays survey – after a 9.8% increase in 2014.
The figures tally with contractor Willmott Dixon's experience. "On average, the increase has been over 7% across our main site management operations roles over the past two years," says Rick Lee, group chief HR officer. "Demand is outstripping supply and strong technical expertise is difficult to find."
Similarly, Dawn Moore, Morgan Sindall's HR director, says rivals are offering exceptionally high, one-off salaries to tempt site management staff. "There have been cases where other contractors offered to double a site manager's salary," she says. "Often these are to manage troubled projects."
The issue of problem legacy contracts, a hangover from the recession, cropped up in last year's survey – though Bullimore thinks that these jobs "have largely been completed".
"The difficulty now for contractors is the sheer number of sites to manage," he says. "When you've got one or two big sites, they're quite easy to run. When you have multiple sites, which is particularly the case in London's housing market where there are lots of smaller plots, you need more staff."
Bullimore says the "huge salary carrots" are the exception rather than the rule: "It's something we see from ambitious SMEs mainly – the big boys don't do it because it would upset their pay structure."
The best region of the country for big pay rises, as might be expected, is London. A senior site manager in the capital can now expect to earn £60,000 – 36% more than a year ago. Contract managers received a 24% pay rise to £63,000. One of the best paid jobs in the industry is a London-based health and safety director, whose average salary is £90,000.
The capital construction boom has led to "a lot of churn," says Moore. "Some might say that's always been the case, but recently it has become particularly pressurised."
London will only get hotter, Bullimore believes, with finite resources pushing wages even higher. "Plenty of contractors are not bidding for work there, for fear of not being able to deliver due to staff resources or because their supply chain do not have enough capacity," he says. "The pay gap between London and the rest will undoubtedly grow in 2016."
Staff benefits
Salary inflation has prompted many contractors to boost their staff benefits. The Hays survey showed some 72% of contractors provide a company car or allowance, 45% offer over 25 days holiday a year, and 37% accommodate flexible working. Among employees, car or allowance is the highest attraction (valued by 53% of respondents), with annual leave second (49%), flexible working third (39%) and an above average pension contribution fourth (34%).
Morgan Sindall is considering the introduction of holiday trading and self-service benefits with employee discounts", says Moore.
Willmott Dixon has enhanced its private medical cover and improved its holiday offering. "We have also introduced a personal learning fund for employees with over five years' service," says Lee.
Both firms stress the career development they offer compared to smaller players and Moore believes "new entry talent is looking for more than just the base salary".
But with an ongoing skills shortage – 80% of employers who plan to recruit next year expect a shortage of suitable candidates – contractors may have to think outside the box with their recruitment strategies. "Will companies be more prepared to take on people based on core competencies and then develop their skills?" asks Bullimore. "Laing O'Rourke, for example, has recruited people from an architectural technician background for roles in digital engineering or offsite construction."
Moore says the "key to recruitment success is accessing the biggest possible pool of talent possible, so we are looking at groups such as ex-offenders and women returners".
Willmott Dixon is prepared to go outside construction. "We are looking at developing a conversion course to support career changers from other industries such as oil and gas, the armed forces and accountancy and finance," says Lee.
In the meantime, all the data points to 2016 being another year of high wage inflation in contractors. Business confidence is sky-high across the industry, with 75% of employers surveyed by Hays anticipating activity levels to increase in the year ahead, 86% planning to recruit more staff, and 67% expecting to increase salaries again.
"The indicators are that demand next year will be even stronger, led by housing – where there was a bit of drag this year around the election – and offices," says Bullimore.
And as the industry grows, staff want their slice of the cake, so there's no sign the high turnover will end any time soon. Over half of employees surveyed stated they were not satisfied with their current salary, with 58% saying they were looking to move roles in the next 12 months. The main reason for doing so, according to 35% of these respondents, was the salary and benefits package.
Methodology
Recruitment firm Hays consulted candidates and clients and used the specialist knowledge of recruiting experts to compile this survey. The salary data was gathered during 2015 from Hays offices across the UK, based on job listings, job offers and candidate registrations. The survey results are based on a survey of just under 2,000 contractor employers and employees. Salary data and benefits survey results were collated in August and September 2015.

Construction (Operational functions - site management)
| Region | Senior site manager | Site manager | Assistant site manager | General foreman |
| --- | --- | --- | --- | --- |
| East Midlands | £45,000 | £41,000 | £34,000 | £30,000 |
| East of England | £44,000 | £39,000 | £29,000 | £30,000 |
| London | £60,000 | £46,000 | £40,000 | £33,000 |
| North-east England | £42,000 | £39,000 | £28,000 | £28,000 |
| North-west England | £43,000 | £40,000 | £32,000 | £28,000 |
| Northern Ireland | £39,000 | £36,000 | £26,000 | £32,000 |
| Scotland | £45,000 | £40,000 | £33,000 | £33,000 |
| South-east England | £57,000 | £46,000 | £37,000 | £33,000 |
| South-west England | £45,000 | £40,500 | £32,000 | £28,000 |
| Wales | £42,000 | £38,000 | £28,500 | £28,000 |
| West Midlands | £41,000 | £39,000 | £33,000 | £30,000 |
| Yorkshire and the Humber | £45,000 | £40,000 | £30,000 | £28,000 |
| National average | £45,667 | £40,375 | £31,875 | £30,083 |
| 2014-2015 change | 7% | 6% | 8% | 6% |

Quantity Surveyor
| Region | Senior QS | Intermediate QS (Contract QS last year) | Assistant QS |
| --- | --- | --- | --- |
| East Midlands | £50,000 | £37,000 | £27,000 |
| East of England | £51,000 | £41,000 | £28,000 |
| Greater London | £60,000 | £40,000 | £34,000 |
| North-east England | £46,000 | £40,000 | £26,000 |
| North-west England | £48,000 | £40,000 | £26,000 |
| Northern Ireland | £45,000 | £38,000 | £27,000 |
| Scotland | £47,000 | £35,000 | £23,000 |
| South-east England | £57,000 | £43,000 | £31,000 |
| South-west England | £50,000 | £40,000 | £28,000 |
| Wales | £48,000 | £40,000 | £25,000 |
| West Midlands | £46,000 | £40,000 | £29,000 |
| Yorkshire and the Humber | £52,500 | £42,000 | £24,000 |
| National average | £50,042 | £39,667 | £27,333 |
| 2014-2015 change | 5% | 3% | 6% |

Estimator on-site
| Region | Senior estimator | Estimator assistant | Estimator |
| --- | --- | --- | --- |
| East Midlands | £63,000 | £44,000 | £27,000 |
| East of England | £61,000 | £40,000 | £31,000 |
| Greater London | £55,000 | £42,000 | £35,000 |
| North-east England | £52,500 | £44,000 | £26,000 |
| North-west England | £53,000 | £37,500 | £29,000 |
| Northern Ireland | £46,000 | £40,000 | £29,000 |
| Scotland | £49,000 | £38,000 | £28,000 |
| South-east England | £50,000 | £42,000 | £30,000 |
| South-west England | £51,000 | £40,000 | £28,000 |
| Wales | £56,000 | £46,000 | £28,000 |
| West Midlands | £46,000 | £44,000 | £27,500 |
| Yorkshire and the Humber | £50,000 | £45,000 | £25,000 |
| National average | £52,708 | £41,875 | £28,625 |
| 2014-2015 change | 6% | 3% | 3% |

On-Site Engineers
| Region | Senior engineer | Engineer |
| --- | --- | --- |
| East Midlands | £40,000 | £34,000 |
| East of England | £39,500 | £33,000 |
| Greater London | £48,000 | £40,000 |
| North-east England | £45,000 | £38,000 |
| North-west England | £45,000 | £35,000 |
| Northern Ireland | £33,000 | £28,000 |
| Scotland | £45,000 | £38,000 |
| South-east England | £42,500 | £38,000 |
| South-west England | £40,000 | £35,000 |
| Wales | £42,000 | £35,000 |
| West Midlands | £36,000 | £32,000 |
| Yorkshire and the Humber | £44,000 | £38,000 |
| National average | £41,667 | £35,333 |
| 2014-2015 change | 6% | 6% |

Contract/Project Manager
| Region | Contract manager | Project manager |
| --- | --- | --- |
| East Midlands | £54,000 | £44,000 |
| East of England | £50,000 | £63,000 |
| Greater London | £63,000 | £48,000 |
| North-east England | £48,000 | £57,500 |
| North-west | £54,000 | £47,000 |
| Northern Ireland | £44,000 | £52,000 |
| Scotland | £50,000 | £47,000 |
| South-east England | £62,000 | £45,000 |
| South-west England | £54,000 | £42,000 |
| Wales | £52,000 | £47,000 |
| West Midlands | £50,000 | £55,000 |
| Yorkshire and the Humber | £51,000 | £40,000 |
| National average | £52,667 | £48,958 |
| 2014-2015 change | 7% | 4% |

Health and Safety Professionals
| Region | H&S director | Senior H&S manager | H&S manager |
| --- | --- | --- | --- |
| East Midlands | £70,000 | £52,500 | £44,000 |
| East of England | £65,000 | £48,000 | £37,000 |
| Greater London | £90,000 | £65,000 | £52,000 |
| North-east England | £55,000 | £45,000 | £35,000 |
| North-west England | £60,000 | £49,500 | £42,000 |
| Northern Ireland | £50,000 | £42,000 | £36,000 |
| Scotland | £51,000 | £42,000 | £35,000 |
| South-east England | £75,000 | £55,000 | £46,000 |
| South-west England | £72,500 | £52,500 | £41,500 |
| Wales | £57,500 | £46,500 | £36,500 |
| West Midlands | £65,000 | £55,000 | £42,500 |
| Yorkshire and the Humber | £65,000 | £51,000 | £38,000 |
| National average | £64,667 | £50,333 | £40,458 |
| 2014-2015 change | 3% | 3% | 3% |
Find out which firms have been judged the industry's top 50 most people-friendly employers – and what makes them so highly rated by both Building's judges and their own staff. Read the Guide at www.building.co.uk/goodemployer