With its original cost nearly doubled to £2.3bn, the almost decade-late World Trade Center Transportation Hub will become the world's most expensive station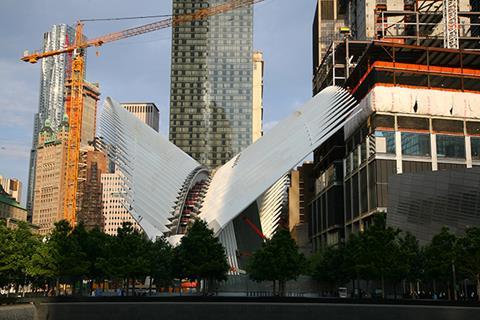 2016 is set to be the year that several long-delayed projects finally complete, and others will hopefully get off the ground. Building's look at some of the highlights to come in the year ahead looks at the World Trade Center Transportation Hub.
New York, USA
If 2016 is the year that many successively delayed projects are likely to come to fruition, few will come with a programme or budget as myopically bloated at this one. The original cost of £1.3bn has almost doubled to £2.3bn making this officially the world's most expensive station. Moreover, the litany of delays that the station has suffered since its original scheduled 2007 opening means that its expected final completion early this year will be almost a decade late. The reasons for these delays are mired in controversy but Santiago Calatrava's extraordinarily complex and intricate design, significantly scaled back from its initial form, as well as persistent contractual, political and organisational difficulties are the most popular culprits amongst the American media. However, once fully complete the station will doubtless be a spectacular and inspirational work of architecture. With its twin winged canopies thrusting skywards from a ribbed steel and glass cage, it will form a poignant metaphor for the bittersweet aura of rebirth and hope that haunts the World Trade Centre site.