The companies in the communication category include AA Projects and Alinea Consulting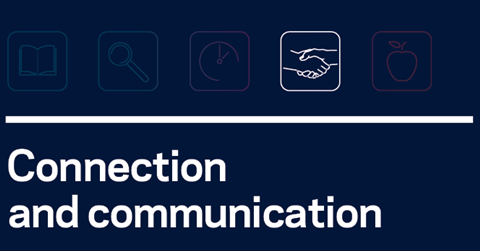 Building Award nominee: AA Projects - consultant
MBO connection and communication initiative
AA Projects has a long-term strategy to raise the voices of employees and since its management buyout (MBO) has put dialogue with staff at the heart of the process by launching a connection and communication initiative. All staff were involved in the initiative, especially as 20% of them received a promotion as a result of the MBO. The firm has a shadow board, which provides a formal route for staff members to propose changes and strategies, and submits those proposals to the executive board for consideration. The annual staff conference includes a "vision" meeting when staff engage with and workshop new initiatives. Each sector allows staff to "invest" in its development, and monthly sector meetings are open to all. Financial reports and growth plans are available on the intranet to empower staff to make proposals based on a full set of data.
What the staff say:
"The prospect of an MBO, especially in a small organisation, can create a lot of consternation. What was amazing was the transparency of the business and how we felt like we were on board with the change.

"The constant communication engendered trust among staff, helped by the number of routes in which we could talk openly about the change. I had a meeting with my line manager, and we could freely talk with the outgoing team and senior staff. We were consulted through staff surveys, at the staff conference, in office meetings, emails and on our intranet site."
Building Award nominee: Alinea Consulting - consultant
Creating a culture of innovation
Over the past year, Alinea has moved to create a culture of innovation, which it says is driven by a desire to push the world of cost consultancy forward. This initiative was launched at its conference in 2017, where ideas were generated through open group discussion and "ideas boxes" were placed around the conference venue. The firm says it is taking a transparent approach to business planning and giving workers the chance develop the prioritised innovation ideas in its 2018/19 business plan. A five-minute presentation of an "innovation droplet" is held every week, which usually considers different ways of doing things in other industries in order to spark creative thinking. Alinea also recognises that millennials may think in different ways and is looking at how to integrate this thinking.
What the staff say:
"Regular 'innovation droplets' are presented to the business at weekly team meetings, drawing inspiration from sources both within and outside the construction industry. This is a new and refreshing approach, which has inspired me to reflect on my activities to consider what could be done to better our services.

"At the 2017 staff conference, a thought-provoking presentation on innovation was delivered to the business, evoking the question: how can we do things better? Although an open-ended question, Alinea's innovation team had identified a suitable plan of action to address the question."
Assael Architecture - architect
Connectivity
Assael calls communication and connectivity the backbone of its success. On launching its five-year business plan last summer, directors presented the strategies and objectives to the entire office. The building's open-plan layout means senior staff are approachable. Friday drinks foster a sense of community and a chance to announce successes.
What the staff say:
"Social events have provided me with a fantastic opportunity to not only integrate with my colleagues, but also to gain confidence in approaching clients, networking and articulating my opinions. I've been fortunate enough to help organise numerous events including a charity Mexican lunch."
BTPW Partnership - architect
Key decisions
BPTW says all staff are involved in making key decisions and are given the chance to develop their leadership skills by involvement in strategic and operational business groups. Workers are encouraged to offer feedback through informal team meetings, regular appraisals, the firm's business strategy day, the staff satisfaction survey and an online suggestion box.
What the staff say:
"I have been a member of the charity committee for almost a year and a half. It is rewarding to be part of a team responsible for the practice's corporate social responsibility and giving something back to our local communities. I enjoy having an influence over the allocation of BPTW's charity budget."
Doig+Smith - consultant
Steering group
The company has invested in a new management strategy programme and a head of marketing and communications for the first time. It has also formed a business development steering group with carefully selected members of staff to enhance communication throughout the hierarchy, which presents on a regular basis to the board.
What the staff say:
"I believe Doig+Smith are an employer that effectively communicates and connects with its staff. I was asked to join the business development steering group, which reports directly to the board. This has made me feel connected to the business and I am proud to be part of the group."
ECD Architects - architect
'Focus' initiative
ECD says its "Focus" initiative has unified staff from different parts of the group to see themselves as part of a single entity rather than just companies acting under the same ownership (N-Able Group). It has also worked to implement consistent core values, saying: "What we didn't want were values that appeared on paper or the website but were not lived."
What the staff say:
"Working for ECD Architects has been very much like being a part of a family. The company ethos of providing a thoroughly professional service for our clients is complemented by the positive attitude towards the training and welfare of staff, where all are helped and encouraged to develop and grow."
Elliott Wood - engineer
'A better society'
Elliott Wood has focused on internal communication with staff and external communication with clients, key stakeholders, the built environment industry and the public. Its company event in 2017, "Our Future", unveiled its vision to "engineer a better society". It organises charitable events and is also involved in a number of Open House projects.
What the staff say:
"The Open House families event at Here East was an awesome chance to inspire the next generation, providing activities that allowed children to play with structural concepts and get stuck into building! As part of my contribution to the Elliott Wood team I created a 'design playground'."
HLM Architects - architect
100 Day Plan
When the structure of the firm's board changed, the new board held open studio sessions to gather feedback, followed by a "culture capture" survey. Everyone was asked to contribute and suggest changes to planning to strengthen HLM's approach. Through this the board developed its first 100 Day Plan, which it reported back on.
What the staff say:
"I find HLM a very open and staff-oriented organisation, where I instantly felt at home. It's only been a few months since my arrival; however, it feels like I've been part of the team for years already. Everybody is welcoming and open to new people and new initiatives."
Keegans - consultant
Clear core values
In 2017, the N-Able Group of companies refreshed and simplified a set of shared core values that were seen in everyday operations across the group. To arrive at an agreed set of core values, the group involved all staff in the process. It has also established a social and charity committee with a member from each team in the business.
What the staff say:
"Events, such as knowledge cafes held quarterly, provide information about the business as well as updates on industry standards. I have also had the opportunity of attending an away day with the directors and partners where information on how the business is being developed was discussed."
Solomons Europe - consultant
Encouraging talent
Solomons puts great focus on developing the talents of its employees and states that management's connection with individual team members and effective communication at all levels remains a vital and enabling factor in this commitment to talent. As a result, directors on the board have been appointed at an average age of 30.
What the staff say:
"Solomons is a great place to grow and develop, both professionally and personally. For the first time in my career I've felt I have been able to use my skills, experience and initiative. Joining Solomons has turned out to be a great decision for me."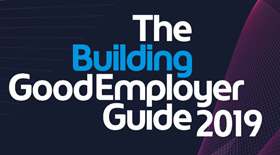 Are you a good employer?
The process to find the winner of next year's Good Employer Guide Award will begin in June 2019.
If you would like to be considered in next year's survey please register and we'll contact you when the process begins: www.building.co.uk/GEG19
Contact carolyn.leftly@building.co.uk if you require further information.