These 10 companies have been chosen by our judges as the best entrants from each of the five Good Employer Guide award categories. They have been nominated to be the overall winner of the Good Employer Guide award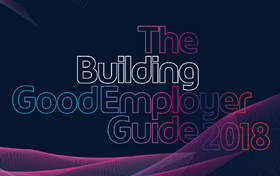 These 10 companies have been chosen by our judges as the best entrants from each of the five Good Employer Guide award categories. They have been nominated to be the overall winner of the Good Employer Guide award. The winner will be announced at the Building Awards on 6 November. In alphabetical order, the nominees are:

AA Projects
Nominated: Connection and communication
AA Projects has been shortlisted for the positive way it has included staff in the process of its management buyout. The firm circulated regular reports, ran meetings, co-ordinated a shadow board of employees and the company intranet. The impact is exemplified by a worker who said: "Openness has made me feel valued, allowed me to grow in my knowledge of the organisation and how I can contribute."
Alinea Consulting
Nominated: Connection and communication
Alinea, last year's runner-up in the Guide, has been shortlisted for its work promoting a culture of innovation. Ideas sharing has yielded many successful suggestions and empowered workers. The Alinea Forum, networking and knowledge sharing events for young professionals, commits to helping the whole industry benefit from innovation. Staff also receive a generous 30 days of holiday and 80 hours of training.
Assael Architecture
Nominated: Wellbeing
Assael Architecture was the overall winner of the Guide in 2017 and 2015, and a finalist in 2016. The practice has founded industry initiative the Architects' Mental Wellbeing Forum. With an impressive flexible working policy, an office designed around wellbeing, a focus on physical health and a very strong maternity and paternity package, Assael truly demonstrates best practice for staff wellbeing.
Berkeley Homes
Nominated: Recruitment, outreach and inclusion
As part of the Berkeley Group, one of the UK's largest housebuilders, Berkeley Homes has created REACH, an industry-leading programme to offer apprenticeships across 14 disciplines, which receives around £1m annual investment. Especially impressive is the firm's work with the CITB and the Building Crafts College in Stratford, London, to set up a fitted interiors course.
Graham
Nominated: Wellbeing
Graham has been shortlisted for its work to become an industry leader in wellbeing with the CONNECT personal development programme, in which it has invested £3.3m over a three-year period – it was created in response to employees highlighting how important wellbeing was to them. Overall benefits include sabbaticals, private healthcare and enhanced maternity and paternity leave.
HLM Architects
Nominated: Flexible working and parental policies
HLM Architects has an exceptional approach to flexible working and parental policies. A standout element is the option of a nine-day fortnight, which has proved extremely popular, but the company runs a range of measures designed to fit in with workers' lives, meaning that valued members of staff stay when they may otherwise have left and a wider pool of potential workers is available.
NG Bailey
Nominated: Training initiative
NG Bailey is shortlisted for its wholehearted introduction of the LEAP training programme for managing people, which has improved the lives of managers and their staff alike. The firm showed its commitment to staff development by spending £250,000 on creating training and lining up a further £500,000 to continue with the programme, the influence of which works long after the two-day course.
Rider Levett Bucknall
Nominated: Training initiative
Rider Levett Bucknall's Global Experience Exchange Programme is not a traditional education course, but the chance for some of its employees from 120 offices across the world to work at offices in other countries and exchange examples of best practice, sharing knowledge on their return. The scheme is attractive to new entrants and present staff alike and allows international colleagues to forge closer ties.
Severfield
Nominated: Recruitment, outreach and inclusion
Severfield has set a great example in taking control of its recruitment. The steelwork firm overcame difficulty attracting staff at its rural head office in North Yorkshire by taking the bold step of hiring workers with no previous experience and training them on a fast-track programme. This has given local people new careers with greater opportunity and the number of female employees has increased by 300%.
Telford Homes
Nominated: Training initiative
Telford Homes made it through to the shortlist for working to tackle the sector-wide problem of an ageing workforce. Its Careers Under Construction project gives entrants the chance to gain a degree-level qualification and it is flexible about academic entry requirements – there is also no upper age limit for participants and they receive one-to-one support from skilled mentors.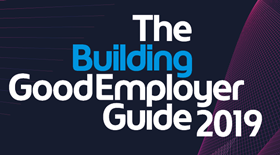 Are you a good employer?
The process to find the winner of next year's Good Employer Guide Award will begin in June 2019.
If you would like to be considered in next year's survey please register and we'll contact you when the process begins: www.building.co.uk/GEG19
Contact carolyn.leftly@building.co.uk if you require further information.
Building Good Employer Guide 2018
1

2

Currently reading

Building Awards 2018: Nominees for the inaugural Good Employer Guide Building Award

3

4

5

6

7

8

9

10