An embassy, a giant greenhouse, a metropolitan retail redevelopment, a Scottish museum and a totemic tower. Ike Ijeh rounds up the year's architectural excitements. Read part two here
Architect: Kieran Timberlake
Contractor: Sir Robert McAlpine / BL Harbert International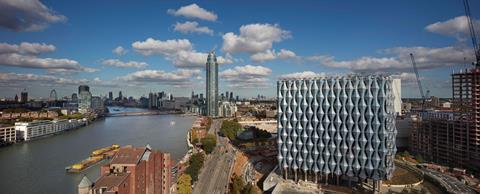 In the end, despite much rumour and anticipation, President Trump didn't turn up for the opening of the new US embassy in January. But even without his volatile presence, the embassy – built in Battersea's redevelopment quarter, Nine Elms – still suffered more than its fair share of controversy in the run-up to completion. Finishing over a year late and with costs spiralling up to an estimated $1bn (£784m), the project was lambasted not only by the US house oversight committee but also, famously, by the present incumbent of the Oval Office, who brought the full weight of his real estate experience to denounce it in unwittingly prescient language as a "bad deal" in an "off-location."
Despite the president's ire, the new embassy – America's largest-ever diplomatic mission – marks a milestone in consular architecture and is a game-changer when it comes to the challenge of designing discreet security measures for sensitive, high-profile urban sites. Sadly, in a year that saw yet another attempted terrorist attack on Westminster, this is a challenge becoming ever more pressing. The genius of the US embassy is the way it uses soft landscaping and water features to form a protective barrier around the building, free of the usual fence and checkpoint paraphernalia one might expect around such a sensitive site.
Admittedly, the building's articulated glass block exterior has hardly set the world alight. And the massive surrounding Battersea regeneration for which it has formed a highly effective catalyst is still more pilloried than praised. But the US embassy's revolutionary strategy of using security to enhance rather than constrain public realm has the potential to resonate powerfully, not just on this site but hopefully on countless others for many decades to come.
V&A Dundee, Dundee
Architect: Kengo Kuma & Associates
Contractor: Bam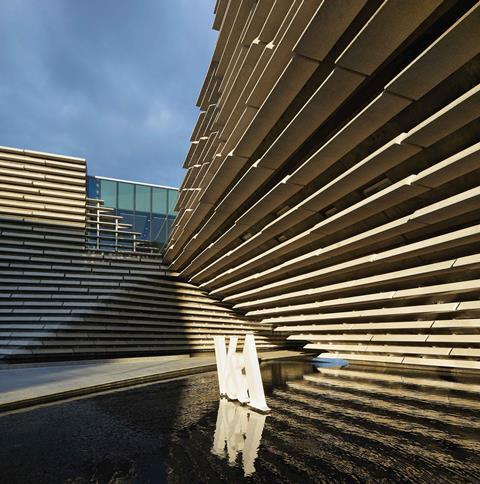 The extension of the Royal Academy may have been London's landmark cultural project of the year, but for the country as a whole that title undoubtedly goes to the opening of the long-awaited V&A Dundee.
The two buildings take very different approaches. David Chipperfield's Royal Academy overhaul deploys an intricate approach to its rearrangement of spaces that results in enhanced but untouched historic frontages; it is a discreet curatorial reshuffle in an affluent neighbourhood of a rich city that in a civic sense, barely resonates beyond its external walls.
Kengo Kuma's V&A is the opposite: an extraverted, operatic statement by a stellar international architect conspicuously designed as much to entice and enthral the public gallery beyond the building as to accommodate the museum galleries within it.
In so doing the V&A Dundee unashamedly seeks the "Bilbao effect": that hallowed synthesis of culture and regeneration that has been the knee-jerk municipal prescription for depressed post-industrial neighbourhoods in cities across the world for the past 20 years – with varying degrees of success. But at Dundee, happily, the omens look good.
The building is unquestionably spectacular, with its craggy rock faces leaning precipitously over both city and harbour like a pile of giant boulders washed up on the shore. But this is not empty-gesture architecture: the form is a direct reference to the cliff-like topography of the north-east Scottish coast, and the building acts as a physical and symbolic gateway between city and sea. More importantly, developers and the local authority are investing heavily in the regeneration of the surrounding harbour area, building the essential economic conditions that should allow both museum and city to flourish.