Exclusive: Ministers look to switch hundreds of millions of pounds for training to the construction industry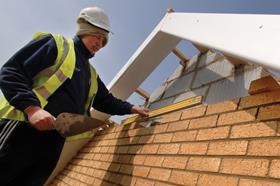 The government is set to transform the skills of those joining the construction industry by transferring hundreds of millions of pounds for training programmes from local colleges to employers.
ConstructionSkills chief executive Mark Farrar said the body had secured agreement in principle from skills minister John Hayes to allow the skills body to route funding directly to construction employers, who he said are in a better position to judge the right training requirements.
Farrar said: "John Hayes has accepted the logic in principle behind it, but there is now a lot of work to do to make it happen."
The funding, which currently goes to Further Education Colleges or independent training providers, pays for NVQ and other qualifications in a variety of construction-related courses.
The proposed move would support the establishment of University Technical Colleges (UTCs), the development of Higher Apprenticeship programmes and the growth of the National Skills Academy for Construction.
About 123,000 people complete construction courses each year, but surveys by ConstructionSkills show that many new joiners lack job-specific technical skills, as well as estimating, costing, and IT skills.
If agreed, the new funding stream, thought to be worth up to £500m, would be in addition to the £79m of funding that ConstructionSkills already funnels into the apprenticeship programme, which is raised from a pan-industry levy.
Farrar said: "Apprenticeships are employer-led. But for wider training this is not the case. Currently if a course is in place, then students will go to it and funding will follow to the college. But that doesn't necessarily mean there's an employer demand for the skill. I think industry will have a better grasp of the skills that are required by the sector."
Simon Nathan, head of policy at UK Contractors Group, said: "What colleges are offering doesn't always suit the employers' needs. This has been a frustration for a long time.
"We would support the idea, providing that ConstructionSkills channels money into more employer-based training."
Ray Horwood, chief executive of National Federation of Roofing Contractors, said: "It seems obvious that ConstructionSkills should be managing this. Construction training should be managed by the industry not the educational establishment."
For more on training read this week's news analysis.