Sir Terry Leahy was one of the industry's toughest clients as boss of Tesco. Now he's become an investor in green building technology - and he wants your business
Plug the words "Sir Terry" into Google and you are prompted to select from four UK household names. Ahead of Sir Terrys Wogan, Pratchett and Farrell, however, comes Sir Terry Leahy, Tesco's now former chief executive. Given our celebrity-obsessed culture, it says a lot about Leahy's achievements and reputation that a notoriously publicity-shy ex-supermarket boss comes out on top against a TV and radio national treasure, a world best-selling author, and one of the country's most famous - and certainly most media-friendly - architects.
Born in Liverpool to working class Irish immigrant parents, Leahy does not have a typical background for a chief executive of a FTSE 100 company. However, hard work and what he described on Radio 4's Desert Island Discs last month as "a fear of failure," propelled Leahy from a job stacking shelves in Tesco, via a BSc in management sciences, to become the company's chief executive in 1997. Under his leadership Tesco accelerated its lead over the UK's other big supermarket chains and continued its international expansion. In 2010, the year that Leahy's retirement was announced, Tesco posted a profit of £3.4bn.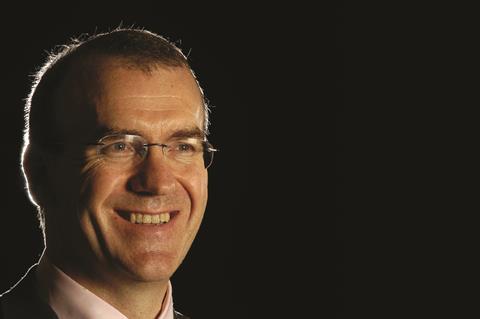 Such is the power exerted by Leahy's reputation that it comes as a surprise to realise that, aged 57, he has now been in retirement for almost two years. But that doesn't mean he's stopped working. Far from it. Since he left Tesco, he has embarked on a career as a venture capitalist, investing in new companies such as mobile coupon company Eagle Eye Solutions, stuckonhomework.com, a video-based online teaching tool for GCSE students, and software firm Metapack.
With his latest venture, however, Leahy is investing in sustainable building: once a major client of the construction industry, he is now an investor in a company at the opposite end of the supply chain. But what does he hope to achieve with his investment and how does he view the industry now that he is coming at construction from a different angle?
New phase
Leahy has invested a significant sum - he will say only that it is in six figures - into Datum Phase Change, a manufacturer of wall and ceiling insulation panels that intends to launch its patented products at Ecobuild next week. The products use natural gypsum to create panels that absorb heat from a warm room and release it back into the room as it cools.
"I'd been looking for an environmental investment for some time and this one I thought was really attractive," says Leahy. "I thought that this was an amazing environmental and low-cost solution, particularly in the UK where we don't always have the highest building standards."
He adds that the panels can be used in old buildings where there is poor insulation, but also in new buildings, largely built of steel and glass, where too much heat is retained. "They're too hot and not well ventilated. They've got a huge air-conditioning load and actually, the air-conditioning can't always cope with the heat gain, so you get uncomfortable working conditions, even in modern buildings." Leahy says that tests have shown that the panels can reduce air-conditioning usage by 50-90%.
'One of the interesting things about conservation is that it's good for business, as well as being good for the environment'
Asked if he has any desire to invest in other sustainable building firms, Leahy says: "I think if the right ones came along I'd be interested. One of the nicest things about investing is investing in people and ideas that you like and you think are useful."
Good for business
Leahy's interest in sustainable construction has its roots in his time at Tesco, when in 2007 the company embarked upon its zero-carbon strategy. The company has pledged to cut its carbon emissions by half by 2020 (based on a 2006 baseline) and to become a zero-carbon organisation by 2050. Indeed, Leahy's awareness of Datum Phase Change dates back to the 2009 construction of Tesco's zero-carbon store in Cheetham Hill, Manchester, which tested the firm's nascent technology.
However, as might be expected from such a consummate businessman, Leahy's interest in sustainable building techniques is more than altruistic. Obviously, he expects to turn a profit from his recent investment, but he says that the motive for Tesco to begin its carbon reduction push back in 2007 - which led to the world's first zero-carbon supermarket opening in Ramsey, Cambridgeshire in 2010 - was more than corporate social responsibility. "One of the interesting things about conservation is that it's good for business, as well as being good for the environment. You're making better use of resources," he says. "We improved our energy efficiency by about 70% and that's really important at a time when oil prices have regularly been over $100 per barrel."
Such efficiencies, says Leahy, are demonstrably cost effective, making them a justifiable investment even for a profit-hungry business like Tesco with shareholders to appease. The company estimates that it spent an additional 30% on the construction of its zero-carbon demonstration store in Cambridgeshire, compared with an equivalent store, but Leahy says that the investment paid for itself in lower utilities bills in around six years. "And of course that was using leading-edge technologies and the price of those is coming down as well," he says. The company currently estimates that it saves £270m each year as a result of its efficiency measures.
The Tesco strategy extends to existing stores without which, of course, it would be pretty meaningless. Certainly, without a retrofit programme, the company would have little hope of meeting that 2020 target. "Typically you'd expect to refit a store two or three times in a building's life, so they have to be refitted to a much more energy-efficient standard," says Leahy. "So, you develop and prove new technologies in new stores and when they're validated you bring them back into existing stores [when you do refurbishment projects]."
'Government should set down the targets and the objectives and call for the industry to innovate'
Perhaps surprisingly for a former leader of industry, Leahy is pretty accommodating towards the idea of the government regulating to force companies to reduce their carbon emissions, although he believes that industry must be left to work out how best that is done. "I think that the right sort of regulation would be framework legislation, for example by saying that emissions should be down by 25% by 2015," he says. "Government should set down the targets and the objectives and call for the industry to innovate."
However, he does believe that achievement has to be measurable and demonstrable. "Clearly, if the government sets framework regulations and targets, then there has to be some sort of measurement system," he says. "But it's in businesses' interests to get on and do it."
Tough customer
Of course, Tesco has something of a mixed reputation. On the one hand, the company is a major UK success story. Founded in 1919 by Jack Cohen from a market stall in London's East End, Tesco now employs around 500,000 people in 14 countries. The UK business alone employs about 300,000 people in 3,054 stores around the country.
However, perhaps unsurprisingly given its financial performance and domination of the UK market, Tesco is also known for playing hardball. Construction firms complain that working for the supermarket can be both a blessing and a curse: the contracts may be worth significant amounts of money, but given Tesco's dedication to driving down prices, they aren't particularly profitable.
Leahy, however, has little time for complaints from the construction industry and says that its energy would be better directed at addressing the sector's fallibilities. "Tesco is a huge spender of money in construction, often over £1bn a year," he says. "The sad thing wasn't the amount of money we were spending; it was that often the industry wasn't making a lot of profit out of that. And that was more down to inefficiency than anything else."
Is that really fair? "It was an observable fact. I mean, what a dream customer: spending over £1bn a year on construction," Leahy continues. "So if you can't make money out of that, then something isn't right. Tesco paid on time, we're good payers and the best possible customers. So the challenge for the industry is how to organise itself to be able to make money out of that. And Tesco worked hard with the industry to bring in lean management techniques, and had some success, I'd say."
The life of Leahy
1956 Born in Belle Vale, Liverpool
1977 Gains BSc (Hons) in management sciences from the University of Manchester Institute of Science and Technology
1979 Joins Tesco
1992 Appointed to Tesco's board of directors
1997 Promoted to chief executive on the retirement of his mentor Lord MacLaurin
2002 Granted the freedom of the city of Liverpool and receives his knighthood
2004 Named as Fortune's European businessman of the year and becomes co-chancellor of the University of Manchester
2007 Tesco launches its zero-carbon programme to cut emissions from its stores by 50% by 2020 and become a zero-carbon business by 2050
2007 The Guardian names Leahy as most influential non-elected person in the UK
2011 Stands down as Tesco's chief executive
2012 Tesco is named top UK retailer for tackling climate change by the Carbon Disclosure Project's FTSE 350 CPD Leadership Index for the fourth year in a row.