This week, Crest Nicholson ponders the future of a mulberry tree, the cost of a Mipim stand makes you want to sit down, there's pothole wisdom, and a meditation garden gives us pause for thought
Here we go round the mulberry tree
Housebuilder Crest Nicholson is ploughing ahead with plans to relocate a mulberry tree – claimed to be around 400 years old by local campaigners – within its proposed housing development at the old London Chest Hospital site in east London. The builder said the tree was not quite as ancient as some stated – independent tests had found it to date back to only 1855 – so it intended to apply to Tower Hamlets council to move the tree to another part of the site. However, arboreal campaigners have called on the firm to move one of the development's buildings back by 10m in order to give the plant sufficient breathing space, and say a High Court edict confirming the tree's current location should be respected. Given that this tree, whatever age it is, survived the Great Storm of 1987 when an estimated 15 million trees were uprooted, my bet is that it will be standing firm for a while yet.
Little things mean a lot
The bigwigs at Crossrail 2 might be slightly miffed that they only got four lines – and some kind words about the scheme's importance to London – in an 86-page document released by the Treasury after last week's Budget. But the government's promise to stick another £45m into its potholes fund only got two lines. There are 900,000 potholes in England apparently – one for every 60 of us – and I'm reminded of something National Infrastructure Commission deputy chair John Armitt once told me about potholes. While the big-ticket schemes like Crossrail 2 might dominate headlines, it's things like holes in roads that have far more impact on people's everyday lives. Don't forget the small stuff, in other words.
Not hitting the big screen
One of my hacks has just come back from a BIM conference in Las Vegas, where he was put up for four nights at the Palazzo hotel in the city. He was rather surprised to find that his room on the 41st floor had three giant televisions – including one in the bathroom. Thankfully he didn't go all Led Zeppelin – the 1970s band known as much for their off-stage excesses, which included flinging TV sets out of hotel rooms, as for their songs – but tells me that he didn't turn them on once during his stay. I'm sure he was busy preparing hard for the conference, rather than taking advantage of the city's many other attractions.
The cost of Cannes
I've often wondered how much firms – and local authorities – shell out to have a stand at property jamboree Mipim in the South of France every March. I was thinking of taking the Hansom brand overseas in search of networking opportunities, you understand. Well, now I know. An email arrived, wondering if I'd be interested in any of the packages on offer at the London Stand for next year's show. After consulting my piggy bank, I've decided that the starting price of £25,000 is a bit out of my league. C'est la vie, as they say on the other side of the Channel.
Learning too late?
A few days after the CITB announced a major revamp, which includes plans to move out of its Bircham Newton home – where it has been based for more than 50 years – the training board says it has been rated an outstanding apprenticeships provider by Ofsted. All good – especially since the battering it took over the summer in the run-up to autumn's vote on its future – but timing can be everything. I wonder if this news has raised morale among the 750 staff whose jobs are believed to be under threat from the shake-up?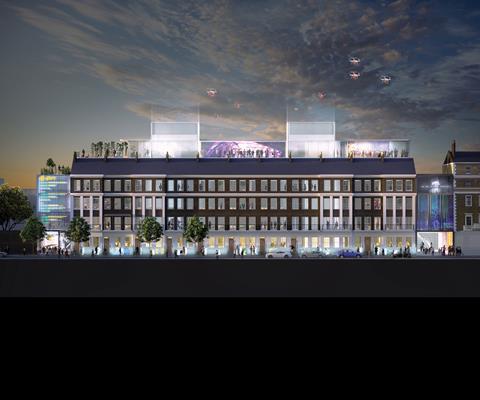 Head in the clouds
By 2035 being at work is going to be pleasanter than ever, according to the winner of an ideas competition to come up with a vision of what the so-called "office of the future" will look like. The victorious team, called 88mph, said that when we go into the office – through what it described as a "visible front door enabling and enhancing remote and freelance working" – we'll get the chance to do our deep thinking up on the roof in a meditation garden. A meditation garden? My idea of meditation at work is huddling, coat collar up, in the doorway for a smoke.
Send any juicy industry gossip to hansom@ubm.com