Skyscrapers remain controversial in the West, but cities such as Hong Kong prove that building upwards can have a positive impact on urban life
Across the skylines of South East Asia, we're seeing mega-towers growing at a rapid rate. Are some right to dismiss them as expensive, unsustainable vanity projects? Or are they justified by having the ability to counter the challenges of urban development that the West has, until now, simply ignored?
What we're witnessing today is the growth not just of high-rise buildings, but of high-rise living. In many cities across South East Asia, high-rise, high-density living is now being embraced in a way the West have never seen.
So if we're asking whether such huge buildings are justified, it's worth considering the value of their new sense of purpose. In many Western countries, such as the UK, high-rise blocks of flats have historically been associated with economic deprivation, or more recently, as multi-million pound "lifestyle" bachelor pads – with not much to offer anyone in between. But that's certainly not the case in cities like Hong Kong, where extended families wanting a convenient central address live happily next door to each other, supported by excellent, nearby transport links to get around the city easily.
Take Hong Kong for example – it's one of the most densely populated places in the world, yet has a higher percentage of land left as wilderness than the UK
Perhaps it's by moving upwards, and not outwards, that these new high-rise buildings are working hardest, in conserving the surrounding countryside? Planners aren't making the costly mistakes of urban sprawl that we've see in the West. Take Hong Kong for example – it's one of the most densely populated places in the world, yet has a higher percentage of land left as wilderness than the UK.
Hong Kong is also an exemplar for "transport oriented development". Driven by ongoing efforts to cut emissions and improve air quality, in essence this means incorporating very close access to public transport from the new building from the outset. As a result car ownership and usage, a major cause of carbon emissions, is at its lowest in cities like Hong Kong.
So could this be the best, most sustainable solution to house the growing urban populations of Asia's emerging nations? Arguably, yes. Especially where good design and affordability are key factors from the outset. South East Asia's new high-rise buildings are becoming living micro-towns in the sky, with stunning views, shopping malls, and space for culture and entertainment. As such, they're showing us that high can also be mighty.
An example currently under construction by Atkins in Hong Kong is Landmark 81 in Ho Chi Min City, Vietnam. Despite the obviously limited area of ground footprint available in this fast-growing city of more than 8 million people, the project doesn't compromise on providing quality living space in the heart of the city. When complete, it will be the tallest building in Vietnam – but it's also going to serve as a vision of the future being made real, offering a range of residential units, most of which are already reserved.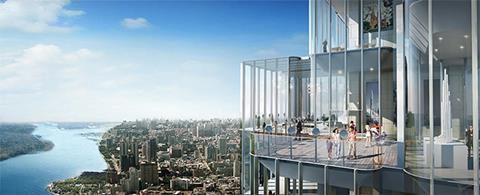 While I'm not saying that those in the West who reject the idea of high-rise living are wrong, I would assert that they need to recalibrate the criteria on which their judgement of high-rise buildings is based when looking to projects in the East. But also, it doesn't mean that even the most successful models from the East can simply be exported to the West, as we are seeing some developers attempting to do in cities like London and New York.
Ian Milne is architectural design director for Atkins in Hong Kong.