Highlights from a watershed year for the Royal Institution of Chartered Surveyors
The Royal Institution of Chartered Surveyors (RICS), one of the oldest and most esteemed professional bodies in the construction industry, has had a turbulent year to say the least.
After reports emerged at the end of 2020 that four non-executive directors had been abruptly ousted from its governing council, the institution initially tried to play down the story.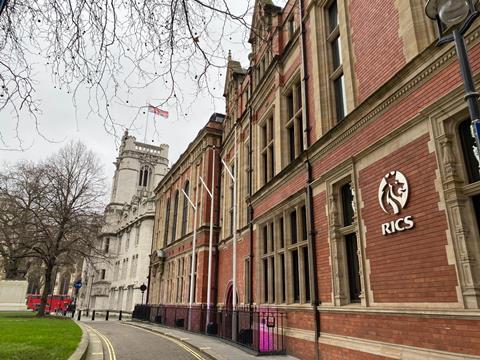 But it quickly snowballed into a full-blown governance crisis, resulting in a huge backlash among members that forced the RICS' embattled chief executive Sean Tompkins to order an independent inquiry.
The saga rumbled on throughout the year as more details emerged of why the non-executives were fired, culminating in the publication of Alison Levitt QC's report in September.
It revealed that the institution's leadership had attempted to suppress a damning financial report and dismissed the non-execs when they raised concerns.
It led to the immediate resignations of Tompkins, president Kathleen Fontana, former president Chris Brookes and management board chair Paul Marcuse, and the launch of a fresh independent inquiry into how the RICS should reform itself.
That inquiry is now underway and is being chaired by a former senior civil servant Michael Bichard.
Its conclusions, due to be published next year, are likely to prove to be a watershed for the institution.
Here are some of the highlights from this year as the story played out.
RICS facing revolt over financial report scandal
Published: 11 January
Four former presidents of the RICS have written to the body's current leadership calling for an independent inquiry after a group of directors were dismissed for trying to raise the alarm about a critical financial report.
Fired directors hit back at RICS' claim they asked for their departure to be kept secret
Published: 28 January
The four fired directors at the centre of a row that has shaken the Royal Institution of Chartered Surveyors have hit back at the organisation's claims they asked for their dismissal to be kept under wraps.
RICS reforms: Members demand sweeping changes
Published: 17 February
In the wake of the recent scandal that has engulfed the RICS, the surveyors' body has faced a backlash about whether it is offering the membership what they need. We decided to open our own informal consultation, inviting suggestions from RICS members – here are their responses
Members' anger laid bare as satisfaction rate with RICS slumps to historic low
Published: 20 May
The Royal Institution of Chartered Surveyors has promised to regain the trust of members after initial responses to a review into its future purpose revealed satisfaction rates have crashed to an all-time low.
Independent review into the RICS scandal: key findings
Published: 10 September
A "power struggle" at the Royal Institution of Chartered Surveyors resulted in the unfair dismissal of four members of the body's governing council, a damning review into the scandal concluded yesterday.
'We will make you proud to be RICS members again'
Published: 2 November
Interim chief executive Richard Collins responds to Building's open letter to the institution's new leaders