Fears over skills shortages as survey shows workload rising at the fastest rate since the credit crunch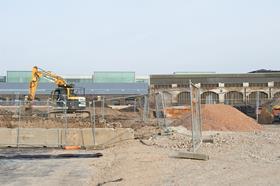 Construction orders and output are now growing at the fastest rate for at least six years, according to two influential trade surveys released today.
The construction Purchasing Managers' Index, which measures how widespread rises or falls in output are, recorded a value of 59.4 in October, up from 58.9 last month and the highest figure since September 2007.
The index, prepared by CIPS and Markit, records growth as any figure above 50, with figures below 50 indicating a decline in output.
CIPS said the residential sector was the best performing part of the market, but said all three sectors it records – which include civil engineering and commercial – demonstrated "robust" growth. It said there were large increases in staffing levels, with four times as many respondents to the survey on which the report is based saying they expected output to rise as expect it to fall.
Meanwhile the National Specialists Contractors' Council (NSCC) said its state of trade survey showed the widest increase in new orders since the second quarter of 2007. The quarterly survey said its third quarter 2013 survey showed specialists were finding it increasingly difficult to recruit the staff they need.
One third of specialists said they anticipated workloads to rise in the next quarter, twice as many who feared workloads would fall.
David Noble, chief executive officer at the Chartered Institute of Purchasing & Supply, said the future was looking bright for the UK construction industry. "It has soared into the final quarter with its strongest performance in over six years, boosted by a strengthening surge in activity broadening out across all sectors."
He said: "The on-going growth of new business levels, climbing confidence and positive market conditions has resulted in the steepest rise in staffing levels for six years. Caution on employment experienced in the first half of 2013 has now been replaced by rising expectations and a strong belief that growth can be sustained in the year to come.
NSCC chief executive Suzannah Nichol said: "It would appear that the outlook for specialist contractors is increasingly positive with almost half expecting to expand their businesses over the next year. However, it is now time to invest in our workforce to prevent future skills shortages and safeguard the successful long term growth of the industry."