Less is more for the associate at Webb Yates who was educated in Italy, is inspired by Renzo Piano and refuses to reveal her secret skill …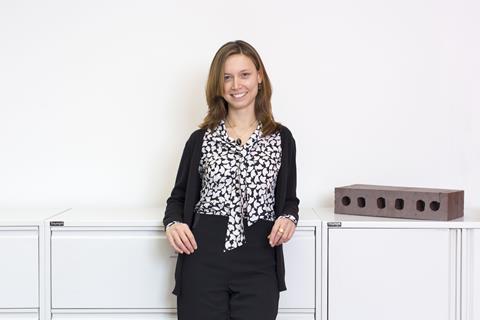 Why did you choose construction as a career?
I have always been intrigued by the built environment and architecture. I decided pretty early on that I wanted to study architectural engineering, which allowed me to see the construction world from two complementary perspectives.
What are you most proud of in your career to date?
I have worked in different areas of the industry – in renewable energy, sustainability and construction management – but I am now very proud to be part of Webb Yates Engineers. The company is multidisciplinary, with structural, civil and building services engineers all working very creatively and collaboratively on projects that have an aesthetic sensitivity. This is something I feel passionate about so it is inspiring to be surrounded by like-minded people.
What has been the biggest challenge of your career to date?
I do like to challenge myself, and luckily my career has thrown lots of challenges at me! My most recent one was to start a new career here in the UK. It is very satisfying to build on the experience I gained in Italy, applying it to new challenges here and gaining even more experience along the way. Every day is an opportunity to learn and grow.
If you could change one thing about the industry, what would it be?
Cost and time! Fifty years ago we were on the moon – so now anything should be possible. But, with so many ideas coming up against time and money restrictions, it feels like opportunities are being lost. If the industry was not money-driven, would we be able to build a better world for ourselves and the environment?
What is the most helpful advice that you have been given?
"Less is more" – applied both to life and engineering design.
Name your favourite building in the world?
There are many but, if I have to choose only one, I would say my favourite is the Centre Pompidou in Paris, for many reasons.
The building changed the life of the two young architects - Richard Rogers and Renzo Piano. It is incredible to know that Piano (at that time not really a French speaker) barely understood that their design was the winner when he answered the judges' phone call.
Apart from being such an extraordinary, unique, and revolutionary building, it is also the celebration of what I am currently working on: building services. Usually we work quite hard to hide the building services elements on a project, but in this building they are proudly expressed.
Which famous building do you most dislike?
What disappoints me the most is not bad architecture, but bad things that happen to good architecture.
Pierluigi Nervi's iconic Palazzo del Lavoro building in Turin is a former exhibition hall which was viewed as a symbol of integration between structural engineering and architecture. The building has been unmaintained and gradually abandoned since the mid-1970s, until 2009 when it was fully abandoned with no solid plans for its re-use.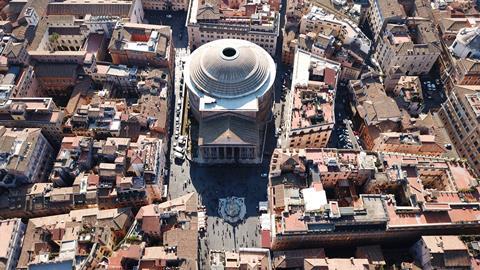 Which famous building do you wish you had worked on?
The Pantheon in Rome - just to see the construction approach and to experience the engineering challenges of a dome which has been the largest in the world for more than 1,300 years. It is still the world's largest unreinforced concrete dome.
What single piece of advice would you give to someone starting out in your profession?
To have fun and be curious! There is so much to learn in every second of our profession, with the right attitude.
Who do you most admire in the construction industry?
I admire Renzo Piano for his work, approach and philosophy.
Being involved in the study and construction of one of his projects, Intesa Sanpaolo Skyscraper in Turin, gave me the opportunity to get closer to his holistic approach to the design and construction process, and to his attention to details at every stage.
This made me more aware of his concept of architecture as an iceberg: you only see a piece of it. And, as he said, it is important that the work of builders, fabricators, engineers and draftsmen is kept visible, so that we are able to see traces of how the building is made, how it comes together piece by piece.
What is it like being you (and doing your job)?
My life is a good mixture of work and extra-curricular activities. Twenty-four hours are never enough.
Do you have a life philosophy?
The stone age didn't end because they ran out of stones. In other words, there is always room for a new approach.
What do you think your best quality is?
Being logical and consistent.
What trait do you most dislike in yourself? And in other people?
Too much consistency which is basically stubbornness. In other people, I dislike dishonesty and lies.
Name three things that you like
The sea, a good laugh and (of course) an espresso at the right time.
Tell us about a secret skill that we don't know you have?
Hey, it is a secret!
What is your most prized possession?
I always wear a ring from my dear grandma. It's an old, engraved coin ring, from the place where she was born, Shanghai in China.
Early bird or night owl?
Definitely not an early bird, but that doesn't mean I'm always a night owl.
What is your favourite food?
My top three outside Italy: a sushi and nigiri plate I had in Toyama, Japan; the Peking duck in Beijing; and lamb skewers that I had in a market in Isfahan in Iran.
What would your superpower be?
Teleportation? This would satisfy my passion for travelling - it would be a great, sustainable way to have a coffee with my family, an evening with old friends, and a lunch break in one of my favourite places every now and then.
Elisa Sartori is an associate at Webb Yates. She was previously a project and construction manager on the Milan metro system - Line 4 project, a 15km long underground transport line. She is also a qualified LEED AP consultant and has worked extensively on the design and construction of tall buildings.