In the midst of war-torn Afghanistan dozens of construction projects continue unabated. Building reports on the unique challenges - and dangers - facing contractors at Camp Bastion in Helmand province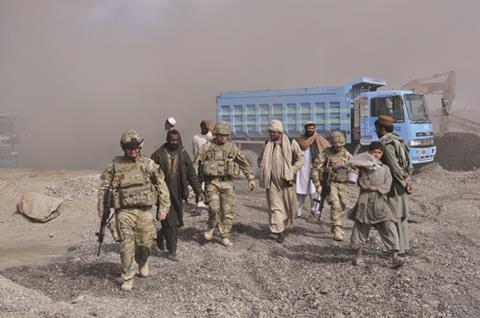 The line of men makes its way slowly up the parched, dust-covered track, every step taken with total concentration. Each one places his vulnerable foot in the boot print of the man in front. Each scans the ground ahead for the enemy, and smiles only when the group reaches the local village elders. "Salam Alaikum."
As they talk, one of the men suddenly drops to one knee as the crack of an insurgent's bullet whizzes past. This time, it's just a "shoot and scoot" and the local children quickly reappear in the street. The group, part of the British army's Military Stabilisation Support Team, turns back to the discussion about the new school they are helping to build. This is community consultation - but with a dangerous twist. This is Helmand province, Afghanistan.
This is a live war zone - but one in which about 14,000 reconstruction projects are under way to repair a nation ravaged by 30 years of war. The Western military, still fighting in the country, also has its own construction needs. Camp Bastion, which is home to more than 20,000 soldiers, has grown five times in size over the past six years.
The companies - among them several British firms - and individuals working with the army in the region face Taliban threats, attacks and an extremely tough environment, where temperatures can veer between -4°C and 56°C. Yet despite the conditions Afghanistan's huge need for building work could, like Iraq, start attracting the attention of more UK firms.
The scale of the task
As US and British forces approach their 11th year in Afghanistan and shift their focus to supporting the Afghan army, Camp Bastion's infrastructure is becoming more permanent. In the past two years the number of construction schemes has risen accordingly.
The British army's (66 Works Group) Royal Engineers is the unit charged with managing the growth and maintenance of Bastion's permanent and temporary facilities. It has plenty to do. Projects scheduled for handover this spring include a $12m (£7.4m) air traffic control centre, a $5m dining hall and a prisoner handling facility (see box overleaf). Work is also under way on a 40-bed hospital ward, upgrades to accommodation, logistics warehouses and aircraft hangars.
Outside the confines of Bastion, the construction task is even greater. As of January this year, there were 124 infrastructure projects in Helmand being handled by the Provincial Reconstruction Team, a civilian organisation whose members are drawn from the Foreign and Commonwealth Office and the Department for International Development. These schemes, of which 79 are at design stage and 45 under construction, cover all aspects of the region's infrastructure, from health and education facilities to roads and police stations. The team is assisted by civilian "stabilisation advisers" and design and consultancy work is led by 517 Specialist Team Royal Engineers (STRE). Based in Lashkar Gah, the STRE is supported in the region by Mott MacDonald.
The workload is set to increase from here. For example, Afghanistan needs 6,000 schools to replace those that have been destroyed. London-based design charity Article 25 has been appointed to work with the Afghan education ministry on developing the programme.
There is a steady stream of funds to support the work, arriving through the Afghanistan Reconstruction Trust Fund, a financing project run by the World Bank, as well as direct contributions from countries. The US government alone has already spent $56bn (£34.5bn) on construction and public works projects in Afghanistan and is poised to spend a further $16bn.
Inside Camp Bastion
Bastion really is in the middle of nowhere. It's not until you see it from the air that you grasp its scale - the camp is the size of Reading and its airfield handles more traffic than Luton. The challenge of construction work on the camp is not so much technical as logistical - the supply chain runs to 4,000 miles, by land and sea, and through Pakistan.
Construction work within Camp Bastion is usually put out to international tender and, given the constraints of working on the site, firms that are experienced in prefabrication are likely to be preferred. The US contractor Recon International, which built the dining hall and has completed about 120 projects in Afghanistan, has offices and a prefab factory in the country. Site-specific prefab was also heavily used in the new prisoner-handling facility. The steel cells for the scheme, supplied by Yorkshire-based contractor Thurstons, had to be designed to fit into a transport aircraft and were flown in.
Bastion is also the base for managing projects beyond its gates. There are more than 160 new military infrastructure projects now taking place in Afghanistan. Those in Bastion are overseen by the camp's facilities manager, Major Ian Webster, a Territorial Army soldier. Away from Afghanistan, Webster is a chartered surveyor who runs LSG.uk, a planning business that operates in London and the South-east. He is one of a number of UK construction professionals in Camp Bastion. Jackie Tarrant, an architect at London-based practice Devereux, works with Webster and has used skills honed on healthcare projects in the UK in the design for Bastion's hospital extension.
Serving in the TA can lead to unexpected encounters, according to Major Colin Murray. A health and safety manager at Countryside Properties, he is in charge of engineer logistics in Bastion - which makes him the local superior of his boss at Countryside, Dave Hudson, who is also a TA soldier. "He gives me stick all week and he gets it right back at weekends," says Murray.
Beyond the wire
Whether you are an engineer or a soldier, anyone involved in the reconstruction of Afghanistan must work with the knowledge that Taliban fighters may be waiting in the shadows, ready to ambush or hide improvised explosive devices (IEDs) in fields, tracks and houses. The danger is real. Every man and woman must pull on 20kg of body armour and a helmet just to step outside the camp. For the army's construction workers, the weight of ammunition, water, radios, weapons and rations takes the total to 55kg - eight and a half stone.
Construction work outside the wire is - for security reasons - carried out by army construction personnel and Afghan contractors, although those working in the region anticipate that when Afghanistan is able to govern itself, international contractors will become involved with reconstruction work as they are in Iraq.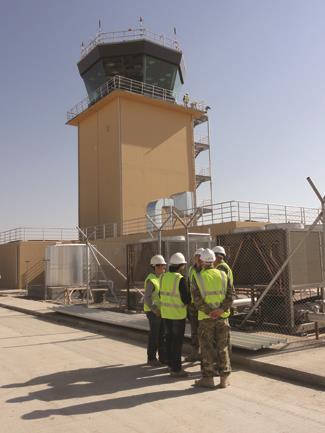 Captain Simon Clarke, who heads the Military Stabilisation Support Team working as project managers with soldiers from 2 Para on reconstruction, says: "During our six months here all my team members have, at some point, been shot at or otherwise involved in an incident involving an insurgent. As soon as you leave the front gate of a patrol base or a checkpoint, that's it - you're a target." He adds that some of his team have also "been singled out by name in 'night letters'" - threatening letters delivered at night to locals by the Taliban.
Physical construction work in the most dangerous areas is carried out by the Royal Engineers, with Afghan civilian builders employed alongside them in the less dangerous areas. The Royal Engineers are supported by battle groups who, as well as pushing back the Taliban, are charged with managing consultation with Afghan elders on work to rebuild schools and villages, through community meetings known as shuras.
Lieutenant Colonel Andrew Harrison of 2 Para says: "Across my 200km2 of area I have six weekly shuras in six villages. Six occasions to revive the traditional Afghan method of local governance, six opportunities to resolve conflict without resorting to the violence of the past. Understanding and rebuilding the communities is as important as the fighting we do."
As well as community reconstruction, the army often has to build patrol bases to protect itself. These bases are built from a British prefabricated system called Hesco, made of steel-welded mesh. The Royal Engineers work on the bases in the open, in full body armour.
The threat of disruption to projects inevitably means that security around sites is paramount in preventing both attacks on workers and Taliban attempts to sabotage the site. Staff Sergeant Charlie Goldwyre of the Royal Engineers says: "The first thing we do is build a deep trench around the perimeter. The irrigation systems here in Helmand allow the Taliban to flood the land. The trench is a good method to prevent that."
Getting materials to site is also extremely challenging. The local culture is that of "Inshallah" - "God willing" - which can result in uncertainty about the arrival time of locally-sourced materials. On top of this, the Afghan drivers who deliver aggregate have become targets, and face attack and threats to themselves and their families. Each delivery of materials, plant, fuel or tools requires a carefully planned military convoy.
Cultural issues can also arise over the design of the buildings. Some parts of Helmand have not changed in 2,000 years, with single-storey homes and compounds made of mud and straw a regular feature of the desolate, war-torn country. Against this backdrop, it is all too easy to make design errors by failing to take enough account of cultural differences.
This was the case on a police station project in Spin Majid. The station was built with a diesel generator to provide heat and power, but the Afghan National Police are recruited from rural areas where there is no diesel and people like to cook over an open fire. The policemen knocked holes in the new ceiling for the pipes of wood-burning stoves.
Looking to the future
Although the army's engineers are trying to develop capacity in the Afghan construction industry, it is an uphill task and skilled workers and companies are sorely needed. This is partly because, four years ago, the Taliban ransacked the Shahzad headquarters of the country's biggest contractor, the Helmand & Arghandab Construction Company, effectively destroying the firm.
With the hole this has left in the country's skills base, combined with the growing list of construction and reconstruction projects needed both by the military and the Afghan community, it is likely that there will remain a solid pipeline of opportunities for Western firms and individuals. But the abilities required are markedly different from those needed on any other project.
When asked what skills civilian contractors need to win contracts with the military, Lieutenant-Commander Richard Wild, the lead for contractor liaison for Camp Bastion, said: "The successful contractors are often the ones that employ former military personnel. They understand the unique way we work and know logistics."
As well as skills in prefab, experience in military work and logistical expertise, however, anybody hoping to work in Afghan construction is going to need a spirit of adventure - and a lot of guts.
Recent Bastion Projects
Air traffic control centre
Cost: Infrastructure $5m (£3.1m); tech fit-out $6m (£3.7m) with additions, including fire station. Total: $12m (£7.4m)
Contractor: Design and build contract tendered in October 2009. Seven contractors on the list including one UK firm, eventually won by Turkish company Feka Construct. Technical installation of the air traffic controls and specialist M&E carried out by Ipswich-based Tex ATC.
Schedule: The scheme was completed this spring and was built to UK regs, but exempt from Part L.
Dining hall
Cost: $5m (£3.1m)
Contractor: Recon International, a US company with multinational work force. Recon has completed about 120 smaller projects in Afghanistan for the International Security Assistance Force.
Schedule: The scheme started on site on 28 December 2010 and was finished on 1 March 2011.
Prisoner handling facility
Cost: Confidential
Contractor: Main contractor is Turkish firm Metag, with prefab units provided by Thurstons of Wakefield, West Yorkshire.
Schedule: The project was to build a facility of nine prefab steel cells, all
self-contained, with air conditioning and toilets. The scheme will have a temporary holding facility, cells and a science park (for forensics and so on). The main administration building is a brick and block construction.
The science park is mostly prefab. Included in the project are secure
power and mechanical, electrical and plant, roads, secure fencing and security equipment such as CCTV.
The cells had to be designed to fit into a C17 transport aircraft by size and weight (13 tonnes), as well as being fit for purpose and able to be manoeuvred into place once in Bastion. The project started in July 2010 and was completed at the end of February 2011.
Additional runway
Cost: About $141m (£85.9m)
Contractor: The runway development is part of a huge airfield improvement project costing about $710m (£472.6m). The 3,500m-long runway was delivered by the US Air Force Centre for Engineering and Environment, and more than 2,000 local civilians worked on the scheme.
Schedule: The project started in April 2009 and was completed in February 2011.
Afghanistan Trust
Gary Sullivan visited Afghanistan earlier this year. The units that hosted his visit were: 2nd Battalion The Parachute Regiment, 3rd Battalion The Parachute Regiment, 13 Air Assault Support Regiment Royal Logistic Corp, 23 Regiment Air Assault Royal Engineers, 9 Parachute Squadron Royal Engineers, 517 Specialist Team Royal Engineers, 66 Works Group 170 (Infra Support) Engineer Group, Military Stabilisation Support Group and Joint Media Operations Centre Afghanistan.
Between 14 November 2010 and 31 March, 18 British soldiers lost their lives because of enemy action in Helmand.
The Afghanistan Trust is the Parachute Regiment's charity helping wounded service personnel and the families affected by this conflict. www.afghanistantrust.org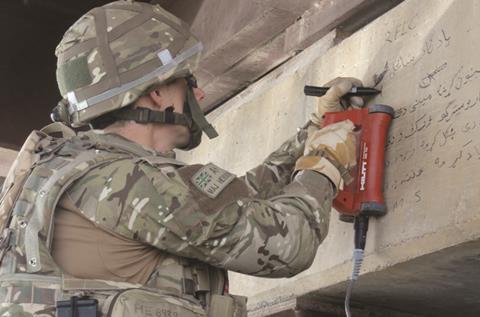 JUST ANOTHER DAY IN HELMAND

A day in the life of the Specialist Team Royal Engineers, by Gary Sullivan, managing director of construction logistics specialist Wilson James
The day begins like most in construction. Up at 6am, breakfast, a quick check to make sure I have all I need for the day. The only absence is the dreaded BlackBerry, no mobile devices. The other difference is the 20kg of personal protective equipment I must wear.
Major Pete Helme of 517 Squadron STRE briefs on the day's work and gives an overview of the current security situation. What action we take if our vehicle is hit with an IED, what to do if we are shot at and how to spot a suicide a bomber. Just a normal day in Helmand province.
Our first stop today is at the Bolan Bridge, over the River Helmand and a major artery for trade in Lashkar Gah. Our Husky armoured vehicles, escorted by two Jackals (all-terrain high mobility weapons platforms) pull up just short of the bridge. The Royal Engineers, who are first and foremost soldiers, carry out checks on the passing vehicles and locals before moving to the bridge to investigate the crumbling supports. Measurements are taken and remedial measures discussed as we look across the river to a 17th-century fort, a reminder of previous conflicts.
We move on, just a short distance down to the river where the local suppliers of aggregate and asphalt are based. Colourful trucks wait to be loaded with aggregate for the substantial road building program. Today our interest is in the blacktop.
Greeting the Afghans with smiles and handshakes, our discussion quickly turns to the quality of the blacktop. The ancient machinery, billowing smoke, would never reach UK standards. But Staff Sergeant Dave Lafferty assures me that, while it looks like it's on fire, the Afghans know exactly what they are doing, and a sample is produced for the team to take back to camp to test. While everything seems friendly, our Jackal escorts remain alert. Not just for our safety, but also for the Afghan contractors who are also taking risks when working with the army. They face intimidation and attacks too.
The security situation has improved in recent years in this part of Helmand. The threat has not gone away, but by helping the community to govern and self-police, it is much safer now. Community liaison is crucial and I am invited to attend a "shura", a meeting of elders, like a village or town council meeting. Once it would have been led by the army, but now they take a back seat to answer technical questions as the local contractors discuss progress with the community. Swiss roll and cans of pop all round.
After nine hours, darkness brings an increased security threat, and it's time to return. But the day is not done. After a quick scoff, it's into the office to write up today's findings, plan the next day's work, chase materials and sift through the calculations. The glow from the laptops continues long into the night.