Sweden's first ever PPP project is a £1.3bn hospital that is also Europe's greenest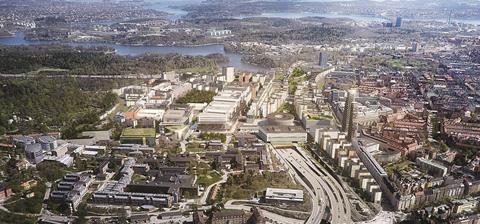 Many hospitals, including several in the UK, claim to be the largest in Europe. But none can claim it's as green as the New Karolinska Solna being built in Sweden. The £1.3bn Stockholm hospital has recently reached halfway point in its construction and by the time it is finished in 2017, it aims to be the first university hospital in the world to gain coveted LEED Gold certification. It has already been nicknamed by the design team "the Queen of Green".
It can also claim several other key milestones. It is the first PPP (public private partnership) project ever built in Sweden. It is also the first PPP hospital in the Nordic region and the largest ever contract undertaken by main contractor Skanska. The hospital is being built by a consortium led by Skanska and UK infrastructure investment group Innisfree, a veteran of several British healthcare projects. There is significant UK involvement in NKS, and while PPP is a new venture in Sweden it is obviously a tried and tested procurement route here, particularly on hospitals.
NKS is vast. To put it in perspective, its 1.1 million ft2 make it roughly the same size as Europe's biggest department store, Harrods. It will have 8,000 rooms, an 818-bay parking garage, 800 beds treating up to 1,800 patients a day, 125 intensive care beds, a 100-room patient hotel, 36 operating theatres, 12 floors and a double helipad.
The PPP process provided an incredibly detailed contract set out in very precise terms. this was a very good thing

Maria Nordberg, Skanska
The hospital has been designed by a joint venture comprised of two of Sweden's leading architects, White and Tengbom. It replaces the bulk of the demolished Karolinska hospital that was formerly on the same site and still operates from neighbouring buildings throughout construction.
It is not just the scale of NKS that is remarkable but its hyper-ambitious environmental aspirations. Due to their scale and obvious reliance on heavy mechanical servicing, hospitals are not traditionally considered particularly energy efficient or environmentally friendly buildings. As witnessed by its globally pioneering LEED ambitions, NKS is determined to rewrite the rules.
Some 65% of the hospital's energy need is produced from renewable sources and it claims to use half the energy of the former hospital buildings and a third of that consumed by a typical American hospital. A variety of innovative solutions have been adopted in order to achieve these results and satisfy both LEED and "Miljöbyggnad", (Swedish Green Building environmental ratings system) requirements.
The hospital benefits from 220m-deep geo-thermal boreholes that extract heating and cooling from the ground. As Skanska environmental manager Maria Nordberg explains, this system is particularly suited to seasonal Swedish geo-thermal conditions. "In Sweden the ground temperature is always one season behind air temperature. So the boreholes enable us to use the cooler ground to provide cooling in summer and the warmer ground to provide heat in the winter." Ground temperatures in Sweden range from -16ºC in the summer to 23ºC in the winter.
NKS also makes use of heat pumps that transfer heat from the boreholes to the hospital. The geo-thermal boreholes are also used as an energy-saving bank that stores energy from the UPS and heat pumps. Energy created and stored in this manner provides up to two-thirds of the hospital total heating demand.
The hospital is encased behind a double-skin facade with solar low-emissivity coating on both sides. This high-performance curtain wall system provides a highly insulated envelope and eliminates cold bridging to attain an impressive U-value of 0.5.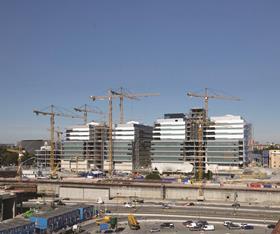 The construction process itself has also been regulated by an exacting environmental approach. An on-site concrete plant was built at the start of construction and this is estimated to have saved up to 20,000 lorry trips to and from the site during the first three years of construction. A rock crushing facility was also erected on site to maximise on-site recycling of the demolished building and once again minimise lorry trips from the site. Finally only 5% of waste is selected for landfill and all waste is segregated to avoid mixing. Even the construction vehicles used on the site had to meet a quota of renewable fuel.
Materials were the final key area used to boost the hospital's energy performance and credentials. Sweden operates a strict building products code known as "Byggvarubedömningen" or BVD. This rates materials on a number of criteria such as whether they are locally sourced, or recycled, and their production methods and carbon properties.
This in turn formed the basis of a contractual stipulation that assessed materials as being "void", "acceptable" or "recommended". Quite simply, every single material used on the site and building had to fall into either the second or third categories and special contractual dispensation was required to use materials from the first.
It is this kind of procedural and contractual stringency that Nordberg identifies as one of the key lessons from the project. "Detailed standards and certification systems are essential. Guidance needs to be laid out clearly and specifically in order to guide and protect the sustainability agenda. The more detail the better."
Such sentiment may be surprising to a UK market perhaps more naturally inclined to lighter touch legislation that doesn't overtly impede development. If this is the case, then Nordberg's glowing summation of PPP may, for some, be even more startling. "The PPP process provided an incredibly detailed contract set out in very precise terms - such as with materials - what was and wasn't acceptable. This was a very good thing. Also, with the PPP route, we are responsible for the building for another 25 years. So of course this means that we are even more ambitious when it comes to quality and design because we know that ultimately we will be the ones looking after the building in the medium to long term."
Nordberg also identifies early integration of the sustainability ethos, all partners working together from an early stage, a "green and ambitious client" and a "shared and specific vision" as all being essential recommendations for successfully realizing projects of this kind.
Nordberg also goes further, pointing out that due to their unique social role, healthcare buildings have a particular responsibility to embrace good environmental design. "Healthcare buildings care for the most vulnerable in society, the very young, the very old, the sick. This provides a unique set of challenges but also benefits - sustainability can be the key to providing the caring, sensitive environments they need to be."