Bored of the beach? Ike Ijeh recommends some buildings to check out on those idle seaside afternoons this summer
Summer is finally here. As up and down the land passports are retrieved and suitcases dusted down, many are preparing to indulge in one of the most popular inventions of modern society: The Summer Holiday.
The role the British seaside plays in these febrile festivities is somewhat diminished from its heyday in the Victorian and pre-war years. Cheap package holidays and budget airlines have enticed the archetypal British holidaymaker away from the proverbial deck chair and windbreaker in Skegness to warmer and more glamorous climes abroad. With cultural marginalisation comes economic decline and many British seaside towns have struggled to retain relevance - and are now dejected, forlorn shadows of the bustling resorts they once were.
However, Building is here to show you that the Great British Seaside still has a great deal to offer. As an island nation we have often reserved some of our most dramatic and romantic architecture for the sea. From the brooding castles designed to repel foreign invaders to the gleaming white art deco villas that line pockets of the south coast, the British coastline offers
a fascinating kaleidoscope of notable architecture and ambitious engineering both old and new. A holiday at home can be a great way to explore this rich heritage, so, for those of you so inclined, we have compiled a selection of some of the UK's best coastal architectural attractions.
CHAPEL OF LOVE, BLACKPOOL, LANCASHIRE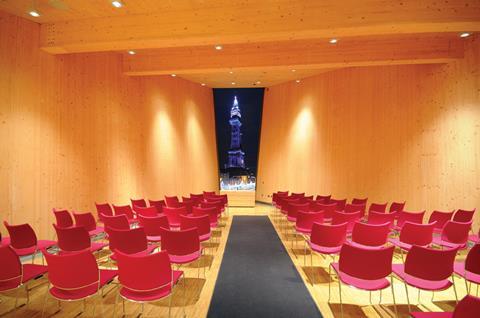 Blackpool has resisted the dwindling fortunes suffered by the British seaside resort over the past half century, and today remains the undisputed leader of the pack.
Britain's most popular holiday resort is no stranger to architectural grandeur either. The glittering Blackpool Opera House claims to be Europe's second largest theatre and Blackpool Tower, while a curiously Lilliputian facsimile of its iconic Parisian peer, remains a popular local landmark. dRMM's Chapel of Love is made of considerably more modest stuff but remains interesting all the same, despite its dour official title of Festival House.
Opening last Christmas, the £2.7m, 629m2 pavilion includes a cafe, tourist information point and registry office. It exploits its prominent position on the famous Blackpool seafront by being almost entirely clad in scaly, gold-coloured stainless steel panels that glisten against the sea. It also contains a charming upper Sea View Room where up to 14 guests can observe nuptials in a triangular space whose principal corner is filled by a full height window framing a dramatic view of Blackpool Tower.
The Chapel of Love is certainly a brave attempt to challenge popular perceptions of Blackpool's seafront being a haven for donkeys and Wurlitzers. It also signifies a seaside local authority confident enough to patronise modern architecture in an attempt to reinvent its market appeal. Some however have criticised it as yet another example of Blackpool's alleged determination to emulate Las Vegas and whether the chapel is iconic or ironic remains a source of heated local debate. But luckily either evaluation fits comfortably with the quirky irreverence for which Blackpool, and British seaside culture as a whole, is famed.
Festival House Blackpool, Lancashire, FY1 1AP. Tourist Centre & cafe open from 9.30am-5.30pm Monday to Saturday. Closed Sundays and outside summer months
SKERRYVORE LIGHTHOUSE, SKERRYVORE REEF, INNER HEBRIDES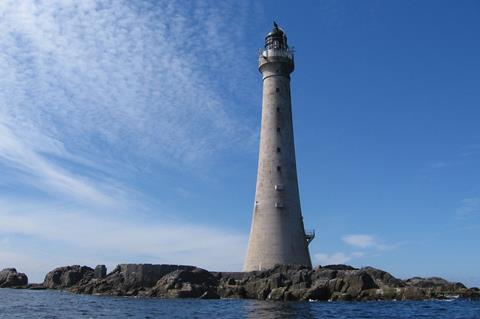 It takes an intrepid holidaymaker indeed to reach Skerryvore Lighthouse. It stands on a small, remote and rocky reef 12 miles south-west of Tiree Island near the Isle of Mull. However, anyone who manages it will be met with a spectacular sight.
When the lighthouse was completed in 1844 it was the tallest and heaviest in the world. Today, it remains the tallest lighthouse on the British Isles.
Stevenson, uncle of acclaimed Victorian author Robert Louis, the lighthouse stands 48m high, just shy of Nelson's Column. It is a prodigious feat of engineering. The waters around Skerrymore are some of the most tempestuous in the UK and the lighthouse was required to withstand wave forces of up to 29,000kg/m2 as well as bitter winds and freezing temperatures.
Lighthouses may be functional but they are among the most enigmatic and emotive of all building forms
Its design responds magnificently. The lighthouse is a continuous shaft of granite tapering upwards along a slender hyperbolic curve and surmounted by a glass lantern gallery. It is constructed from 58,580 cubic tonnes of dense granite and weighs 4,308 tonnes. The walls at its 13m wide base are 3m thick, narrowing to just 0.6m by the time its 5m thick summit is reached.
But for all its engineering qualities, Skerryvore's simple shaft and elegant curve also make it a beautiful piece of architecture. Lighthouses may be resolutely functional, but they are among the most enigmatic and emotive of all building forms, a primal physical response of man to nature. Skerryvore's alluring combination of strength and grace wistfully captures the contradictory violence and romance of the sea.
The Skerryvore Lighthouse Museum is operated by the Hebridean Trust. Contact 01865 311 468 or email info@hebrideantrust.org
THE SCARLET HOTEL, MAWGAN PORTH, CORNWALL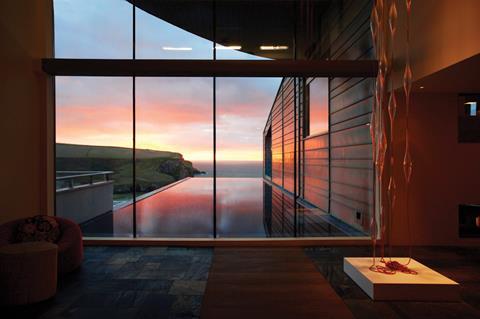 High up on a misty Atlantic cliff-top in one of the most isolated spots in England lies Cornwall's latest contribution to eco-tourism. Eleven years ago the Eden Project catapulted the county to the premier league of green architecture. But in 2009 a new luxury eco-hotel opened with sustainability aspirations which were just as ambitious.
Designed by Devon practice Harrison Sutton Partnership the Scarlet is a 37-room boutique hotel and spa that is run on an astonishing array of sustainable energy sources. These include grey and rain water harvesting, solar water heating, high insulation and air tightness, a biomass boiler, ventilation heat exchange and a green roof system populated by local plants. The hotel also features a natural pool, promotes high usage of recycled and recyclable materials, and locally re-housed up to 120 species of reptiles and insects dislodged during construction.
Impressive as this roll-call undoubtedly is, what most visitors will actually register is the sophistication with which the architecture exploits its spectacular coastal location. The building envelope weaves in and out of its cliff-top terrain and a communal rooftop deck terrace offers stunning sunset views over the Atlantic. It is the Scarlet's enthusiastic relationship
with the dramatic natural landscape that surrounds it that is its greenest credential of all.
The Scarlet Hotel is on Tredragon Road, Mawgan Porth, Cornwall, TR8 4DQ
WEYMOUTH EYE, WEYMOUTH, DORSET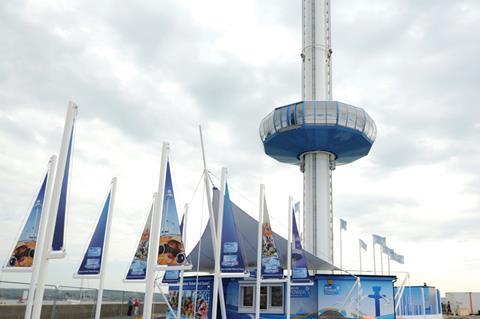 It will be difficult to avoid the Olympics this summer and a new seaside tourist action proves the point. London has its Eye and the Olympic Park has its Orbit but Weymouth, the London 2012 Olympic sailing venue, has deftly combined the two. The Weymouth Eye is a £3.5m, 53m high tower that features a doughnut-shaped glass observation gondola wrapped around a 2.5m wide steel column. The gondola slides up and down the column offering up to 70 passengers at a time 10 minutes of spectacular 360° views of Weymouth Bay and the Jurassic coast.
The 110 tonne tower was built by local contractor TG Cruse and sections were prefabricated in France and Hungary. Its central column comprises five 11 tonne sections and concrete piles were sunk 17m into the ground for its foundations.
Opening a month ahead of schedule in June, the owners anticipate up to 50,000 visitors a year, as well as a significant boost to the local tourism economy. The tower provides a
new landmark for the Dorset coastline and proves the extent of the commercial potential of the Olympic Games.
The Sealife Tower Weymouth opens every day except Christmas Day from 10am to 6pm or 7.30pm. The Quay, Weymouth, Dorset, DT4 8DX
THE DE LA WARR PAVILION, BEXHILL-ON-SEA, EAST SUSSEX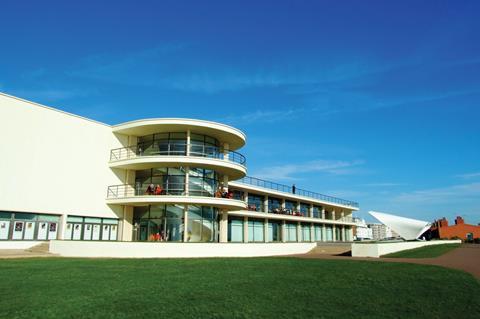 If it was not for the Second World War and the resulting pressing requirement to quickly replenish our blitzed housing stock afterwards, then there is a very real chance that much of what we associate with British modern public architecture of the fifties and sixties might never have happened. Before the war modernism was viewed with deep anti-socialist suspicion by the establishment and while the movement flourished in Europe and America, the UK largely clung to our familiar Victorian and Edwardian vernacular. There were a few exceptions
With its sleek lines, cavernous glazing and gleaming white facade the 1935 arts centre and performance venue is dripping with art deco chic. Seventy-seven years later and, like the ocean liners and aeroplanes art deco so eagerly sought to mimic, it is still an essay in the elegant power of functionalism and simplicity.
Forced by fascism to flee his homeland, German Jewish architect Erich Mendelsohn and his partner Serge Chermayeff's pavilion unwittingly unleashed a wave of minimalist, whitewashed, art deco-inspired seafront architecture that is still visible from Brighton down to Poole. The De La Warr however still stands as the pre-eminent modernist icon in the region, a resplendent relic of the Jazz Age marooned on the prim south-east coast of England.
The De La Warr Pavilion in open from 10am to 5pm on weekdays and 6pm on weekends. Marina, Bexhill On Sea, East Sussex, TN40 1DP
BEST OF THE REST
East Beach Cafe, Littlehampton,West Sussex (Heatherwick Studios)
Heatherwick's customary brand of expressive form and experimental fabrication is on full display in this telescopically extended wooden beach hut conceived to help arrest local seaside decline.
Huf House Dorset, Chesil Beach, Dorset (Huf House)
Fans of novelist Ian McEwan and the stylish German kit-homes manufacturer will find twin reasons to celebrate in this luxury holiday rental home with spectacular panoramic views over the Dorset coastline.
Lighthouse 65, Hill Head, Hampshire (AR Design Studio) , pictured below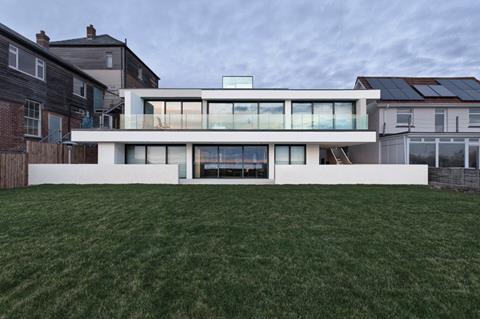 AR Design Studio's streamlined, modernist take on the traditional lighthouse is actually a contemporary modern home with sweeping glass frontages and stunning sea views.
Newport Transporter Bridge, Newport, Gwent (Ferdinand Arnodin)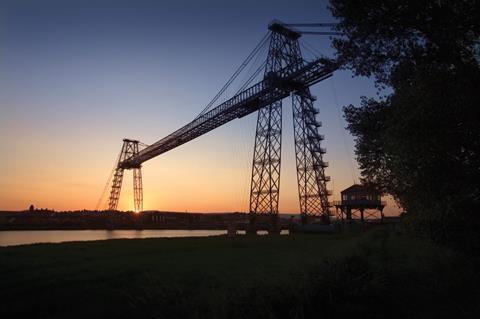 The largest of only eight such bridges left worldwide, this magnificent 1906 engineering masterpiece ferries cars across the River Usk in a moving platform hung from a horizontal steel beam 54m high.
Turner Contemporary, Margate, Kent (David Chipperfield)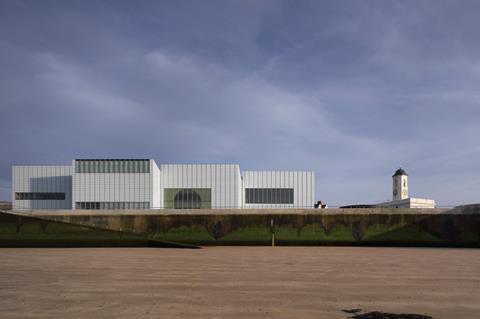 David Chipperfield's solemn, crystalline art gallery faces directly onto the North Sea and subtly manipulates light and space to capture the ethereal majesty of its dramatic location.