The prospect of Brexit may not have stalled the wave of tall buildings under construction, but the market for towers is set to change as prime resi slumps. Joey Gardiner reports on why building below 40 storeys may be the future and, overleaf, looks at five of the tallest towers now in development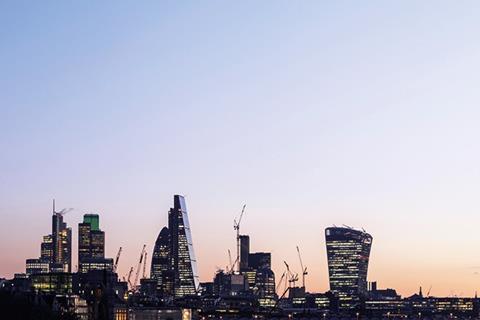 "Brexit, what Brexit?" is the question you may be tempted to ask following the publication last week of the annual study of the pipeline of London tower developments. The report, from New London Architecture (NLA) and planning consultant GL Hearn, showed another rise in the number of schemes of more than 20 storeys in the pipeline – to 455 – with a new tower starting on site at a rate of one a week, even amid all the political turmoil. Almost 100 towers are now under construction, and tower completions in the capital reached 26 in 2016, double the 2015 figure, with 40 scheduled to complete next year alone. Peter Murray, chair of NLA, said there was "no sign of a Brexit backlash".
However, while development has clearly not halted, that doesn't mean the market for tower schemes in London and the rest of the UK isn't changing. The big fall in the London prime residential market – prices of £5m-plus properties are now 20% below 2014 values amid a slump in sales, according to property data specialist LonRes – is having an effect. This fall, triggered more by the rise in stamp duty brought in last March than by the Brexit vote, clearly impacts the viability of the luxury high-rises containing those homes. Meanwhile, investors in potential office towers are unsure if latent demand for office space will translate into actual deals, given the Brexit cloud hanging over financial services, and construction prices – in this sector at least – don't look set for a corresponding fall to help strained viability calculations. So what is the future of high rise?
London is still the capital of the world. Once Brexit is a little bit sorted, we'll see a lot of additional tall buildings coming forward

Kamran Moazami, WSP
Overwhelmingly, in this market, the focus is on London. Of the 100 tallest buildings in the UK development pipeline, all but 16 are to be found in the capital, according to the Council on Tall Buildings and Urban Habitat (see overleaf for details of the five tallest towers). The planning regime in the capital appears to be set fair, with London mayor Sadiq Khan signalling his support in recent weeks for high-rise schemes that deliver significant amounts of affordable housing.
Kamran Moazami, head of structures at engineer WSP, which has been involved in all five of the tallest buildings currently in development, says Brexit won't affect the market in the long term. "London is still the capital of the world," he says. "Once Brexit is a little bit sorted, we'll see a lot of additional tall buildings coming forward. Land is limited – so you have to go up."
Supporting this confidence is the sale last month of the Laing O'Rourke-constructed Leadenhall Building (the Cheesegrater) to a Chinese investor for an eye-watering £1.15bn.
Life outside the M25?
Of the 16 non-London towers that make it into the 100 tallest in the UK development pipeline, 13 are in Greater Manchester. By far the most ambitious of these is the quartet of towers proposed by Renaker at Owen Street, the tallest of which will eclipse the city's Beetham Tower, topping out at 64 storeys, and on which the developer is already on site. William Ward, director of development at Savills in the city, says the Manchester market has continued all but unaffected by the twin shocks of Brexit and stamp duty, with values in the city not high enough to be caught by the tax hike. "The demand from developers for schemes and from buyers for completed products is still very strong," he says. However, rising construction costs are starting to impact upon the viability of build-to-rent schemes, something exacerbated by the fact only a limited number of contractors are seen as having the capability to deliver. Ward says the picture is much more challenging outside of Manchester. "In Liverpool and Leeds, values just aren't as strong so you're getting little above mid-rise there. The basic fag-packet calculations just don't work."
But the challenges following the political turbulence of 2016 are having an effect, even if the NLA survey doesn't record it yet. Indeed the report admits that "the long timeframes involved in bringing tall buildings forward suggest any effects would likely manifest in coming years". However, the research does record a small (5%) increase in the number of tower schemes coming forward in outer London, which Stewart Murray, head of development at GL Hearn, says is likely to be "a signal to the future".
"There's a general increase in tall buildings of relatively lower height moving into the outer boroughs," he says, and this finding is supported anecdotally, with property developers seemingly targeting middle-income purchasers rather than the super-rich. Steve Watts, partner in 22 Bishopsgate's quantity surveyor Alinea, says: "We're seeing an absolute proliferation of schemes coming forward at the more affordable end of the spectrum, including build to rent, with values of £600-£1,000/ft2."
David Galman, sales director at developer Galliard Homes, agrees with the direction of travel. "We all think the sweet spot at the moment is around the mid-market, around £500-800/ft2," he says.
With residential towers targeting the mid-market, and office towers having a potentially more uncertain occupier demand post-Brexit, developers are less optimistic about the values tower schemes will achieve. This dynamic is crashing into the reality of rising construction costs, with Alinea recently predicting average tender price inflation of 2% for the next three years.
Jack Pringle, London managing director at architect Perkins+Will, says: "There is a price correction coming. So the industry is starting to look at cheaper ways of building. We will see more innovation, whether it be new ways of building things or clients not going to top-tier contractors."
WSP's Moazami agrees, saying this imperative to drive down costs is leading developers to focus on towers of below 40 storeys, where advantage can be taken of repetition of design elements and standardised construction techniques. Build above 40 storeys, he says, and the required thickness of the core and provision of lifts make construction much more complex – and expensive. "We can do 30-storey towers super-fast, with compact cores – it can be very economical. Developers should not be afraid," he says.
Schemes coming through now are not as tall, and some of the designs are more modest

Peter Murray, NLA
Peter Rogers, partner in 22 Bishopsgate's developer Lipton Rogers, says: "On the residential side, developers are now very nervous of doing really big tower schemes and dumping so much product on the market at one time, particularly given the [number] that are already going up."
Galman's Galliard is an example of how the mid-market focus and the reality of construction costs is changing what can be built. While Galliard's most recent high-profile project was the luxury-spec 42-storey "The Stage" development in the Shoreditch area, east London, selling for up to £1,500/ft2, its next project is a 24-storey scheme on the edge of Canary Wharf selling at closer to £800/ft2. "You're just not going to get such major schemes at these sales prices," Galman says.
For the NLA's Murray, this shift is not necessarily a bad thing. He says: "Schemes coming through now are not as tall, and some of the designs are more modest – with not so many attempting to be iconic. There even seem to be some, such as Hall McKnight's scheme on the Greenwich peninsula, that are attempting a tower version of a new London vernacular. It's a very different aesthetic to the highly glazed towers we've seen up until now. It's respecting context and it's a slightly calmer feel overall – which is no bad thing."
Five of the tallest towers in UK pipeline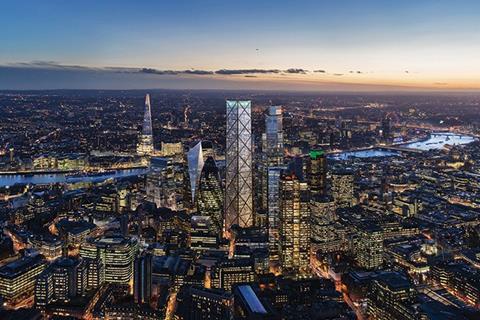 1. Project name: 1 Undershaft
Height/storeys: 290m/73 storeys
Type: Office
Location: City of London
Developer: Aroland Holdings
Project team: Eric Parry Architects; WSP, structural engineer and MEP engineer
Planning permission: Approved 28 November 2016
Progress: Developer Aroland Holdings is the vehicle for Singaporean palm-oil billionaires Kuok Khoon Hong and Martua Sitorus, who have yet to give final go-ahead for the scheme. The development is on the site of the existing 28-storey Aviva Tower, on which insurance giant Aviva has a lease until 2024 – sparking speculation that 1 Undershaft is unlikely to be built out any time soon. However, Kamran Moazami, head of structures at WSP, says he has no sense from the developer that they do not intend to press ahead as soon as an agreement with Aviva can be reached, and scheme architect Eric Parry told the London Evening Standard in December that the scheme's timetable was unlikely to be affected by Brexit because of continued occupier demand. The scheme was reduced in height by five metres prior to winning approval because of concerns it would interfere with airspace for planes.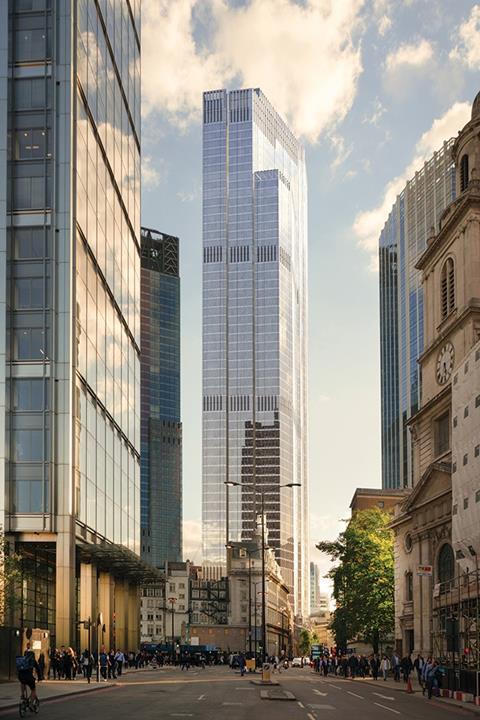 2. Project name: 22 Bishopsgate
Height/storeys: 255m/59 storeys
Type: Office
Location: City of London
Developer: Axa Real Estate and Lipton Rogers
Project team: Multiplex, contractor; PLP Architecture, architect; WSP, structural engineer and MEP engineer; Alinea Consulting, QS
Planning permission: Approved in December 2015
Progress: The project is the first major scheme for the new venture pairing the development experience of Sir Stuart Lipton with the construction expertise of Peter Rogers. Investor Axa paused the project for a short period following the Brexit vote, but recommitted with final go-ahead in October last year, presaging start on site in earnest in November. Construction of the tower's core, being carried out by Careys, has now reached 22 storeys and is proceeding on schedule. "It's so far, so good," says Rogers, who added that following Axa's decision, construction is unaffected by any uncertainty prompted by the Brexit vote. Completion is targeted for 2019. Multiplex is building the scheme to a fixed price contract.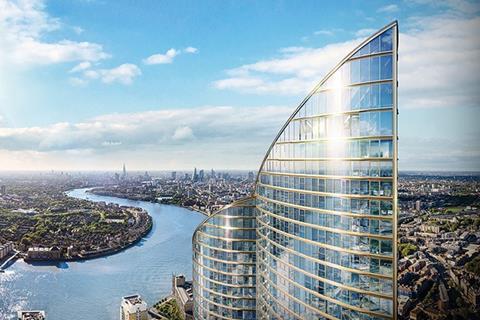 3. Project name: Spire London
Height/storeys: 235m/67 storeys
Type: Residential
Location: West India Quay, adjacent to Canary Wharf, London
Developer: Greenland Group
Project team: HOK, architect; Robert Bird Group, structural engineer; Aecom, project manager
Planning permission: Approved February 2016, despite objections from the neighbouring Canary Wharf Estate
Progress: Shanghai-based developer Greenland Group pledged in the autumn to go ahead with the tower, which is designed to stand a mere 90cm lower than the One Canada Square office block that symbolises the growth of Canary Wharf. A spokesperson for the developer said Bachy Soletanche had commenced groundworks and piling on the scheme, with work on the 70m-deep load-bearing piles due to start next month. A tender process to select a main contractor for the vertical build is "well advanced" according to the spokesperson, with completion slated for Q4 2020. Engineer Robert Bird Group replaced original design engineer WSP on the project.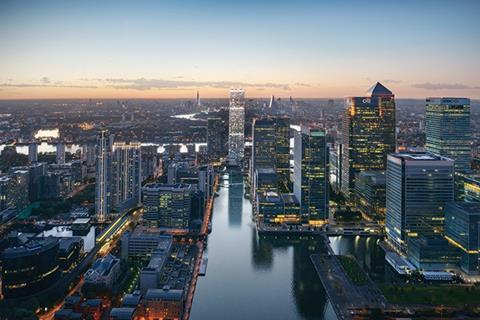 4. Project name: Landmark Pinnacle
Height/storeys: 233m/75 storeys
Type: Residential
Location: Isle of Dogs, London
Developer: Chalegrove Properties
Project team: Squire and Partners, architect; WSP, engineer; Hoare Lea, MEP, J Reddington, basement and concrete frame contractor
Planning permission: Approved October 2013
Progress: Construction on this scheme just to the south of the Canary Wharf estate began summer last year, with completion earmarked for 2020. The tower was formerly known as the City Pride Tower after the pub which previously occupied the site. It was sold in 2008 to Irish developer Glenkerrin, which then fell victim of the credit crunch, with Chalegrove buying the site, for a reported £43m, from Glenkerrin's administrators before securing the current permission. A spokesperson said "good progress" had been made on the build, with the basement close to completion.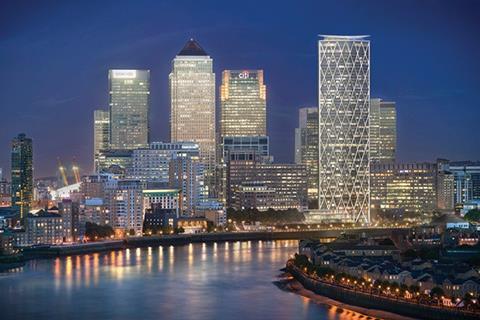 5. Project name: Newfoundland
Height/storeys: 220m/58 storeys
Type: Residential
Location: Canary Wharf
Developer: Canary Wharf Group
Project team: Horden Cherry Lee, architect; WSP, engineer; Hoare Lea, MEP engineer; Canary Wharf Contractors, contractor
Planning permission: Approved June 2014
Progress: Canary Wharf Group reported in 2014 that site works had started. However, it went on to seek changes to the planning permission, which increased the number of rooms to be provided from 568 to 636. WSP's Moazami said vertical build on the "awesome" scheme got under way late in 2016, with topping out likely within 12 months. The scheme sits above the Jubilee Line railway, which meant complex groundworks and piling were required with these constraints driving the structural design, Moazami said. The building will, unusually, derive structural strength from a combination of an external steel diagrid with post-tensioned concrete slabs.