With the immigration debate raging, Building wants to hear the views of the construction sector on the issue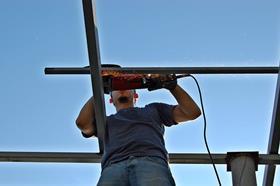 With Romanian and Bulgarian nationals now having full rights to work and claim benefits in any other EU country, there has been widespread speculation that there could be an influx of migrants from these two countries to the UK.
Although the government is making no predictions on numbers, Migration Watch UK estimates about 50,000 migrants a year could come to Britain from Romania and Bulgaria.
Please take Building's quick survey on construction and immigration here
Construction, as a sector, often employs migrant labour. Indeed, one of the first migrants to arrive from Romania this week was coming to Britain to seek work in construction.
Victor Spiresau, who arrived in the UK on 1 January, told ITV that he had work lined up washing cars in London, but hoped to go on to work in the construction industry.
The 30-year-old said he earned 10 euros a day working on building sites in Romania and that he hoped to make 10 euros an hour here, but was not planning on settling.
"I don't want to stay here. I want to renovate my home and to make a good life in Romania because it's much easier to live in Romania because it's not expensive," Spiresau told ITV.
Spiresau could be one of many migrants looking for work in the UK construction industry, as it bounces back from years of recession.
As such, we are interested in our readers' views on immigration to inform Building's editorial coverage of the issue and have prepared a brief survey, consisting of just nine questions, which should take no more than three minutes of your time.
All responses are anonymous, but you may enter your details at the end for a chance to win a John Lewis voucher.
Please take Building's survey on construction and immigration here