After years of clients worrying about subcontractors' health, suddenly it's main contractors that seem to be in trouble, caught out by rising costs on fixed price jobs. Building reports on a nervous time of profit warnings and senior management departures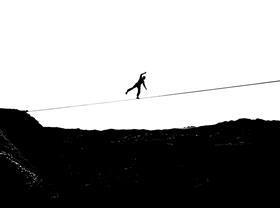 Last month's £10m profit warning by Morgan Sindall, which wiped 15% off the value of the company, will not have been a huge surprise for anyone who keeps a close eye on the construction sector. Not because Morgan Sindall has a history of difficulties - far from it - but because contractors without problem contracts are pretty much as rare as hen's teeth right now. Leading this parade of woe has been Balfour Beatty, which on its own has issued three profit warnings this year, with a cumulative impact of £140m on its bottom line. The pain of course is not limited to the UK public-listed sector: companies including Bam, Vinci, Robert McAlpine, Willmott Dixon, and North Midland Construction have been among the long list of firms to publicly admit taking a hit from painful problem jobs.
At the same time the sector has experienced a wave of senior management exits from major contractors, the like of which has not been seen for a generation. Vinci, Sir Robert McAlpine, Morgan Sindall and, of course, Balfour Beatty itself, whose chief financial officer this week became the latest to announce his departure, are among those to have lost long-time senior stalwarts. While the reason for these exits are varied, they have added to the sense of turmoil in the sector.
However, it is £10bn turnover Balfour Beatty's woes - serious enough that it warned it could have breached its banking covenants if its sale of Parsons Brinckerhoff had fallen through - that are really starting to spook investors, customers and clients. After all, if the UK's largest and bluest of blue-chip contractors can get itself into that much trouble, then what on earth does that mean for its lesser rivals with smaller balance sheets?
So now, after years of concern from clients about the financial health and future robustness of squeezed subcontractors, suddenly questions are being asked instead of large main contractors. With many companies operating on wafer-thin margins with diminishing cash balances, suppliers are looking hard at whether they are likely to get paid on time, and even whether the main contractor will be able to last the distance.
There's no doubt that among smaller main contractors these strains are already having a severe impact. Richard Claxton, chairman of cost consultant Pellings, which works primarily in residential projects in London and the South-east, says main contractors on some jobs are being hit hard. "Just this morning we've heard about a main contractor on a job we're working on going bust. They feel the pain when things start to pick up yet they've still got to build out the jobs they've already won in the bad times."
You might ask why there is so much pain, when construction output is showing the first sustained growth since the credit crunch, benefitting from the wider economic recovery. The answer is that the current spate of problems reflects the classic danger for main contractors of a recovering market. That is that fixed price jobs won at low or zero margin in the recession are difficult to deliver at the price quoted because of rising supply chain costs. Throw in an unexpected problem such as a subcontractor failure and suddenly you can be in big trouble. Meanwhile the demands of an expanding order book elsewhere in the business gobbles up available cash to resource bidding, hiring and start-up costs.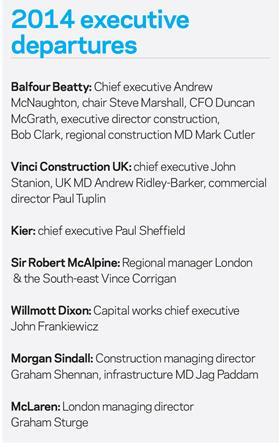 A common feature of the current spate of problems is that they relate to work won in London 12-18 months ago - a seeming paradox given that London was the only part of the country at the time with a reasonable amount of work opportunities. According to one contractor chief executive, it was exactly London's exceptional nature that caused the problems. "It was the only place where work was being tendered and people were piling in making it very competitive," he says. In other words, the desire of contractors to be part of the capital's relative success while output slumped elsewhere in the country led to extreme competition. But it was not only the price that was causing problems: the way work was bid, via single stage competitive tenders, plus onerous contract terms once work was secured, piled all of the risk of recovery on the main contractor.
Now, with contractors dependent on the goodwill of busy subcontractors to even price jobs at all, the classic tactic of managing cash flow by delaying payment to the supply chain is fast being lost as an option.
It is already clear that, particularly in the over-heated London market, the power dynamic between main contractors and the specialists and trades they employ has shifted back in favour of the supply chain (something Building will look at in more detail next week).
As David Hurcomb, chief executive of M&E firm NG Bailey, says specialists are now looking hard at regional contractors before working for them: "It's a very cyclical market, and it's switched from where tier one contractors ruled the roost. There's now a nervousness in the supply chain about the [relative] solvency of main contractors. It's a new risk in the last six months - you're looking out for which firms you work for."
Pellings' Claxton agrees that the attention of consultants and clients has definitely switched from the financial stability of subbies to that of main contractors, as subcontract costs have risen by as much as 10-15% in the last year. "Very much so," he says. "Main contractors are dependent upon subcontractors but they can't hold them to the price of 18 months ago, and under their contracts they've no right to go back to the client. So they're stood between a rock and a hard place."
Claxton says he has seen numerous instances of contractors going cap in hand to their clients, essentially begging for money despite having no rights to anything under the contract. "There's one job we're working on, of about £4m, where the brickwork subcontract cost rose by about £200,000, and the contractor just went in and threw himself at the mercy of the client. But usually the answer is, 'no, no, there's nothing
we can do'."
For numerous smaller contractors, this understandable intransigence from clients, who thought they had secured a guarantee to build a job for a certain price, could in theory be enough to push them over the edge. "It's the smaller ones feeling the pinch," says Claxton. "They'll just stop functioning and go into receivership. Then the client's wishes will go out the window, because changing a horse mid job is always going to cost money."
This gloomy view is backed up by a recent KPMG study that found the net cash balances and operating profit margins of 14 major contractors to be at their lowest level since the start of the recession seven years ago. Cash balances have fallen by a quarter, representing hundreds of millions of pounds leaving the sector, and the average construction operating margin is only just keeping above 1%. Last week accountant EY, likewise, said contractors found themselves in a "perfect storm of low-margin legacy contracts and rising costs".
Problems have been exacerbated by contractors taking on jobs in unfamiliar markets in order to hit ambitious growth targets. James Pellatt, head of projects at developer GPE, says: "Some of the problems we're seeing is where contractors are struggling with residential projects, where they've attempted to take advantage of the upswing in the residential market. A couple have really caught colds because residential is so difficult, the sequencing of trades being vital but all at low margins."
James Clark, partner at newbie consultant Core Five, which works on a number of major London schemes, says: "It is difficult to imagine any major contractor without at least one difficult project that is costing more to deliver than it has in the pot."
But of course these problems should not be overstated: certainly there is no suggestion that any of the major contractors mentioned as having taken financial hits will go under. Rok and Connaught are the only major contractors to have gone under through the downturn, and both of those corporate failures occurred in the early days of strife, where the sudden reduction in workloads was the primary problem.
Clark says fears over the extent of financial problems at the biggest tier of contractors isn't a major issue for his clients, despite the uptick in problem jobs and profit warnings. "We shouldn't overstate the issue, as I don't sense a danger of tier ones going to the wall. We're not doing dramatically different due diligence on main contractors at the moment. It may be though that clients are looking at the answers to due diligence
more closely."
Likewise, Pellatt says he doesn't fear deep consequences from financial instability in firms at that level, but is nevertheless concerned about "fatigue" from contractor staff who have been working too hard for too long. "These people are mentally burnt out, and they need a bit of support." It's not possible to say whether it is this that is directly behind the departure of so many senior staff, or that execs are paying the corporate price for problems further down the business. In some cases it might genuinely be long-serving staff looking for new challenges or seeing an opportunity to retire. Whatever the cause, the effect in such a short time has been huge, and the departure of so many senior people is adding to the sense of instability in the market, particularly at a time when the requirements of expansion means the natural churn of staff through poaching is also at a high level.
One consultant working in the sector says: "I have never known such volatility. There must be upwards of 30 senior executives having left their roles."
The upshot of all of this uncertainty is that, contrary to the business plans of many during the recession, it is those without big pipelines
of work who are looking in the rudest health - because the smaller their pipeline, the fewer problems projects they are likely to have. As Pellatt says: "Contrary to what you might expect, the contractors who seem strongest now are those who didn't take up a lot of work during the recession, like Lend Lease and Brookfield."
But of the rest, the very fact that the spotlight is being shined so starkly on their businesses will only add to the pressure they're under.