With the CMA carrying out a new wave of cartel investigations into the construction industry, Joey Gardiner looks at how big a problem corrupt behaviour is and whether attitudes are changing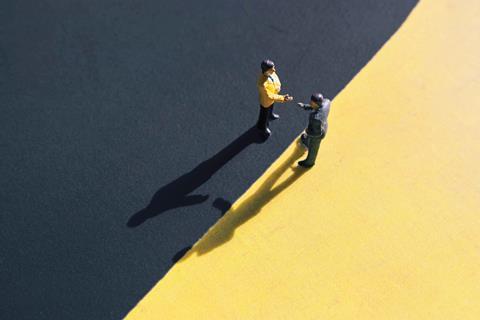 Last week, three former directors of office fit-out companies were disqualified from holding directorships or managing any UK company for between two and five years, after being found guilty of breaking competition law. One was a director of Bluu Solutions, owned by JLL Group, while two others were from Fourfront companies Cube Interior Solutions and Area Sq. In total four companies were fined more than £7m. This came hot on the heels of April's ban on two company directors whose construction firm, CPM Group, had participated in a cartel over the supply of precast concrete drainage products – they were barred by a court from holding directorships or managing any company for up to seven-and-a-half years.
The disqualifications were carried out at the behest of the Competition and Markets Authority (CMA), which investigated and exposed both cartels, and is still investigating other suspected participants in the concrete cartel – Stanton Bonna Concrete Ltd and FP McCann Ltd.
The disqualifications are part of the latest activity by the revitalised competition regulator, which has launched a rash of cases against construction firms for cartel-type behaviour, covering everything from groundworks firms to rolled lead suppliers.
"Director disqualifications send a very strong message, reminding people that individuals can face imprisonment and fines for breaking competition law"

Angelene Duke, Womble Bond Dickinson
It is a decade since the CMA's predecessor, the Office of Fair Trading (OFT), fined 103 firms more than £130m in total for anti-competitive behaviour. The industry hoped the moment marked a watershed for cleaning up the industry. But with five cartel investigations and two merger studies ongoing into construction sector firms, Howard Cartlidge, the CMA's senior director on cartels, said it now has more ongoing cartel investigations into construction than at any time since the mammoth OFT probe.
With the construction industry already under sharp scrutiny from government, clients, lenders and shareholders alike following the collapse of Carillion and Interserve, this is probably the last thing the sector needs. But is this recent burst of inquiries simply the result of a regulator aiming to make a point, or is it a sign that construction has already forgotten all the hard lessons it supposedly learned from the painful OFT saga?
'No campaign'
By its nature, this is an area where hard data is difficult to come by, which means that assessing whether any real uptick in bid-rigging or more serious corruption such as bribery is happening is near impossible. However, for its part, the CMA claims it has not embarked on any campaign to target construction but is simply following evidence gained from its intelligence activities, whistleblowers and other suppliers.
One director at a major specialist contractor said construction had actually become more corrupt in recent years: "Unfortunately the 'brown envelope' culture is absolutely rife again."
While this is impossible to prove, the CMA's Cartlidge says: "In recent years a number of serious allegations have reached us of cartel activity in various parts of the construction sector and so we have taken action to investigate. We have not pursued any deliberate strategy of targeting construction companies."
However, not everyone takes this assertion at face value. Angelene Duke, associate at law firm Womble Bond Dickinson, says it appears the CMA has "prioritised" construction, albeit in response to poor practice in the sector. "The CMA does not have a lot of resources, so for them to prioritise a sector and have so many open cases does show that they must believe there is a lot of anti-competitive practice happening. The CMA is probably trying to send a message to the sector here," she says.
Whether this is deliberate targeting or not, Duke says the CMA's actions are getting noticed. "Certainly, director disqualifications send a very strong message, reminding people that individuals can face imprisonment and fines for breaking competition law."
What is the CMA investigating?
Precast concrete drainage products: Two firms, Stanton Bonna Concrete Ltd and CPM Group Ltd, admitted in December participating in a cartel to fix prices. Two directors from CPM have been disqualified, and investigation into a third firm, FP McCann Ltd, continues.
Office fit-out firms: In April, five companies – Fourfront, Loop, Coriolis, ThirdWay and Oakley – agreed to pay fines totalling more than £7m after admitting being involved in cartel behaviour including cover pricing. Last week, a former director from a company now in the JLL Group was disqualified from acting as a director for five years, after refusing a voluntary interview with the CMA, with two former directors from Fourfront also disqualified for two years and two years and six months.
Groundworks services: The CMA last month accused three firms – MGF (Trench Construction Systems) Ltd, Mabey Hire Ltd and Vp plc – of colluding to keep prices up. They have until July to respond before the CMA issues an infringement decision.
Lead roofing materials: In March, the CMA accused Associated Lead Mills Ltd, its sister company Jamestown Metals Ltd, HJ Enthoven Ltd and Calder Industrial Materials Ltd of forming an anti-competitive agreement to share the market for rolled lead roofing materials.
Supply of construction services: In March, the CMA launched a new inquiry into anti-competitive practice in the supply of construction services. It will not comment on the scope of the inquiry and has not yet decided whether there is sufficient evidence to make formal accusations.
Mergers: The CMA is also reviewing two proposed construction industry mergers to see whether they would result in a reduction in competition. Deals between materials firms Broadview Holding BV and Formica Group, and between crane firms Terex Corporation and Tadano Ltd, are being scrutinised.
Construction is the 'most corrupt industry globally'
And while the exact extent of corruption and bid rigging in construction is unknown, there are plenty of reasons why the CMA might want to send such a message. Leo Martin, managing director at corporate ethics consultant GoodCorporation, says studies, such as those carried out by ethics charity Transparency International, regularly rate construction as the most corrupt industry globally. Reasons for the high risk include the size and uniqueness of projects; the high level of subcontract relationships, with each one an opportunity, potentially, for corruption; a culture of secrecy; and the ability to conceal when work is inadequately carried out.
UK research commissioned by the CMA and published last autumn showed that staff in construction firms were more likely to see their business as at risk from breaching competition law – with almost half seeing at least a "medium risk" – than in any other UK industry surveyed. In addition, it found that knowledge of competition law was low, and declining further, and far fewer staff than in other sectors – only just over one-fifth – would report their own business to a regulator if they found it was engaged in a cartel.
This appears to confirm that little is likely to have changed since the findings of the most comprehensive UK study of corruption and bid-rigging, by the Chartered Institute of Building (CIOB), were published in 2013. This found that almost half of those working in construction felt that corruption of some kind was either "fairly" or "extremely common", while almost 38% had direct experience of cartel activity in the sector – much of which was within the last two years. More than one-third reported being personally offered a bribe.
Prior to the CIOB study, there had been hope that significant strides in improving the culture – particularly around anti-competitive behaviour – had been made in response to the OFT investigation. GoodCorporation's Martin says: "After the OFT we saw a renewed focus on drawing up codes of conduct, employing ethics and compliance officers. People saw very clear policies and programmes and training programmes rolled out.
"Given this, I was quite shocked to see the CIOB figures. Something is not right here," he says. Martin speculates that the financial pressures faced by contractors in the intervening years increased the risk of direct corruption.
'Everyone was on the take'
A particularly striking finding from the CIOB survey was the attitude of respondents to cover-pricing, a practice whereby contractors who do not have time or resources to bid on a project phone up a competitor to get a price that will intentionally lose them the bid but allow them to maintain a relationship with the client. The OFT says cover-pricing leads to clients paying higher prices because of a lack of genuine competition. Despite this being the principal focus of the OFT's 2009 investigation, the CIOB study found only two-thirds of respondents agreed that engaging in cover-pricing was corrupt.
This is not to say that practice in the industry has failed to move on from what was acceptable 40 or 50 years ago. Jim Martin, partner in quantity surveyor practice Martin Arnold, says the industry is thankfully vastly different from the one he joined. "It's amazing how little corruption goes on compared with the 1970s. Then everyone was on the take, from top to flippin' bottom. People would have an allowance to buy the building control officer drinks."
Martin says investigations his firm carries out for housing associations following allegations of corruption usually find that nothing untoward has happened. Genuine corruption, he says "is not rife, it's marginal and it doesn't have a huge impact on the functioning of the industry. Where we have seen it, it's always been very low level and becomes painfully apparent to people pretty quickly."
Nevertheless, Martin is also very clear that this doesn't mean anti-competitive practices that benefit a firm rather than a single corrupt individual have been wiped out. "I'm sure cartels happen. Where you have specialisms where there are a limited number of players, you can very easily see a cartel forming."
Disqualification
In particular, cover-pricing, a practice that was not clearly outlawed until the 2002 Enterprise Act, is, Jim Martin believes, still common. "It has always gone on, and really it would be very, very difficult for the industry to operate as it does without it," he says. "If you're an estimator, you've got to be able to target the jobs you want to win and manage the relationship on the jobs you don't. Contractors don't see it as collusion but as co-operation, which avoids everyone wasting time."
The CMA, though, takes a very different view. A spokesperson said the organisation had been "surprised and disappointed" to find the practice still going on in recent investigations.
"Where we find that cover-pricing has taken place," the spokesperson said, "the companies responsible can expect to receive fines and individual directors implementing cover-pricing will face director disqualification proceedings."
So, have contractors lost focus on this in the time since the OFT? In some senses, it is hard to argue that corruption has been off the agenda, given an ongoing procession of high-profile court cases going back as far as bridge-builder Mabey & Johnson, which in 2009 admitted paying bribes to politicians in six countries to win work.
Since then, about a dozen cases have gone to court, including that of consultant Cyril Sweett, convicted in 2016 under the 2010 Bribery Act for work on an Abu Dhabi hotel, which resulted in a £2.25m fine and the jailing of a former executive, and that of subcontractor Alandale Rail, where directors were jailed in 2017 after paying bribes to win a Thameslink contract. Indeed, a subsidiary of Mabey – Mabey Hire Ltd – alongside a separate fim called MGF (Trench Construction Systems) Ltd, is at the centre of one of the CMA's current investigations.
However, it is fair to say that the kind of competition-law breaches investigated by the OFT have not, until recently, been centre stage. Duke, at law firm Womble Bond Dickinson, says: "It's hard to say definitively but there are always trends in law, and recently everyone has been thinking about data protection as their big risk. Companies could have lost focus on this." Certainly, the CMA said it was particularly disappointed that this kind of cartel activity has continued, "given the widespread publicity given to the cases in 2009 and our efforts since then to publicise the importance of competition law compliance".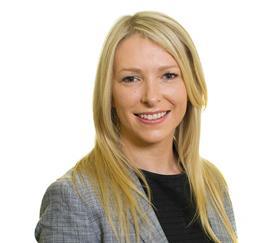 What is anti-competitive activity and how should firms protect against it?
Angelene Duke, associate, Womble Bond Dickinson
The CMA is offering financial rewards of up to £100,000 in return for information that helps it to identify and take action against cartels.
Banned activity includes:
Price-fixing, where competitors agree any element of the prices they will charge their customers – even promotions
Market-sharing or customer allocation, where competitors agree not to compete for certain customers
Bid-rigging, where competitors agree to alter the outcome of certain bids or tenders such as by cover-pricing
Production shutdown agreements, where competitors agree to limit production or output
Collective agreements to boycott other customers or suppliers in the market.
A cartel can be agreed over a beer, it doesn't need to be documented by a formal agreement.
UK competition regulators can impose fines of up to 10% of worldwide annual turnover and third parties may bring actions for damages that are often significantly more than the regulators' fines. There is also the possibility of director disqualification or even criminal sanctions for individuals involved in cartel conduct, with the likely reputational, practical and financial implications this has for the firms involved.
However, a business that has been involved in a cartel may be granted immunity from penalties or a significant reduction in penalty in return for reporting the cartel, while individuals may also be granted immunity from criminal prosecution.
There are several actions companies need to take. If your company does not already have a competition law compliance policy and detailed training programme in place, it needs to establish one.
And if you think you or your company might have been involved in cartel activity, then you should seek legal advice on how best to minimise liability.
Survival
It could also, of course, be a sign that the fallout from the OFT investigation never reached that far below the corporate top tier of blue-chip contractors. GoodCorporation's Martin says: "There's a very long and complex tail to the construction industry. Some sub-markets can have very cosy positions. These smaller firms won't be ones to have compliance officers enforcing policies around behaviour.
"My guess is that since [the CIOB's study was published in] 2013, the industry has really struggled to improve the situation regarding corruption, given a long period of austerity, which has made winning work even more crucial. It's been about survival, which increases the risk of direct corruption to get work. I suspect things have got worse."
Rudi Klein, chief executive of subcontractor trade body Specialist Engineering Contractors' Group, says: "There's bad practice in terms of payment right across the whole process, and one response from subcontractors has been to act illegally to try and protect themselves. It's time to stop not only those acting illegally but the bad practice that leads to the illegality."
Simon Tolson, senior partner in law firm Fenwick Elliott, says the low-margin business model makes this all the more likely. "The industry doesn't seem to be able to shake itself out of this low-margin business model. And when things are very difficult, that's when more nefarious practice comes in."
David Barnes, public affairs manager at the CIOB, says this link between low margins and corruption will not go unnoticed by government, meaning the surge of recent competition cases are likely to reinforce the view of the Department for Business, Energy and Industrial Strategy (BEIS) that the construction sector is in need of significant reform. "The issue with the construction sector seems to be that it operates reactively when it comes to huge ethical issues such as crime, corruption and modern slavery."
He adds: "Following Carillion, Grenfell and everything else, the industry is really under the microscope. The number one priority of BEIS is to change the construction industry's business model."
For construction, the prospect of further CMA action – with the latest probe launched just in March – will not be welcome. But cleaning up its act seems likely to be just one of a number of necessary measures to reform the industry as a whole.