The North-west may have been spared flooding so far this winter, but the occurence and severity of the region's floods is steadily increasing. David Blackman looks at the plight of residents and businesses in the area and the quandary they face finding a solution
If Donald Trump needs to be convinced that climate change is real and not a "Chinese hoax", he should make a trip to the Lake District, assuming the new US president's planned state visit to the UK actually happens. There, he could see the wall of Nigel Wilkinson's main boatyard at Windermere, which records more than a century of high watermarks in times of floods.
"In a 100-year period, I can see all the major floods […] have been in the past 10 years," says Wilkinson, who is managing director of Windermere Lake Cruises.
The UK has so far avoided a major flooding incident this winter, although the people of Jaywick had to be evacuated en masse last month due to fears that the Essex coastal town was about to be inundated. But it is barely a year since the rains unleashed by Storm Desmond brought floods across the north of England. And Cumbria was, not for the first time, one of the worst hit areas.
Here Building examines progress on repairs to the county's battered infrastructure, looks at concerns that the North-west as a whole is still missing out on flood defence cash and hears calls for a more strategic approach to tackling the issue.
Water, water everywhere
The most recent mark on Wilkinson's wall commemorates the flood that that hit Cumbria in December 2015. "Until you have been through one, you don't realise what a huge impact it has," he says.
On the night of the storm itself, Wilkinson's priority was to save as many of the company's boats as possible. The day after, the long job began of picking up the pieces. The disruption wasn't limited to the company's own premises, 13 of which had been flooded. Many of its staff had been flooded out of their homes too.
Until you have been through [a flood], you don't realise what a huge impact it has

Nigel Wilkinson, Windermere Lake Cruises
In addition to getting his own business back on its feet, Wilkinson was campaigning on behalf of the county's businesses in his capacity as chairman of the Lake District National Park partnership's business task force. The A591, the main spine road running north-south through the Lake District, was washed away in places. The road was shut until the middle of May, forcing motorists to take round journeys up to 80 miles long. "In effect, the Lakes economy was cut in two. Nobody realised until the link was severed how interdependent the two areas were," says Wilkinson.
The road's closure hit the Lakes' tourist industry as coach parties were deterred from diverting off the M6 into the district. In a report published last spring, Wilkinson's task force estimated that the aftermath of the floods was costing the local economy £1m a day. The disaster also meant that Cumbria was in the news for all the wrong reasons, Wilkinson adds, which was bad for the Lakes' tourist economy.
One of the main reasons that Cumbria suffers particularly badly from flooding is that rocks and gravel wash down off the county's uplands, scouring the river banks, explains Sue Hayman, Labour MP for the Cumbrian coastal town of Workington and Labour spokesperson for flooding issues. She says, some of her constituents have been flooded as many as half a dozen times over the last decade. "They are now reaching the point of despair."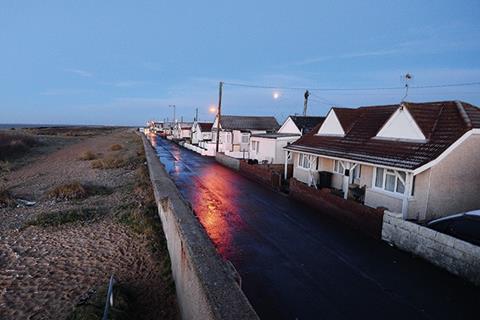 According to Keith Little, cabinet member for highways on Labour-run Cumbria council, there is plenty of work to do but the repairs are going well, helped by the relatively dry winter Cumbria has enjoyed so far. The government has awarded £120m for repair work in Cumbria over three years. A mix of national and local contractors, like Thomas Armstrong and Storys, have done the bulk of the major road repairs, says Little: "The supply chain has been very good and stepped up to the mark as it did during the floods."
Little adds that the county's main roads have been repaired and almost all bridges reinstated, but this doesn't include the main bridge in Staveley, which was damaged beyond repair by the storm, cutting the south Lakeland village in two. The central pier of the bridge took the most damage, as a result of which the bridge is now too weak for even pedestrians. A new crossing has been designed and so far the footings have been installed. While the bridge has been down local shops have been deprived of passing trade because motorists who used to take a detour from the nearby A591 can no longer reach them.
In addition, many still haven't been able to move back into their homes. These include residents of Warwick Road, Carlisle, which suffered its second big flood in less than a decade in 2015, says Paul Cobbing, chief executive of the National Flood Forum. "There are still people who are out of their homes, which is very stressful," says Hayman.
The good news is that many houses and shops, which were damaged in the previous 2009 floods, have been repaired with flood resilience in mind, limiting the damage caused by last winter's catastrophe. Improving flood resilience in properties often involves a package of measures, some to prevent water entering in the first place, such as installing flood barriers, air brick covers and non-return valves, and waterproofing brickwork. Other measures are designed to reduce the impact after water has entered a propery and to speed up recovery, such as installing electrical sockets above floor level.
Chippendales, the local independent toy store that was flooded out for six months in 2009-10, was trading within a few days last winter thanks to such measures. "On the surface, it looks like people have got back on their feet pretty quickly," says Hayman.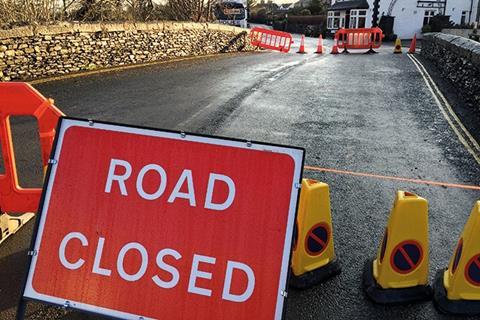 Flood defence spending
However, a succession of announcements has left some wondering whether the government has yet woken up to the profound challenge facing some of the communities hardest hit by floods.
An analysis recently conducted by BBC Yorkshire showed that per capita spending by the Environment Agency on flood defences in the North-west is the third lowest for any English region, even though it was one of the worst affected parts of England last winter.
An Environment Agency spokesperson defended the way the agency allocated its funding, which is carried out on the basis of a cost benefit analysis. "We invest in flood defences where the risk is highest, wherever it is across the country, giving each scheme careful consideration to where it will benefit the most people and property."
Mark Hoban, the former Conservative MP who chairs the government and industry-backed Flood Re insurance scheme, defends the agency's stance. "If you can see a way to reduce a bigger financial loss in place A, that will be more attractive than protecting against a smaller loss in place B."
However, Hayman argues that what she brands a "ridiculous" basis for calculating flood defence spending ignores the particular vulnerability of areas, like Cumbria, to flooding. Even before taking into account the wider impact of flooding on the local economy, she argues that the sums spent on repairing Cumbria's infrastructure outweigh the costs of guarding against the problem. She is particularly aggrieved that the government did not approve a £25m bid from the Cumbria Local Enterprise Partnership for a flood resilience programme to help businesses located in flood-prone areas.
Allegations of skewed allocations are not the only gripe in flood-struck communities. Hayman's fellow Cumbria MP and Liberal Democrat leader Tim Farron was outraged by a government decision, snuck out in a written statement to parliament in mid-January, which means money from a special EU fund for tackling disasters won't be used in flood-hit areas of England.
Opposition MPs battled last winter to persuade ministers to seek funding from the EU Solidarity Fund. The UK government's application was eventually successful, netting €17m (£15m). However, the government revealed last month that it had opted to use the money to repay a fine levied by the European Commission on the UK following mis-spending by the then Labour government of grants allocated following 2007's floods. Farron says: "They have chosen to use this money to pay the fine, instead of passing this money onto flood-affected areas and paying the fine from Treasury coffers."
"The government is required under EU law to repay this funding," says a spokesperson from the Department for Communities and Local Government, adding that the diversion of the EU fund has to be viewed in the context of the £300m total funding that the government provided for flood-hit areas following last winter's storm damage. And capital spending on flood defences has recovered following a dip when the coalition government came into power in 2010, according to an analysis carried out by the House of Commons library.
This shows that flood defence spending peaked at £665m a year in 2010-11, in line with the recommendations of the Pitt review established by the then Labour government in the wake of the 2007 floods. It was then cut to £540m a year before surging back to £802.6m in 2014-15. This increase was largely accounted for by a £270m injection of funds following the 2013-14 winter floods that turned the Somerset Levels into an inland sea.
Then in the March 2016 Budget, which followed the latest winter floods, the government announced £160m extra for flood defence maintenance between 2016/17 and 2019/20. In addition to pumping in money, the government has commissioned two separate reviews into flood resilience since the November 2015 floods (see below).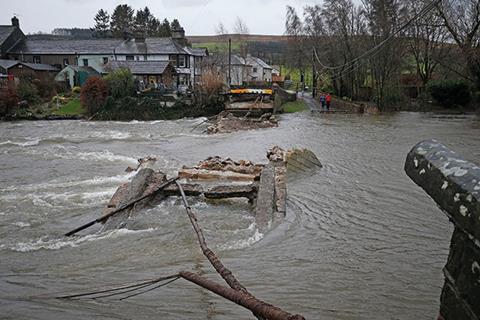 Towards a solution
The National Flood Forum's Cobbing doesn't believe that the answer is the one recently recommended by the environment select committee: to establish a new agency dedicated purely to tackling flooding issues, taking over these responsibilities from the Environment Agency. Referring to the recent emergency in the east of England, he says: "The Environment Agency sent hundreds of people across to East Anglia. It pulls people in whose day job may be something else but have been trained to deal with flooding incidents."
We need to treat flood risk management as a national infrastructure issue. we need to think about where we put care homes and prisons

Paul Cobbing, National Flood Forum
But Cobbing believes that a much more strategic approach is needed to adapt to a warmer and even wetter future in which flooding becomes increasingly common. He argues that localities may have to be reconfigured to shift businesses out of areas that will become uninsurable due to growing flood risks.
He also goes further, saying flood risk management needs to be viewed as a national infrastructure priority, in a similar way to the nuclear new build programme or HS2. He says: "We need to treat flood risk management as a national infrastructure issue. We will get flooding in the future so we need to think about where you put things like care homes and prisons."
But after each flooding event, affected areas are left more financially vulnerable. Wilkinson says he can still get his properties in Cumbria insured, but many other businesses are deterred from seeking cover by spiralling excesses. And Hayman says that the drip-drip impact of repeated flooding is bad for her constituency's morale. "Cumbia is a very strong community so we look like we are coping, whereas actually we're not always. Just because we look like we are doing well, doesn't mean we are all right."
Wilkinson agrees the county must become more resilient to flooding. "If the climate change figures are right and I don't doubt them, it's not a case of if, but when, [flooding] happens: Cumbria has to be ready."
So does the rest of flood-prone Britain – the question is, will it be?
Flood resilience recommendations so far
The winter 2015 floods, which insurers estimate caused around £500m worth of damage concentrated in the north of England, prompted two separate government reviews.
The first is the National Flood Resilience review, which was published last September, and was overseen by Cabinet Office minister Sir Oliver Letwin before he left the government in last summer's Cabinet reshuffle.
This identified 530 pieces of critical infrastructure, such as water and telecoms plant, which are at serious risk from flooding, each of which could affect at least 10,000 people. The assessment is based on new Met Office modelling, which assumes increases of 20-30% more rainfall and is in line with predictions that climate change will lead to more intense downpours.
Last year also saw the publication of a separate action plan carried out by BRE Group chief executive Peter Bonfield into boosting the resilience of property when floods hit. This included a recommendation that more work should be done on rejigging building regulations to provide greater protection for properties in flood-prone areas.