Why is Hinkley delayed and overbudget?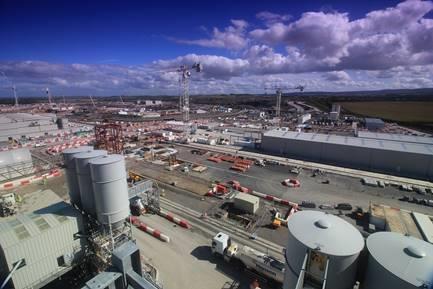 Project: Hinkley Point C
Started: December 2018
Finished: Target for first reactor – December 2025
What happened: In 2012 EDF estimated the cost to build Hinkley as £12bn, way above the government's 2008 estimate of £4bn. This grew incrementally to the most recent announcement that costs will now be £21.5bn-£22.5bn. It said the risk of a delay of 15 months to construction of the first reactor and nine months to the second had increased.
What's the groundwork problem?
The earthworks at Hinkley Point C required excavation of 2.3 million m3 of mudstone with limestone bands, to depths of up to 34m on a site the size of 240 football pitches. Sprayed concrete, strengthened by an estimated 112,000m of ground nails, was used to retain the excavated slopes.
An EDF spokesperson said that ground investigation before starting showed "weathered rock in places, with a number of faults." As work progressed, "it became apparent that the extent of the faulted zones was more extensive than envisaged.
"In addition, the areas of highly weathered rock degraded quickly, despite tight controls in terms of the maximum duration it could be exposed prior to blinding with concrete. These issues have led to additional excavation, additional ground nailing and additional substitution/replacement concrete."
Other late nuclear projects
Project name: Olkiluoto
Started: July 2005
Finished: Expected July 2020
What happened: Originally scheduled to open in 2010, the 1.8GW reactor project suffered serious delays. Reactor designer Areva built the scheme on a €3bn fixed price, leading to work stopping while a legal battle was fought over liability for costs. Areva said in 2012 full costs would be more than €8bn.
Project name: Flamanville
Started: December 2007
Finished: Expected end of 2022
What happened: Problems with the €3.3bn reactor project surfaced as early as 2008 with concrete quality issues. Faults in the pressure vessels identified later caused significant delays. Most recently, cooling circuit welds were judged not to be up to standard, and the final price will be at least three times the €3.3bn estimate.
Project name: Taishan 1&2
Started: October 2009
Finished: Unit 1 – December 2018, Unit 2 – September 2019
What happened: Construction of the two 1.7GW reactors was supposed to take just 46 months, but ended up more than double that after reported problems. Both reactors are now in operation.