As the new boss of Aecom's operations in Europe, the Middle East, India and Africa, Lara Poloni intends to steer a course through uncertain waters by focusing on the firm's development role and infrastructure opportunities. Portrait by Tom Campbell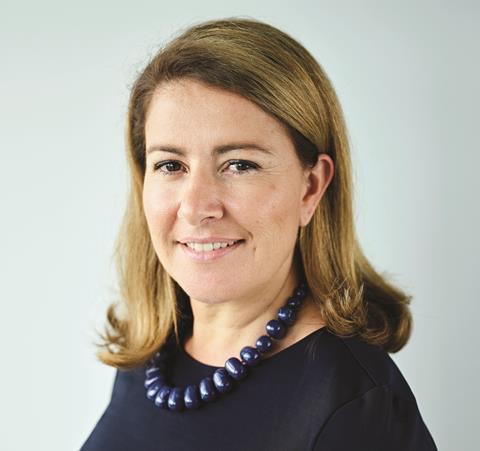 Lara Poloni has been trying to resist a constant urge to check her phone's weather app since she moved to the UK a couple of months ago to take up her new role. The forecast for the winter ahead is somewhat chillier than she has been used to in Melbourne.
"Australians are obsessed with the weather," Aecom's antipodean new boss for Europe, Middle East, India and Africa (EMIA) confesses, settling with relief into a chair, having just survived her first rush hour tube crush – and on one of the capital's wet and less than appealing days.
Yet, despite this – and the fact her journey to our meeting at Aecom's central London office actually began in South Africa the previous day, when she was visiting the firm's operations over there – she looks immaculate in a navy dress. And she is remarkably bright, chatty and on the ball for someone who has spent all night in an aeroplane.
Poloni, in her mid-40s, has been at Aecom for over 20 years, having joined the consultant's Australia and New Zealand operations in 1994. She rose through the ranks to be group manager for planning and environment of Aecom-owned Maunsell in 2002, and in 2009 was promoted to managing director for environment across the region. In 2014, she became chief executive of the entire region.
The same year, against the backdrop of Australia's "crashing" mining sector, Aecom reported a $150m (£114m) fall in revenue for its Australia and New Zealand business and, while Poloni will not be drawn on the detail of what took place, she admits that it was a period "where there were some rapid and hard decisions to be made to ensure that the business was […] more agile and resilient to be able to withstand […] ongoing periods of volatility".
But that's all behind her and she is now in her first month as chief executive of Aecom's second-largest region after the Americas, having officially taken over at the beginning of October from previous incumbent Steve Morriss (see overleaf). The also role makes her the most senior female construction boss in Aecom.
As a grey London sky looms low outside, Poloni sits down with Building to discuss her new role, plans for growing the business through its finance and development arm, and what it feels like to be one of the handful of women at the top of the industry.
Being the client
As boss of Aecom EMIA, Poloni is in charge of 18,000 employees, a significant jump from the nearly 4,000-strong team she led in Australia and New Zealand. And here in the UK – she has relocated her family to London to take up the role – Poloni oversees 8,000 employees, who contributed around 5% of Aecom's $17.4bn (£13.2bn) revenue in its last reported full financial year.
She appears unfazed by the substantial increase in her responsibilities and whereas other firms seem fearful of the uncertainty brought about by Brexit, she is positive about the UK's future: "I think in spite of Brexit, I've only been here on the ground for four weeks and I'm probably more optimistic than I thought I would be in terms of opportunities here in the local market. The exciting part for us is the intersection between property and infrastructure."
After a whistle-stop tour of her new domain, she is already working on developing and growing the region, as well as cementing the firm's global client relationships.
Poloni's ambition for Aecom EMIA is to continue to drive growth not just by winning work from clients and bagging spots on frameworks, but also by expanding its activities through its US-based investment business Aecom Capital. Aecom EMIA is planning, via Aecom Capital, essentially to become its own client, developing work for itself by coming up with project ideas, which the firm will then finance, design, build and operate. This approach has already been started in the UK.
Infrastructure pipelines get politicised and sometimes priorities change, but we have an ability to look through that
Poloni explains the benefits of the sort of projects Aecom Capital's expansion is looking to take on: "When you look forward […] you start to realise the opportunities in potentially teaming up with a contractor or delivering some of those built outcomes yourself. So [these end-to-end projects] are the ideal in terms of some of the opportunities out there."
The consultant has plans to grow the amount of work Aecom EMIA does via Aecom Capital, to a scale that rivals what it has achieved in the US, which since its formation in 2013 has invested in projects with a development value of $5bn (£3.8bn). Aecom Capital is understood typically to invest between $10m-$30m (£7.6m-£23m) in a project alongside an operating partner.
Aecom EMIA's development activities are expected to target key cities such as Dublin, Manchester, London, Amsterdam, Paris, Madrid, Frankfurt, Rome, and Warsaw as it starts to build up the business and will then potentially expand out to the rest of EMIA.
Earlier this year Aecom flagged that it expected to announce its first development project before the end of 2017, and that this would also be built by the firm's fledgling UK construction arm (which was started in 2015 and is building Greenland Group's Spire London in Docklands). True to its word, at the start of this month, Aecom launched a joint venture with
Olympian Homes to deliver a £150m twin tower scheme in Manchester's city centre housing over 400 homes.
In September it also invested an undisclosed sum in plans for a new eight-mile rail track to link Heathrow airport with trains to Guildford, Farnborough, Woking and Waterloo. This funding will be used for developing the project to its next stage.
Infrastructure
Poloni sees the infrastructure sector as a prime target for growth, both in building out big contracts and working on associated regeneration projects. She cites Birmingham as a prime example of a city undergoing massive regeneration on the back of the government's commitment to HS2.
"There is certainly a great visible pipeline of opportunities, but we know there is definitely a deficit in terms of the funding available, particularly for infrastructure projects, so we have a unique ability to create some of the projects and bring to the table schemes that can make a difference that might not necessarily be at the top of the list," she says.
Back in Australia, Poloni explains, states do not have the money to fund all of the infrastructure needed, and market-led infrastructure proposals are now the norm. She adds that in Australia, Aecom has been looking at new ways to finance some of the next wave of infrastructure through alternative – though sometimes controversial –routes, such as selling assets. She sees similar financing mechanisms being explored in other parts of the world.
She also thinks there is similar "potential" in the UK market. She says: "We're seeing more and more opportunities to get involved at the front end of projects […] and we're loving the opportunity to be involved in those projects that aren't just a singular element of technical expertise […] such as Old Oak Common [in west London] which we've just won." This is a contract the firm won in May to masterplan options for 650 hectares as part of the area's regeneration, with potential for up to 26,000 homes. "What we're seeing globally is most incoming governments are coming with a very strong infrastructure mandate, because it's so clear about the productivity and city development benefits and jobs.
"Then what happens [is that] infrastructure pipelines get politicised and sometimes priorities change, but we have an ability to look through that and have a point of view about which of the projects at the end of the day are going to deliver the city-wide benefits […] We know what are the projects that are going to make a difference to cities in the future."
Aecom will still, though, continue to compete for straight forward consultancy jobs as the firm still sees this as the best way to make sure its technical expertise remains high, as well as to provide the consultancy services its external clients still want.
In need of role models
As Poloni is one of Aecom's most senior female leaders, the conversation moves on to the impact her career has had on other women in the sector.
"What has surprised me and is becoming apparent even here [in the UK] and the places [in EMIA] I've visited, that there is a lot of power and influence and change for good that you can drive by being a visible role model for women, which I had really underestimated before coming into some of these more recent leadership roles."
She added: "I really look forward to playing a strong industry role in this [gender equality], as well as looking at the next strategy at Aecom and what we're going to do around that."
Aecom has a pretty good record when it comes to gender equality in an industry where it is still rare to see women at the top levels. Since 2016 it has increased the number of its women leaders by nearly 30% and Poloni's promotion to her current role is part of that story.
Poloni's arrival in the country also coincided with the consultant sponsoring the all-women army team Ice Maidens, who are about to begin crossing Antarctica via the South Pole with the aim of inspiring women and girls to become more active.
Poloni said the expedition showed the mental strength and physical endurance women had to operate in the most hostile environments on earth. She added that she hoped it would inspire "women and girls of all ages to take up exciting challenges".
Looking ahead
In terms of challenges that face Aecom EMIA, Poloni wants to make sure the firm is as productive as it can be amid an atmosphere of political and economic instability, by staying at the leading edge of technological advances.
She adds that there is still "patchiness" in the pipeline in terms of funding and procurement timelines, but believes that Aecom is these days a more versatile business, which can move with the fluctuations and cycles that affect the make-up of the pipeline.
Aecom, whose global headquarters are in Los Angeles, has spent several years on an acquisition spree and has spent £2.8bn snapping up companies in the US and UK, including the buyout of rival consultant Davis Langdon for £204m in 2010. The firm has not ruled out further acquisitions to reinforce its offering over the next few years, but anticipates more organic growth rather than any substantial purchases over the next few years.
The Fortune 500 consultant did, though, earlier this year enter into a strategic partnership with Chinese 3D printing specialist WinSun, which has "particular expertise in modular concrete housing" and which Poloni sees as something that could be applied to parts of EMIA such as the Middle East.
Aecom has been working on ideas for modular housing for some time. In 2014, the firm joined forces with Rogers Stirk Harbour + Partners and SIG Build to provide 24 homes for homeless families on behalf of Lewisham council. And it was on the back of this project that Aecom earlier this year picked up the job to build up to 3,000 prefab homes in the first phase of the £3.5bn regeneration of Silvertown in east London.
For now, though, the most immediate challenge for Poloni is the unappealing prospect of a British winter with most cold Saturday mornings likely to be spent on the sidelines of rugby matches supporting her son in his new school. But she does have Christmas in the baking Aussie sun to look forward to, and in this, as in many other respects, the outlook is set fair for Aecom EMIA's new boss.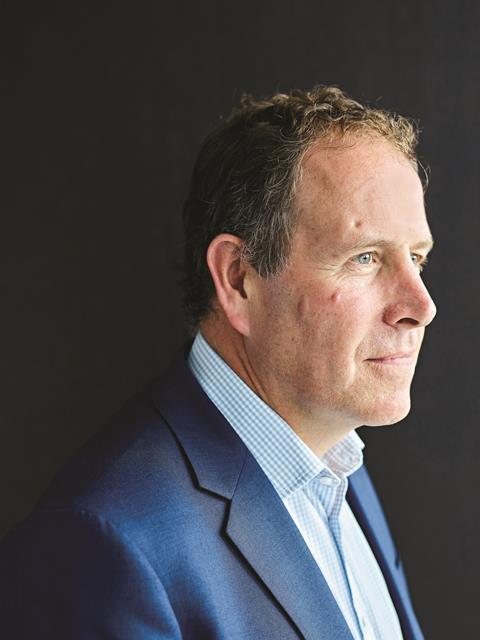 Steve Morriss - eyes wide open
As Lara Poloni assumes his former role, Steve Morriss has taken up a new position as boss of Aecom's design and consultancy business covering the US, Canada and Latin America.
Having been at the helm of EMIA for the past seven years, beginning just after the consultant acquired rival Davis Langdon in late 2010, he says that the business he leaves is not the "finished article" and the potential for the EMIA region under Poloni is huge, adding that the UK "despite everything" is on track to grow again this year.
"If I look at where we are now compared to where we were when I joined, just coming out of the economic crisis, we were losing money. [Now] we are right up there at the top.
"We're much more cohesive, the business is in better shape, our people are happy, our safety record is better, and I'm convinced very little of that has actually been down to me."
He adds: "Nobody's better placed than us to ride the stormy waves and to come out strong the other side […] There's always growth if you look for it, but sometimes it's slightly harder to find."
For him though, it is a big move relocating from the Middle East to Los Angeles, bumping into A-list celebs on the sidelines of his son's soccer matches.
"Every new job is different and you respect there's a lot to learn […] If you think you know all the answers, you're almost certainly not going to do as well as you need to. I go into it eyes wide open."
Morriss sees "strong growth" opportunities across his new domain and adds that the pent-up demand for infrastructure in the US, which has been exacerbated by the "political stalemate" of the past few years, has now started to see the US launch big spending programmes. And if federal funds are released, then it would "escalate" these programmes to another level, he says.
However, he will not be drawn on his views of the current US president, pointing out that in his native UK, things aren't particularly a bed of roses either.
"You can focus on the Twitter headlines, but actually underneath everything both in the UK and the US there is a strong and growing investment and focus and support for infrastructure. I think people trying to improve economies increasingly understand that, that is how you grow economies – put in brilliant infrastructure and the rest will follow."