It's all change at BRE Group as it responds to a shift to digital skills and post-Brexit global expansion. New chief executive Gillian Charlesworth discusses how she intends to further the organisation's academic clout while boosting its earning power. Photography by Jean Goldsmith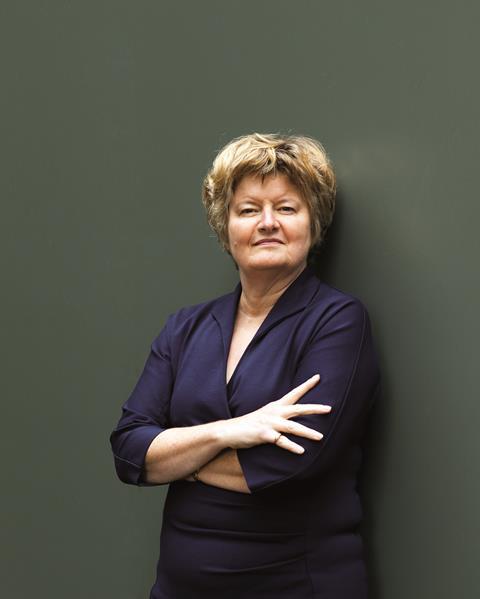 In May, Gillian Charlesworth became the first ever woman chief executive of BRE Group.
A woman breaking the glass ceiling may not seem remarkable these days – although in construction it is still a rarity – but it is more impressive at a building research organisation going back 90 years where the men at the top have typically been BRE lifers with a tech background in the vein of her high-profile and very public-facing predecessor Peter Bonfield, who left in 2018.
Charlesworth is none of those things, and she has also never been a chief executive before.
Five months into heading the world's first research centre for the built environment, she says this opportunity has come at the perfect time. She is talking to Building at BRE's Watford HQ, not in her office but in the innovation park visitor centre – one of the many buildings in its sprawling 50-acre campus located close enough to the M1 to hear a constant roar of motorway traffic in the background.
In a calm and measured tone she says how excited she is by her new responsibilities: "I don't think I could have had a more fortunate time to take on this role because of the context we're working in, the real interest and growing commitment to addressing the problems of climate change. The time couldn't be better to take the BRE's mission on to a new stage."
What qualifies her for the job? After starting out in the civil service and then working for several trade associations, she has spent 15 years at the RICS, the last six as the board director of regulatory and corporate affairs.
If we find ourselves carrying out activities that simply aren't generating profit, we will be looking to grow them, or stop them
Here, Charlesworth says, she helped the professional body grow from having a few foreign outposts to an organisation with a presence in around 40 countries. She also played a big part in the RICS expanding its influence and teaming up with other professional bodies to drive standards in the industry.
While BRE and the RICS are very different, she says they will face common challenges and opportunities in the post-Brexit era in terms of exporting British expertise and standards: "I would expect BRE to really grow its role in that and that's very much what we achieved when I was at RICS."
Her appointment to BRE comes after a period of upheaval for the organisation, which was restructured at the end of last year under its interim chief executive Niall Trafford, leading to about 60 redundancies including the departure of some senior people such as Martin Townsend, the director of sustainability.
The organisation has also slimmed down its estate: originally taking up about 65 acres, it sold off an area to Crest Nicholson which is currently building 100 homes. Brexit has posed another challenge, forcing it to set up BRE Global Ireland last year to be able to continue its CE marking activities for products for the European market in anticipation of the UK leaving the EU.
All this is against a backdrop of cuts to government grants for sustainability research, which – though it has been privatised since 1997 – the BRE had relied on for a major part of its £54m annual revenue. But now with the government's new commitment to the net-zero target and last month's announcement of the proposed Future Build Standard for energy efficient homes, Charlesworth can sense change is in the air.
The urgent need for the government to reduce carbon emissions – the built environment being responsible for around 40%-50% of them – combined with increasing pressure on the construction industry to harness data to improve efficiency, productivity and safety, all points, she says, to a growing role for BRE.
So at this pivotal point, how does Charlesworth, a BRE outsider, intend to capitalise on these new opportunities, and can the changes she wants to bring in create a more modern corporate culture within what has traditionally been a very academic institution?
Core purpose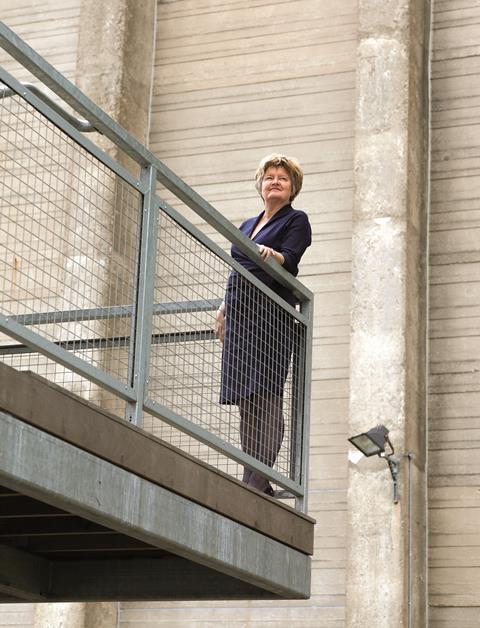 Charlesworth is clear about what is not changing: BRE's ethos grounded in scientific, evidence-based research and its mission to do public good. That "core purpose", which she brings up often, is literally on display on campus buildings with the slogan in big bold letters "Building a better world together".
It would be easy to dismiss it as corporate guff except that the group is owned by the BRE Trust which ploughs the group's £2m profit back into research projects that aim to improve buildings' performance and safety. Talking to former BRE employees, this mission is what makes the organisation unique and what motivates its staff.
Charlesworth says she has spent much of her first few months talking to the 600-strong group and understanding what they do within the three main areas of activity – building performance certification, fire safety testing and electronic security (which covers smart home technology).
I don't think I could have had a more fortunate time to take on this role because of the context we're working in, the real interest and growing commitment to addressing the problems of climate change
Charlesworth says this meet-the-team exercise has made her aware of how much expertise she has at her disposal. "Some of the people here are world experts," she says. "The key for us is to become a deep knowledge-based organisation, that we're known for selling that knowledge.
"We have certification and testing products and those are important, but I want us to be known for the knowledge and also to be known for helping to convert that knowledge into real, tangible solutions for industry. And the key to that is talking to our customers."
She acknowledges that one of the challenges is to bring more focus to a very diverse organisation which ever since privatisation has had a tension between its scientific and academic aspirations and the pragmatic need to make money.
When asked if she is planning another restructure with redundancies, Charlesworth says her aim is to grow the organisation not shrink it. She is quick to point out that despite the redundancies before her arrival overall headcount is not down by much.
Since last year's restructuring, BRE says sustainability expertise has been embedded at all levels, with much of it coming under the building products division now headed by Alan Somerville. It also says its involvement with the Construction Innovation Hub has resulted in a £17m grant over four years and created work for about 30 people.
At the moment her executive team is working up the business plan for the financial year from April 2020 – reviewing all of BRE's products and services to see if they are profitable and in keeping with its mission. On this point Charlesworth is blunt: "If we find ourselves carrying out activities that simply aren't generating profit, we will be looking to grow them, or stop them." But at this stage she says no decisions have been taken.
Charlesworth is also developing a three- to five-year growth strategy. She's reluctant to put an exact figure on the growth target but says "I'll be disappointed if we are not adding £20m-£25m to turnover in a few years' time."
Central to this growth plan is bringing in digital skills and people who can work with data. Charlesworth is in the process of recruiting for a new post of chief digital and data officer, a senior exec appointment to deliver BRE products in a digital format and to review the group's data and how to commercialise it.
"The mix of the skills is already shifting. The Construction Innovation Hub is about digitising construction and whole life performance of buildings, making sure in a world where much more data will be used in buildings that actually that's secure and has the right standards around it. This is a very different skill set."
Other senior team changes under her watch include the arrival of Andrew Herbert from the Chartered Institute of Environmental Health, who is now BRE's interim chief financial officer, as well as Jane Goddard from the Energy Saving Trust who joined as the commercial director, and just last week BRE announced the appointment of Piers White of Hyde Housing as chair of the BRE Group.
White joining the team seems a central part of her revenue-boosting strategy, she says: "I'm just adding to that sense of ambition that I know he will be bringing to the organisation.
"We need to grow and I believe strongly that we can to at least that sort of magnitude."
Looking abroad
Key to that revenue growth will be exporting BRE's expertise abroad where she sees "massive opportunities", principally in China and the US. She thinks it will be easier to make inroads into China where they have a team of nine, an innovation park in the Gui'an district and have launched BREEAM and BIM training in Hong Kong. BRE has agreed mutual recognition between BREEAM and China three-star rating system for green buildings, which it hopes will help penetrate a huge market and the plan is to double the China team in the next couple of years.
Investment decisions will also have to be made soon about its Brexit strategy. So far it has spent a couple of hundred thousand pounds setting up a small office in Dublin, securing the status of EU Notified Body for the testing and certification so it can continue CE marking activities on products sold in the European Economic Area.
It plans to spend another £2m replicating its Watford testing facilities, such as the huge burn hall, in Ireland if Brexit goes ahead. But the timescale for this project depends on whether the UK government comes up with a deal.
I want us to be known for the knowledge and also to be known for helping to convert that knowledge into real, tangible solutions for the industry
If it does, BRE can continue to carry out basic services and develop the site over the two-year grace period. If not, the work will have to be done in less than 12 months.
In terms of work from government grants, which has been worth 5%-10% of revenue, Charlesworth is cautious about its growth potential. BRE took a hit on its Code for Sustainable Homes when David Cameron's government backed away from the 2016 zero-carbon homes target, so she is not going to rely on government policy to drive revenue.
When it comes to the government's proposed Future Homes Standard, she says there is work to be done there and is also hopeful BRE's Home Quality Mark has a role to play. Take-up of this scheme – set up to replace the Code for Sustainable Homes – has been relatively low, which she says is because it is voluntary.
BRE's work has fed into the latest proposals and it is broadly supportive of the government's new regulatory plans and the switch to a mandatory approach.
But what of the Watford site itself – how does that fit into her plans? A shift to digital skills and a bid for global expansion inevitably raises questions over the usefulness of a huge campus, where it has its innovation park for developers and manufacturers to try out low-carbon solutions, the latest being Etopia's modular home under construction. As virtual models become ever more sophisticated, will there be the need for physical demonstration projects and testing facilities?
At the moment Charlesworth says there is still an appetite for building prototypes in the innovation park, while physically testing products for fire safety in the burn hall is definitely a public priority after the Grenfell tower disaster.
When asked if more of the campus will be sold off, she rules nothing out: "I think we should have all options on the table." BRE may not be shrinking as an organisation, but in this digital and global era it looks as if it will be targeting growth beyond the confines of Watford.
Charlesworth on …
… being a CEO for the first time
I would say that my stress level has not changed at all in coming to this role … because I feel very comfortable in taking on the responsibility. It is a nice change. I'm learning – I haven't cracked it – but I'm learning to not start dabbling in what senior execs are doing … but to spend time really thinking deeply and reading around what other businesses have done, what works, and making sure that I retain that overview and that I'm bringing ideas.
… her style of leadership
One of the things I'm proudest in the last few years of is being listed as one of the 50 leading lights of kind leaders, which is part of the Women of the Future movement. By kindness in leadership it doesn't mean being a soft touch but respecting people and embracing diversity and inclusion, treating people with dignity whatever tough decisions you're making. That's the way to lead.
We absolutely do not see enough of that type of leadership in this industry. It's not just about doing the right thing, it's about what people coming into the workforce now are going to expect. They are not going to come to work to be bullied, harassed, discriminated against, they are just simply not going to put up with it.
… construction's culture
[I've seen some of the] dreadful cultural atmosphere in this industry … terrible trolling on social media of women in the industry. The way to tackle this is for women to get together and give each other confidence, boosting their ability to tackle bad culture and bad behaviour. And do it [from the ] ground up. A lot of the corporate effort has produced glacially slow progress.
There will be a tipping point when generations who have struggled to work out how to do this will move away, they will retire and you'll get a new generation coming in who just won't behave in the same way, they are just inclusive naturally. We are in the middle of a bit of a struggle.