Is anything out there? We search out some bright spots on the construction horizon in 2013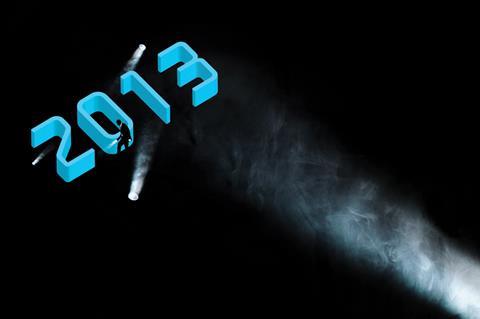 Only the foolhardy, and maybe certain coalition ministers, would predict 2013 to be anything above "grim" for the construction industry. The UK economy remains sluggish and, while the government announced some Keynesian stimulus measures in last year's autumn statement, the emphasis remains on fiscal austerity.
The rights and wrongs of that approach can be debated ad infinitum. While shadow chancellor Ed Balls urges the government to borrow further to fund housebuilding and infrastructure works, thereby creating employment and putting money back into the wider economy, the chancellor George Osborne can reply with some justification that Labour is only keen on Keynes during a recession. In the good years - a time when Keynesian economics advocates fiscal retrenchment in order to build up a war chest for the inevitable bust - Labour was clearly reading other economics textbooks.
All of this is, of course, rather academic. The coalition's sat nav is fixed on austerity and we can expect that its spending plans will continue largely as advertised. According to Cenkos analyst Kevin Cammack: "It's abundantly clear that government, be it central or local, doesn't have any money. And it certainly doesn't have the courage to try to spend its way into a recovery."
That means another lean year for construction, especially when combined with a forecast growth in GDP of just 1% in 2013, according to the Office for National Statistics (ONS), following an expected overall contraction of 0.5% in 2012. However, there are some opportunities to be found in the UK and further afield. Here, Building identifies the few glimmers of hope on 2013's horizon.
Dark days
First, the bad news. According to Experian's latest forecasts, published exclusively in Building this week (see page 13), construction output will continue to contract in 2013, although at a slower rate than in 2012. Last year, output shrank 8.5% and is forecast to contract by a further 3.5% this year before returning to modest growth of 0.8% in 2014.
The most recent Construction Products Association (CPA) report makes it clear that central government funding cuts are responsible for this year's fall in output, forecasting 0.7% growth in private sector output but -6.2% from publicly funded projects, including PFI. (While the report was produced before December's autumn statement, which saw the successor to PFI eventually unveiled, Noble Francis, CPA's economics director, says that the chancellor's announcement makes little difference to the figures, due to the time it takes for PFI projects to be procured.)
When you look at the commercial market, outside London, nothing is happening

Mike Peasland, Balfour Beatty
The CPA predictions are backed up by anecdotal evidence from industry. Mike Peasland, chief executive of Balfour Beatty Construction Services UK, says that 2013 will be tougher than 2012, and the firm has already prepared for these lean times.
"I don't see any sign of growth until 2014," he says. "Our restructure [in autumn last year] was done very much with this period in mind. It was about getting us ready for the market that we're in. This is the new normal and if you're going to play in this market you've got to be the right size."
The situation is arguably even worse for specialist contractors. According to Rudi Klein, chief executive of the Specialist Engineering Contractors' Group, a high rate of attrition among subcontractors will continue this year. "There is a common consensus that 2013 will be a make or break year commercially," he says. "Firms have cut as much as they can, and they can't go to the banks [because they aren't lending]. If things don't improve, companies have nowhere else to go. It really is going to be one of the worst years yet for company survival."
Of course, the flipside of having to wait until 2014 for growth is that at least it will come eventually. Here again, the CPA's figures are backed up by reports from the sector. The first part of the industry to see the fabled green shoots is always likely to be architects and consultants, and RIBA president Angela Brady urges caution, but says that the mood among her members is better than it has been for years. According to the RIBA's latest Future Trends survey, firms are more confident about future workloads, and the employment market within the profession has stabilised after years of ever-worsening figures. What's more, firms are employing 5% more graduates than 12 months ago.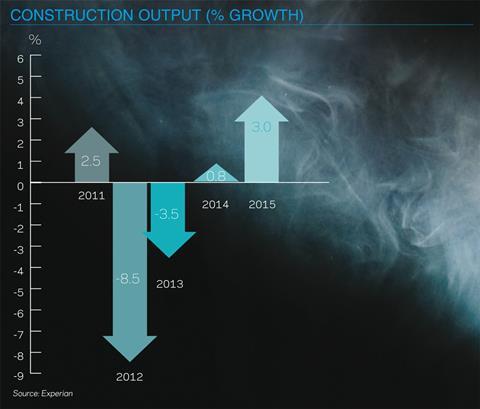 Commercial pressures
Taking a closer look at the statistics, however, perhaps the sector of most concern for construction's prospects in 2013 is also the industry's largest: commercial property, worth about £22bn a year. According to the CPA, commercial output was 17% lower in Q3 than in the same period in 2011. More worryingly for this year, orders were down by 35%, despite the fact that several high-profile schemes were procured for 2012.
London's commercial office market has held up better than anywhere else of course, but even there opportunities are limited. Richard Steer, chairman of consultancy Gleeds - which largely works at the front end of the supply chain and therefore should see opportunities before contractors - says that although there are some positive signs, pay days for consultants are still some way off. "We are starting to see some commercial activity in London, but from a consultant's point of view that won't start manifesting itself sensibly until the middle of 2013," he says. "Contractors have got a really difficult time coming up over at least the next two years." Steer adds that commercial retail property development is likely to be similarly moribund: "Householders are going to be worse off, which means that there won't be much activity in retail," he says.
If anything, Balfour's Peasland is more pessimistic, even about London's market. "When you look at the commercial market, outside London nothing is happening," he says. "In terms of high-end commercial in London, stuff will come on track through the Walkie Talkie and Cheesegrater [office schemes], but that could mean that other [developers] will take a step back and think that there may be overcapacity come 2015."
Demand for housing
However, in other sectors, there are some signs of hope. "It will be a slightly better year in terms of housing," says Cenkos' Cammack. "The remarkable thing about 2012 was how robust the housing market was. The government's limited fire power has all been directed at housing. My guess is that 2013 will be a similar, if slightly weaker, year."
Housebuilders have little incentive to radically increase the number of units built

Noble Francis, CPA
At the CPA, Francis also highlights the housing sector as an area of opportunity, although he says that growth will be far from dramatic at about 5%, and will be reliant on the private sector: having fallen by 30% in 2012, investment in affordable housing by the Department for Communities and Local Government is set to fall by a further 3% this year. "The major housebuilders are actually rather content at the moment," says Francis. "They're gradually increasing the number of homes they build, primarily in Greater London and the South-east."
Francis says the volume housebuilders are unlikely to increase building by more than 5% for two reasons: first, having cut staff after the 2008 crash they lack the capacity to do more; and, secondly, it isn't in their long-term interests to do so. "If, for instance, they doubled the number of homes they build it would seriously affect the value of the land they own and profit margin on each unit they build," he says. "They actually have relatively little incentive to radically increase the number of units they build." What's more, the industry can expect no such return to growth from small to medium-sized housebuilders, says Francis, due to the fact that they find it harder to access development finance and generally don't have a five-year supply of land with planning permission.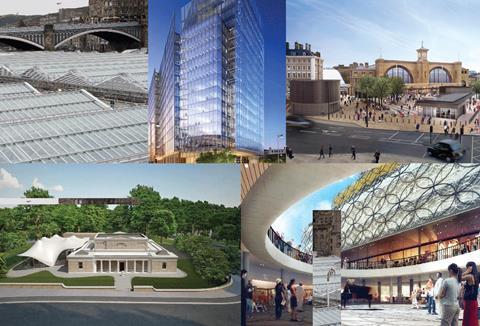 The arrival of PF2
In a significant move for public works, the chancellor's autumn statement finally saw the announcement of a successor to PFI, dubbed PF2. (The delay in the announcement had led to doubts about the future of school building in particular.) Osborne confirmed in the statement £1.75bn had been allocated to the Department for Education's Priority Schools Building Programme through PF2, meaning the scheme can continue. Added to the £400m capital spending already announced for the programme, it offers a significant pipeline of work.
The PF2 announcement also means that the procurement of major health projects can potentially proceed, although as there is currently only one major hospital replacement project in the pipeline - the Midland Metropolitan hospital in Smethwick, West Midlands - that is unlikely to lead to a great deal of work in 2013. The majority of the health projects will be procured through the Procure 21+ framework, and will focus on smaller, largely refurbishment projects.
The problem is that PF2 relies on both the public and private sectors putting up the cash. And private investors don't like uncertainty. Unfortunately, that is exactly what Osborne delivered. Having rubbished Labour's track record on securing value for money on PFI, the chancellor announced that PF2 would include potential break clauses to ensure the government doesn't end up locked into expensive contracts for years on end - without specifying the nature of the break clauses. Given that investors only make their money back - and their profits - on PFI deals in the long term, PF2 isn't currently a particularly attractive proposition.
"You're not going to find that the money floods in immediately," says Francis. "We're looking at the end of 2013 at the earliest."
Osborne's autumn statement also included £1bn of additional funding for roads, as well as a pledge to push on with the controversial HS2 rail project. However, contractors for many of the road projects that are to receive additional funding have already been procured and as HS2 won't break ground until 2020 it won't therefore be of much use to hard-pressed contractors in 2013. The situation is similar, according to several commentators, on large-scale energy projects: investment is coming, but not in time for 2013 balance sheets.
On rail, David Stevenson, managing director at consultancy Edmond Shipway, is similarly unenthusiastic. While acknowledging that rail funding is set to increase over the next four to five years, he says that "there are a limited number of firms who have the skills to access that [money]." He continues: "I think that we'll see more of the larger contractors trying to get a piece of that action, but the only way they can do that is to buy people in." That, of course, puts even more pressure on balance sheets.
Francis, however, regards rail as one of the major sources of opportunities in 2013, pointing to the Crossrail project and the ongoing works on First Capital Connect's Thameslink line. However, he adds that rail investment shouldn't be regarded as benefiting just those contractors with a specialism in rail construction. Much of the funding announced in the Department for Transport's last five-year spending plan, which was set in 2008 and within a regulated market cannot be clawed back by government, was allocated to station refurbishment projects. "Everyone thinks that [rail spending] only benefits a small number of specialist firms," says Francis. "But station refurbishments can benefit a wide range of contractors."
Global growth
For the firms that have the capacity, the greatest opportunities for securing new work in 2013 lie beyond the UK. According to the RIBA's Angela Brady, architectural practices are continuing to export their services to the likes of China, Brazil and north Africa, while she has identified Turkey, Colombia, Indonesia and Vietnam as countries with opportunities for UK companies.
At Gleeds, Richard Steer agrees that the best prospects of growth lie abroad. "The eurozone is a bit of a dead duck," he says. "But America is starting to pick up - housing figures are improving - and I think that [Barack] Obama will do something to make sure that the economy picks up because apart from anything else he has nothing to lose [given that he can't serve another term]." Steer adds that while China's projected growth of 7.8% for 2013 pales in comparison to figures achieved in recent years, it is still comparably robust, and that work is also to be found in the UAE, Singapore and Malaysia.
However, perhaps the most telling statistics come from Mike Peasland at Balfour Beatty. He says that the company has already moved from its traditional base of securing 20% of its work from foreign markets to 50%. And he adds that within the foreseeable future less than 40% of the firm's work will be domestic, with the mature markets of Australia and Canada, as well as the emerging markets of India and Brazil, his main focus.
So, the picture for 2013 is pretty dark, but a peek behind the headline figures reveals that there are opportunities out there, even for firms that can't scout for work abroad. The industry should also remind itself throughout the year that the prospects of growth are real and not as distant as they have been. Output is forecast to return to growth in 2014, not just in the private sector, but also from public works, albeit minimally.
And there's one last thing to be cheerful about: even gradual growth means that this article will probably be the gloomiest look-ahead-to-the-year-to-come report that you will have to read for a long time.