Rider Levett Bucknall's global chairman considers the year ahead from a consultant's perspective
What are the challenges, key developments and government policies that look set to shape 2016? Building asked key industry insiders to make a call on what they think will become the major talking points of the next 12 months. Ann Bentley, global chairman of RLB, considers 2016 from a consultant's point of view.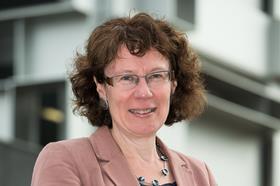 Big challenge:
The certainty of funding and then planning for infrastructure projects, especially in the nuclear sector. Here the biggest challenge isn't whether nuclear is going to be a major source of power, but the speed that it's going to be implemented at. It takes a long time to recruit to these jobs so we need a level of certainty to be able to begin the process.
Big story:
We are going to see increased Chinese influence without doubt. We are already seeing substantial Chinese money being invested in the UK and there is continued talk of Chinese contractors coming in. From an RLB perspective, this is great news. We have a huge presence in China and Hong Kong and are already working closely with our offices and clients out there to help attract more investment and collaboration into the UK.
Big project:
It's not one big project but the retail sector itself. Our bellwether clients tend to be the retailers. When retailers are spending, this indicates a consumer-led upturn and the economy is generally on the up.