Upgrading a facade not only brings aesthetic benefits, it can help extend the building's life and improve environmental performance. Here we look at facade systems that can be installed with minimal disturbance and, crucially, do not require a building to be vacated. Andy Pearson reports
The facade is a key element in any building refurbishment. Its renovation provides the opportunity to improve the building's thermal performance. It also offers the chance to repair damage to the existing envelope, which may help extend the life of the property, improve its appearance and enhance its value. A revamped facade will also improve quality and comfort inside a building.
But the removal and replacement of a facade is a highly disruptive process. Occupants are often forced to move out of a building while the work is under way, which can lead to loss of rental income for the landlord in addition to the cost of the refurbishment itself.
Another solution, which is gaining favour, is to leave the facade in place and upgrade and refurbish it instead. The main advantage of this approach is that it allows the building to remain in occupation throughout the works. It can also save time and money. Retaining the facade also makes sense from an environmental perspective - the increase in embodied CO2 brought about by the improvements will almost certainly be offset by a reduction in operational CO2 from the facade's enhanced thermal performance over its lifetime. "Renovating a building is so often a more sustainable option than demolition," says Denise Freeman, head of marketing at render manufacturer Sto.
The Building Regulations (part L2B) refer to the revamping process as the "renovation of thermal elements". The regulations state that it is reasonable to expect to upgrade a facade to a U-value of 0.3W/m2/k, providing this is technically and functionally feasible. This translates as achieving a payback of 15 years or less. If it's not economically feasible, the rules call for the element to be upgraded to the best possible thermal standard achievable within the 15-year payback threshold.
Below, we outline some of the more common facade renovation options that are available to designers and contractors, which can be applied with the occupants remaining in the building.
Rainscreen cladding
Rainscreen cladding is often used in the refurbishment of conventional brick, stone and concrete walls. It is commonly used for sixties high-rise buildings, where the problems associated with poorly insulated walls, damp or draughts are exacerbated by their increased exposure to the elements. With the introduction of proprietary systems targeted at commercial buildings, landlords and developers are expected to adopt the technique to refurbish older office buildings.
In general, a rainscreen cladding system comprises a layer of insulation attached to the existing wall clad with an outer skin, or rainscreen, as the primary barrier against rain. An air gap between the outer skin and insulation prevents water reaching the insulation.
Renovating a building is so often a more sustainable option than demolition

Denise Freeman, STO
There are a multitude of different rainscreen systems on the market, from propriety panels and support systems through to complete bespoke panel and support systems. The Alumet Group used proprietary panels mounted on the company's support system for the refurbishment of a series of tower blocks in Sheffield. "Once we'd replaced the windows, the remainder of the works were all external," explains Steve Smith, a building surveyor at the firm.
Facade manufacturer Schüco has recently launched a system - the ERC 50 Renovation Facade - developed specifically for renovation of offices. This solution involves building what is effectively a weatherproof shell around a building. The system's installation begins with the attachment of brackets to the existing structure to allow a supporting grid to be fixed. Windows and infill panels are then attached to the grid to form a complete shell. When the facade is weather-tight, the old windows are removed from the inside.
The system allows photovoltaic modules or even facade-mounted, decentralised ventilation units to be installed as an optional extra.
"The ERC 50 delivers fast and stylish building renovation without loss of income for the building owner or disruption to the occupiers and when fitted with PV modules it also becomes a generator of energy," says Marc von Briel, managing director of Schüco UK.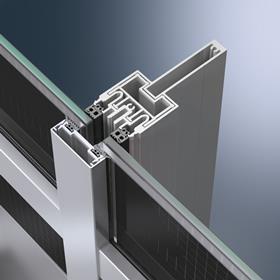 Pros: A huge range of products and colours can give any tired-looking building a completely new appearance; it can be used over uneven substrates; high levels of insulation can be added externally while exposed thermal mass can be retained internally.
Cons: Care is needed to assess that the existing structure can carry the additional cladding weight; careful design detailing of openings, penetrations, abutments and corners is essential.
Insulated render
Insulated render solutions are proprietary systems comprising slabs of rigid insulation fixed externally to a wall, which are then covered in a render layer to provide an aesthetic, weatherproof finish.
A rendered finish is a cost-effective way to update the appearance of buildings, although for a more traditional finish a brick-slip system or tile hanging could be used, while for those looking to enhance their green credentials there is even a lime render blended with hemp from ecological product supplier Ty-Mawr.
Insulated render is ideal for the refurbishment of poorly insulated masonry walls, particularly where the exterior is susceptible to damp because the insulation is applied to the outside of a building. And because it is attached to the outside, the insulation can be thicker compared with internal or cavity insulation solutions. Applying the insulation externally also ensures the thermal mass of the masonry's internal skin can be exposed to help moderate the building's internal temperature fluctuations.
However, because the render is applied to the insulation it is subject to greater temperature fluctuations than if it is applied directly on the masonry, so care needs to be taken with its specification.
Pros: Reduces need for major structural works; available with different properties including self-cleaning and water-repellent finishes; non-combustible insulation requires no cavity barriers, making installation quick and simple.
Cons: Light coloured finishes are generally recommended to minimise the effects of solar gain and thermal movement; for refurbishments, window and door sill and head drip details may need extending.
Metal-profiled over-clad systems
These are commonly used to clad industrial units where the existing lightweight metal cladding systems are retained and upgraded, with the addition of insulation and a new external covering to improve the thermal and visual aspects of the facade.
It is usually quicker and cheaper to over-clad than it is to strip and re-sheet and the occupants can remain in place throughout the works.
Depending on the type of cladding added, it may also be possible to upgrade the facade's fire performance. On the downside, the existing structure limits additional weight of cladding and insulation that can be added to a structure and if the roof remains untouched, existing rainwater systems will need to be modified to cope with the increased wall thickness.
Pros: The addition of a second skin can improve the acoustic performance of the envelope; high levels of insulation can be easily incorporated into cladding; quick and economical to install.
Cons: Care needs to be taken with the fixing system to minimise thermal bridges; the amount of cladding and insulation that can be added will be limited by the capacity of the existing structure.
Internal insulation
Internal insulation is commonly used to renovate existing solid-walled buildings, especially if they are in a conservation area where the addition of external insulation or rainscreen cladding to walls would be inappropriate.
"Internal wall insulation will be the solution to effectively increase a thermal performance for most solid wall properties where alterations to the exterior facade are not an option, due to planning laws and costs," says Craig O'Donnell, Knauf Insulation's business development manager. Using plasterboard laminated to a thermal insulation board is a common way of uprating the thermal insulation of walls. A vapour control layer is usually needed on the warm side of the insulation to prevent condensation occurring on the cold internal surface of the wall. The biggest downside of this solution is the loss of internal space.
Pros: The only economical way to upgrade existing solid walls in conservation areas; twin-layer linings with an internal cavity can be effective at preventing damp penetration.
Cons: The insulation can significantly reduce room sizes; sometimes it's difficult to get sufficient thickness to comply with regulations; air infiltration through cracks in the wall behind can significantly reduce insulation performance.
Case study: facade refurbishment of Whitebeck Court, a sixties derelict, 16-storey tower block in Manchester, using StoTherm Mineral external wall insulation
Mineral external wall insulation was applied onto the existing concrete-framed structure with infill brick and block using adhesive to bring the wall up to a U-value of 0.3W/m2K. The scheme, designed by West and Machell, also incorporates large areas of solar PV integrated into the rendered wall, to reduce its energy requirements. In this case, the external wall insulation was finished with StoLit render to give a smooth, white finish.