England's loss of its World Cup bid could be the UK construction industry's gain. Qatar and Russia have billions of dollars to build stadiums and infrastructure from scratch but, says Roxane McMeeken, it's us Brits that have the relevant talents and experience. So how easy will it be to win the work?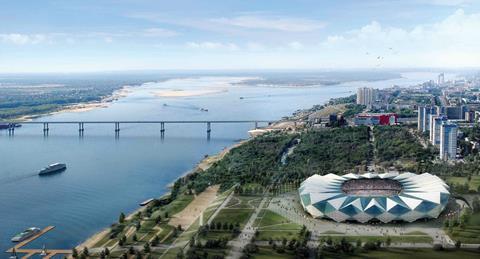 Volgograd Stadium On the Volga river, Volograd, Russia Capacity 45,015
There is no denying it, when England lost its World Cup bid, it hurt. Did alleged derogatory comments from the Russian team damage England's bid? Were some Fifa members' votes "buyable"? Perhaps we will never know. But as the thwarted England bid team continues to accuse Fifa of corruption, with the organisation's president Sepp Blatter branding them bad losers, it's easy to forget one thing: the awarding of the 2018 and 2022 football events to Russia and Qatar respectively is far better news for the UK construction industry than a win for England would have been.
This is because both countries must create masses of sports venues and infrastructure, whereas as England has most of what it would have needed anyway - or at least it will have after the 2012 Olympics.
So, to ease the pain of losing the bid, here's a rundown of the potential World Cup-related work in Russia and Qatar, how to win it and an assessment of how easy it will be to get involved. Plus, why you too should beware of invitations to grease palms. We kick off overleaf with Qatar, where the biggest opportunities lie.
Qatar 2022
Qatar's World Cup will create a veritable feast of opportunities because it is starting from scratch. Some estimates put the small country's construction spend for the next five years alone at $100bn (£63.4bn) - over nine 2012 Olympics.
Mike Barker, group practice director for buildings at Mott MacDonald, says: "It would have been fantastic if England had won the right to host a World Cup but, frankly, for British construction companies Qatar's win is the best possible outcome. Qatar is coming from a base which means they have to create virtually everything, whereas many other bidders had at least some of the facilities for the event."
Construction plans include nine spectacular stadiums and the extensive renovation of three existing stadiums, which will add up to about $3bn worth of work. Infrastructure works over the next five years will include $25bn worth of rail projects within Qatar to link internal host cities, as well as improving connections to Saudi Arabia and Bahrain. A further $20bn will be spent on roads, $11bn on a new airport and $5.5bn on a new port. While the stadiums are expected to take the usual three years (one to design and two to build), masterplanning should start next year, with infrastructure works soon to follow.
With London 2012 being recognised for its efficiency and its legacy plan, UK firms have an excellent chance of picking up work


Nick Merridew, Arup
A potential spanner in the works already, of course, is the debate over whether it will be too hot for athletes to compete in the Gulf in June and if the Games should be moved forward to January instead, shaving five months off the timeframe.
Opposition to the date change would mean firms need to find a way of cooling the venues, something some firms are already looking into. In November 2010 Arup Associates was asked to create a micro-climate inside a 500-seat test stadium. Qatar's stadiums will be both air-conditioned and zero carbon - a particularly mean feat to pull off if Fifa decides to hold the 2022 event in the usual summer months, when temperatures can reach the wrong side of 40°C.
Oh, and at least some of the stadiums will need to be modular, so Qatar can effectively flatpack them and donate them to other countries.
Qatar 2022 Stadia Map
Then there are accommodation and entertainment facilities. Arup estimates there will be three million visitors (including fans, media and players) to Qatar over the World Cup month. At present, Qatar sees a maximum of one million visitors over an entire year. Lee Simoes, Middle East managing director of consultant Blair Anderson, which has just opened an office in Qatar, says the country must increase its hotel rooms from the current 10,000-15,000 to 80,000-90,000. "That means Qatar needs to build about 25 hotels a year between now and the event," he says. Meanwhile, a slew of shopping, eating and leisure facilities will be needed to entertain the fans between the games.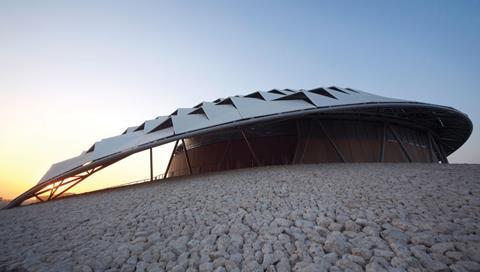 UK firms are well placed to grab a slice of the construction action. Nick Merridew, who leads Arup's sports business in the UK and Middle East, says: "With London 2012 being recognised for its efficiency and the strength of its legacy plan, UK firms have an excellent chance of picking up work around Qatar's World Cup." He adds that there is considerable stadium expertise in the UK that precedes the 2012 Olympics, thanks to projects like Arsenal FC's Emirates ground. Plus, British expertise and commitment to the region is proven.
Only last October the Queen received Qatar's emir at Windsor Castle, while big British firms such as Davis Langdon, Turner & Townsend and Arup are well established there.
That's not to say winning work will be easy: competition will be fierce. Merridew warns: "The US sees the Middle East as a key area of strategic importance, so they'll be targeting Qatar heavily. You only have to look at the international array of firms involved in building venues for the World Cups in South Africa and Brazil to see you'll be up against firms from many different countries." Among the powerful non-Brits already established in Qatar are Aecom, Australian architect Woods Bagot, German contractor Hochtief (which Spain's ACS is attempting to take over) and France's Vinci.
British contractors may find it particularly tough because, as ever in the Gulf, they'll be up against rivals from China, Turkey, the Middle East and North Africa, which have lower cost bases. However, their experience in specialist stadium techniques may give them an edge - and justification for charging more.
The good news is that British expertise has already been called upon, with Arup's prototype zero-carbon stadium and Foster + Partners designing the iconic Lusail stadium reserved for the opening match and final.
How it will all be procured is yet to be decided - Qatar is still currently in the process of forming its organising committee. Leon Higgins, director of building services at Mott MacDonald, says this body could appoint a single main contractor to programme manage everything or a use a series of procurement routes in the way the Olympics have been handled in London.
Tom Bower, WSP's managing director of the Middle East and India, says we should expect to see design-and-build contracts, which transfer more risk to contractors and are Qatar's norm. He also warns: "In Qatar, bidders usually have to pass technical criteria before being assessed on other factors, such as cost, and that's likely to continue for World Cup projects." This, he believes, will also play to the strengths of UK firms.
Russia 2018
Conjuring up work from Russia's World Cup will be more of a challenge - but not impossible. To start with, although Russia already has some of what it needs to host the event there is still a huge amount to do. Some 13 stadiums are to be built, while three more will be renovated, adding up to $9.6bn (£6.1bn) of work. Meanwhile, plans to improve transport between the 13 host cities will cost about $50bn. This will include 7,711km of roads and 2,024km of rail track - which is expected to cost about $35bn - as well a new airport in Moscow.
Now for the tricky part. Rumours of corruption - in some cases leading to UK construction firms exiting the market - have dogged preparations for the 2014 Winter Olympics in the Russian city of Sochi. These culminated in reports that a crime boss known as "The Carp", recently murdered in the Russian city, was linked to gangs that had been seeking a cut of Olympic projects. One construction consultant working for a well known British firm in Russia says: "Paying bribes is still common practice here, especially for contractors. We avoid it but then we are not particularly big here, and that's probably why. Foreign players coming into this market really need to think about their policies."
It's certainly worth avoiding paying backhanders now that the new UK Bribery Act means you'll be prosecuted under British law for corrupt activities abroad. The source recommends offering a niche service that clients will not be able to get from your competitors. "This may work for UK firms seeking World Cup-related work in Russia, for example if they specialise in iconic stadiums."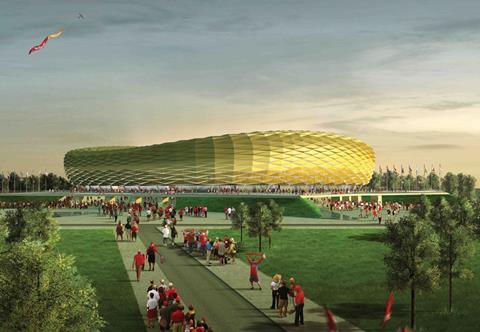 The unique challenges posed by Russia's harsh climate means engineering expertise will be needed too. Mott MacDonald's Barker says: "You get heavy snow in Russia, and roofs can collapse under the weight of snow - as we saw in December with the Metrodome stadium in Minnesota. Severe ice can also break the cables often used in modern stadium designs. In other areas, like Ekaterinberg and Rostov, you've got seismic problems, while high winds are another danger that must be accounted for. Cost consultants are not traditionally used in Russia, however, so there are unlikely to be opportunities for QSs."
If you do fancy a slice of the work associated with the Russian World Cup, again the procurement approach has yet to be confirmed but Burkhard Miehe, an associate at Arup, Russia, says: "Contracts tend to be bespoke and design is done in three phases". The stadiums are expected to take the standard three years to design and build. But Barker says that with Fifa's requirement for them to be tested six to nine months before the main event, work on the venues - beginning with masterplanning - will need to start next year, so now is the time to get involved.
Russia 2018 Stadia Map