Could having a property developer as US president be good for UK construction, or will Trump's protectionist approach spark trade wars and global recession? For now, the industry will just have to keep its nerve, writes Joey Gardiner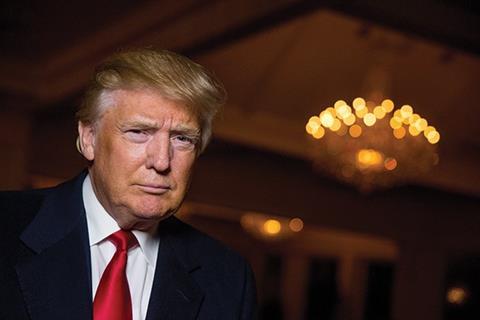 While the election of Donald Trump as the 45th president of the US may have shocked much of the UK public, in the US itself continued street protests demonstrate feelings that run even higher. Hanif Kara, founding director of engineer AKT II, was in Boston in the US shortly after the vote, where he has a visiting professorship. "At Harvard, they were offering students counselling last week. The educated class there is literally in grief," he said.
For many, it is easy to see why Trump's victory is such an unwelcome surprise. During his campaign, he targeted the votes of white working class Americans with what many saw as divisive smears against Mexicans and Muslims, while pledging to build a wall to keep out undesirables.
Economically, he has threatened to impose huge import tariffs on foreign firms working in the US in a bid to protect American jobs, while his proposed massive tax cuts will overwhelmingly help just the very wealthiest Americans. He believes climate change is a Chinese hoax, has spoken approvingly of the use of nuclear weapons and waterboarding, and has said he would "take out" the families of terrorists.
Is this a man who'll deliver on what he promised in the election battle? if so, we're in for a very, very volatile period

Steve Beechey, Wates
However, from the point of view of the development and construction world, Trump's election is a much more mixed prospect. A real estate developer by profession, he can be expected to have sympathy with an industry that provides the kind of skilled blue collar jobs his supporters crave.
The markets, too, reassured by a seemingly less confrontational Trump since the election, have not dived, betting his protectionist approach will not be realised while greedily eyeing up game-changing corporate tax cuts (potentially from 35% to 15%).
Most encouragingly, he used his election victory speech to underline his pledge to kickstart a $1tn infrastructure investment programme to upgrade the US's creaking transport and energy networks.
The opportunities for the US construction industry from his election are therefore obvious – hence shares in Balfour Beatty, the only UK contractor with a significant US presence, rose 10% on his election and have kept most of those gains.
So, while Kara's sentiment that "as a human being I'm really worried" may personally be shared by many in the UK, what does Trump's election mean – if anything – for the construction industry in the UK?
Building America great again
The focus of Trump's victory speech was his intended "rebuilding" of America, a $1tn programme referred to frequently in his campaign speeches. Trump said: "We are going to fix our inner cities and rebuild our highways, bridges, tunnels, airports, schools, hospitals. We're going to rebuild our infrastructure … and we will put millions of our people to work as we rebuild it."
We're seen as people who take care over the design of infrastructure. A lot of the regional work will be done by US firms, but the high end is a real opportunity

Hanif Kara, AKT II
Like much of his programme, however, there is little detail around what he proposes, and much scepticism whether he can deliver. Partly this is down to the fact that current president Barack Obama's attempts to use infrastructure spending as an economic stimulus have been opposed by a fiscally conservative congress which has been focused on reining in government spending, and came to the brink of shutting down the federal government in 2011 over the size of its budget deficit.
Graham Robinson, director of Global Construction Perspectives, says: "The numbers don't really work for the economy – the majority of infrastructure in the US is state funded and the US can't really afford the level of investment he's talking about" – particularly if he also rolls out his promised deep tax cuts.
Hence the idea, in so far as it is understood, is to use government money – around $140bn – to leverage private sector investment, something that is a more novel idea in the US than the UK.
An analysis of Trump's plans published in October by two of his key advisers, Wilbur Ross and Peter Navarro, suggests a financing model whereby the government supports private funders' equity stake in infrastructure projects with a generous tax credit – a subsidy that it suggests will be offset by the additional income and corporate taxes from the people and contractors working on the project, making it revenue neutral. This model of private finance for public infrastructure, if used, therefore increases the chances of the plan getting congressional approval – while also providing a vital opportunity for UK firms to get in on the game due to the UK's long experience of PPP.
Protective stance
This is key because, outside the headquarters of Balfour Beatty, there is likely to otherwise be little hope UK contractors, few of which do any work at all in the US, would stand a chance of benefiting.
AKTII's Kara says: "[The industry] won't get in on any of the infrastructure construction work."
This is partly because of the maturity of existing US construction firms, and partly because of the way the US market has always been structured. It is already reasonably protectionist and with Trump's "America first" rhetoric, it is reasonable to assume the US will take an even more protective stance toward ensuring as many jobs as possible go to its home-grown firms.
"Yes, there will be a protectionist agenda," agrees GCP's Robinson. "You can't just pitch up and start a business."
This is a great opportunity to showcase the UK's quality and innovation developed in programmes like Thames Tideway and the Olympics

Paul Dyson, Hill International
He nevertheless maintains there will an opportunity for UK specialist expertise. "In the detail of it, how is he is going to deliver if not with overseas firms?" While contractors may see little benefit, Kara says the big opportunity is for engineering and architectural design firms. "In design, we will gain a lot. The skills from this part of the world are very appreciated over there. We're seen as people who take care over the design of infrastructure. A lot of the regional work will be done by US firms, but the high end is a real opportunity."
Paul Dyson, head of programme advisory at US-based consultant Hill International, adds: "This is a great opportunity to showcase the UK's quality and innovation developed in programmes like Thames Tideway and the Olympics."
A decision to use PPP funding methods, therefore, only increases the attractiveness of UK businesses. Former Infrastructure UK boss James Stewart, now KPMG's global head of infrastructure, says: "The more private money the better for the UK. It's possible the US could emerge from this as a much bigger market."
There are also hopes, following Trump's pro-Brexit rhetoric during the campaign, which included a pledge to work quickly to conclude a trade deal with the UK, that the Trump presidency could even provide a renaissance in the much vaunted "special relationship" between the US and the UK. As Kara says: "This could be positive if we become Trump's 'special Europeans'."
Many, however, are sceptical that all or any of these benefits will actually accrue. Steve Beechey, group strategy director at Wates, says: "Under Obama's presidency we've had no real special relationship at all. If it was defrosted, it would have all sorts of positive benefits to the UK. But after Brexit we're on the back foot – we're out looking for trade deals and we're not a beach head into the EU any more."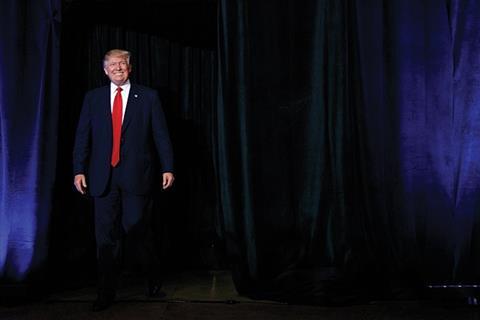 Questions over trade wars
If the infrastructure programme goes ahead, it will be unlikely to gather steam until 2018 at the earliest, a US director at consultant Gleeds told Building last week. Even if it then does provide a boost to UK firms, in the short term much more important could be the impact of Trump's election on global economic confidence.
Trump's pledges to slap high import tariffs on goods from countries such as Mexico and China, as well as pledges to renegotiate or withdraw from a series of free trade agreements, have sparked fears trade wars could plunge the world into global recession. Mark Essex, director of public policy at KPMG, said earlier this month that: "If he follows through on his rhetoric … the cumulative effect for the global economy could well be recession and trade wars."
In the detail of it, how is he is going to deliver if not with overseas firms?

Graham Robinson, Global Construction Perspectives
Whether this happens depends to a large extent which Donald Trump turns up at the Oval Office on 20 January next year. Wates' Beechey says: "Is this a man who'll deliver on what he promised in the election battle? If so, we're in for a very, very volatile period." However, Construction Products Association economics director Noble Francis says: "There's a clear distinction between what he said in the campaign and what expectations are that he'll actually do." Likewise, Robinson says: "I don't think we're going to really see trade tariffs of 35-40% because of the risk of sparking massive US inflation."
The problem for the construction industry is that, given the degree to which development decisions depend upon market confidence, it won't necessarily need an actual global downturn to hit construction output – just the fear of one. Beechey says that, while Trump's election won't on its own cause developers to halt schemes in the way Brexit has, it will increase risks in an already economically uncertain situation. "They will be looking at their risk matrices as this is the sort of thing that will affect confidence. If developers aren't confident, then they won't invest – but it's so early, we don't have any evidence yet of how they're reacting."
Kara, likewise, believes that "some projects will probably fall" because of nerves over the global economy sparked by Trump's victory.
The CPA's Francis says this risk to global confidence is exacerbated by the sense that, following Brexit, the political turmoil in the US is part of a wider trend in western nations that could see more nasty surprises in European elections next year, where support for far-right parties is growing.
"The key question is around uncertainty," he says. "Where uncertainty has its biggest impact is in people making big up-front investments in capital projects that are dependent upon a long-term return – such as commercial office towers."
Certainly, the election of Trump heralds an uncertain and worrying period across all of public life – politics, society and the economy. But Francis, who leads the creation of the CPA's construction industry forecasts, isn't so far anticipating changing his outlook a jot. "Any changes we make are much more likely to be down to what comes out of the Autumn Statement. We won't be altering things because of Trump's rhetoric – which is still just rhetoric for the moment."
So while Trump's election may be a cataclysm for liberal America, it'll be a while before it's clear if it's a cause for despair in the UK construction industry too.
In the wake of Brexit
Trump's victory comes after a hugely volatile few months since Britain voted to leave the EU in June, which has seen the construction market hold relatively steady, despite a rash of commercial jobs being put on hold.
This month's decision by high court judges to give parliament a say in the triggering of article 50 has the potential to delay the process and influence the terms of departure, although MPs have been clear they will not ultimately seek to block Britain leaving the EU.
Noble Francis, economics director at the CPA, says the scale of regulatory and legal issues to resolve mean that, even if article 50 is triggered in the first half of next year as planned, it is likely to take five years from then to actually leave, with an extension to the two-year time frame likely to be agreed.
Francis says the drop in the pound since the referendum is already forcing a big increase in the cost of the about 20% of construction materials sourced from outside the UK. Products particularly affected include timber, lighting and heating and ventilation systems. Who bears the cost of this exchange rate change will depend upon the contracts negotiated by clients, contractors and specialists.