Whether you're taking a tour of retirement homes, avoiding loud noises, or dodging rain at the Serpentine pavilion and the site of Manchester's new arts venue, it could be worse. You could be completing a brand perception survey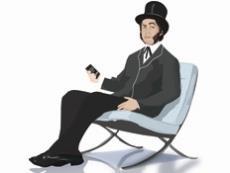 VIP passes
Ping! How delightful - another email from a PR. This one informs me of the exciting news that a delegation of housing professionals from Hong Kong was in Nottinghamshire recently for "a VIP tour of a retirement living scheme for the over-55s in Beeston". I don't know about you but I'm struggling to find the VIP bit in all of that. Maybe the tourist trail has changed since my time …
Sound the alarm
Car crashes, knife-wielding maniacs, inappropriate architecture that doesn't respond to local character … These are some of the unfortunate hazards we might have to endure in our town centres today. We can now add another menace to that list: noise. According to researchers at Nottingham Trent University, the increased noise from town centre hustle and bustle could trigger heart attacks. "I have seen first-hand the impact of noise pollution and this study reinforces the need to implement noise mitigation strategies," says a chap from a firm which specialises in "noise reduction solutions". Just to amplify his point, the PR blurb from his firm announcing how we can all avoid heart attacks while popping out for a paper and loaf of bread is headed, "Town centre noise could kill you". Perhaps it's time to move to the country.
Safe as houses
Is the housing market strong and stable? Before the election, with a 100+ majority forecast for Theresa May, many homeowners thought so – remortgage transactions increased by 8% from April to May, with borrowers "encouraged by the prospect of a period of certainty and economic stability", according to conveyancing service provider LMS. "Remortgagers were so confident [… ] over half said they expected low rates to remain in place for at least the next year," said Andy Knee, LMS chief executive. We can assume these same remortgagers are now hoping the housing market doesn't turn weak and wobbly.
Please to e-meet you
One of my hacks was recently asked to give his opinion of an architect firm - brand perception, I think they call it. Included in the trawl of views required for the exercise were recruitment agents, clients and staff. My reporter tells me that he won't be contributing after he stopped reading at the first sentence, which began: "Let me e-introduce myself."
Raise the roofs
It's summer party season at the Serpentine and Francis Kéré's new West African-inspired pavilion is the setting for this year's champagne-fuelled junkets. One of my hacks got themselves along to Aecom's bash last week. Typically, it was the one day in the past few weeks where, in non-weatherman parlance, it absolutely hosed it down. As the rain came down, more and more leaks sprang up in the pavilion's elegant roof, keeping the hardy folk underneath in a constant search to find places where it wasn't wet. Maybe one year someone will manage to come up with a pavilion that can cope with the British weather, as last year's pavilion by Bjarke Ingels Group suffered similar issues.
You can keep your hat on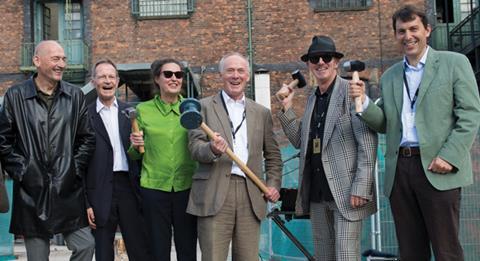 It always rains in Manchester, apparently, so you can't blame Tom Bloxham for wearing a hat at the groundbreaking ceremony of The Factory, the city's new cultural venue. The Urban Splash founder (pictured, second right) was joined by (left to right) architect and OMA-founder Rem Koolhaas, Sir Nicholas Serota, chair of Arts Council England, OMA partner Ellen van Loon, Manchester council leader Sir Richard Leese, and John Glen MP, parliamentary under secretary for the arts. The Factory - named after Tony Wilson's iconic Manchester record label and costing £110m to build - will offer dance, theatre, music, opera and visual arts, as well as respite from Manchester's downpours and leaden skies. But sunglasses, Tom? Really?