This week, I examine a sky forest in Vietnam, a German charity takes the moral high ground with a friendly gesture, nimbys' expectations are out of line with their beliefs and the MoA has a delicious idea
A taste of the city
Have you ever walked past a building and thought: "That looks good enough to eat"? Well, now you really can take a bite. The Museum of Architecture (MoA) in London is hosting its annual Gingerbread City charity event next month, bringing together architects, planners and designers to create buildings and streetscapes made out of the stuff. Last year's bash saw firms including Foster + Partners taking the biscuit with their creativity. Children will have the chance create their very own townhouse or skyscraper out of gingerbread to take home, as part of a linked family event. Head to the MoA from 6 to 22 December to get a slice of the action.
Every little helps
One of my hacks was in the City recently, helping consultant WYG celebrate moving into its new home. The firm is now billeted in the 25-storey Angel Court, a 1970s building reopened this year after a makeover by Mace and architect Fletcher Priest. Departing guests were offered chocolates in exchange for the return of name badges – my hack not needing a seond invite to take up the offer. But why was it so important that the little pieces of paper in plastic wallets were returned? Perhaps it's a cost-saving measure, given that the firm is set to announce "significantly lower" operating profits at next month's interims. Look after the pennies and the pounds will look after themselves, I suppose.
No relations in our backyards
In the latest instance of "You couldn't make it up", half of 2,000 nimbys polled by the Federation of Master Builders were frustrated that their children, grandchildren or great-grandchildren couldn't buy a property nearby, despite the fact they have probably made it pretty clear they don't want any new developments being built within miles of them. Just one question: who on earth confessed to being a nimby – not the most flattering term, after all – and made themselves eligible for this survey?
Building bridges
I've been interested to read some of the comments about why a Germany-based, not-for-profit organisation decided to pump €1m (£890,000) into English Heritage's project to refurbish the grade-I listed Iron Bridge in Shropshire. The Hermann Reemtsma Foundation usually promotes cultural and social projects in northern Germany. The 18th-century bridge was not only an outstanding landmark, the group's Jochen Muennich said, but "a potent reminder of our continent's common cultural roots and values". As the mood between the UK government and the EU sours, it's gratifying to see that some across the Channel hold this country's engineering achievements in high regard. Gawd bless you, sir!
Straight from the small screen
Fans of the BBC's self-deprecating mockumentary W1A will be familiar with nonsensical phrases being repeated so quickly that they lose all meaning. One quote that encapsulates this is uttered by several characters describing cost-cutting programme More of Less: "The fact is this is about identifying what we do best and finding more ways of doing less of it better." So it tickled our reporter when, during the opening keynote of last week's Autodesk University conference in Las Vegas, the words More, Better and Less appeared across mile-wide screens. Autodesk chief executive Andrew Anagnost wanted to convey that the future of automation is about doing more of what they do well, better, and with less resource, with the remaining resource put to use elsewhere. Has he been reading the W1A scripts?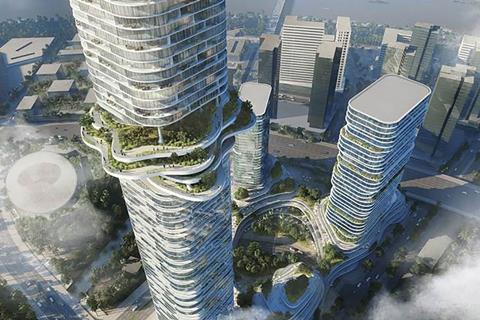 Green-sky thinking
Former OMA whizz Ole Scheeren, the German architect behind Beijing's CCTV headquarters building, is also behind a set of towers in Ho Chi Minh City – formerly Saigon – in Vietnam. The tallest tower will be 333m high and will include not just any old sky garden, but a so-called sky forest, two-thirds of the way up. Predictably, the mere mention of something like a sky forest is the cue for all sorts of PR guff about "sculpting a symbiotic vision of nature and living". Why do they bother? We can all see it's a tall tower with some greenery on it, as Mrs Hansom astutely observed.
Send any juicy industry gossip to hansom@ubm.com