This week a six-year-old applies for a job at Legoland, people at Berkeley cash in a chunk of shares, things get ugly at Nova Victoria, we trip over some PR jargon while fresh plot twists appear in Bicester
Child's play at Legoland
When Legoland advertised for a model builder to work at its park in Windsor, it banked on generating interest from established model-makers and designers. It didn't bargain on getting an application from a six-year-old boy. In a hand-written letter, Stanley Bolland of Waterlooville in Hampshire, wrote to the firm, claiming to be the best man for the job, saying he had a box of the stuff (which he hid from his brother) and emphasising he had lots of experience with the material. While Stanley didn't get the gig, he did get invited into Legoland for a day to shadow one of the park's technicians, who showed him the ol' model-building ropes. Actually, why shouldn't a youngster have that sort of design and functionality insight? Just look at how far the talented nine-year-old friends Guy and Abraham got in Channel 4's Lego Masters hit TV show last week – I'm sure that'll inspire many more to get creative with the miniature toy bricks.
Nice little windfall
To be filed in the drawer marked "Nice Work If You Can Get It", Berkeley executive chairman Tony Pidgley grossed a whopping £26.8m after selling 750,000 shares in the business last week. The housebuilder turned over £812.4m in 2016/17, up 53% year-on-year, and with the aim being for that figure to rise to £1bn by 2021, board members felt they were worth being on the receiving end of long-term bonuses worth £92m. While Pidgley was banking enough money to buy several yachts or whatever it is rich types spend their money on these days, Vanessa Perrins, the wife of Berkeley's chief executive Rob Perrins, sold 500,000 shares, raising, as City analyst Kevin Cammack put it, "£17.8m for the family rainy-day fund".
From 'star project' to booby prize
I'm not afraid to poke a little fun at my hacks when the occasion arises. Last week I read that a scheme called Nova Victoria had won this year's Carbuncle Cup – the booby prize given to the ugliest building completed in the last 12 months and run by Building's sister title BD. I personally thought that the thing at Battersea should have won. Anyway, I was having a look to see if my colleagues at Building had written anything about Nova Victoria and it turns out we had. "A giant £2.2bn development combining residential and commercial, Nova Victoria was always going to be a star project," we mused two years ago …
Well, e-llo!
One of my hacks received a press release last week that made his heart sink. He wasn't sure what it was about because he stopped reading when the breathless flack in the second line opined: "Great to digitally meet you." Heavens above, I thought when he told me, I'll have to see if anyone else is as appalled to read this as I am. So I asked a younger colleague what she thought. "Cringe," she replied. Whatever that means.
Fresh plot twist
Readers will doubtless be familiar with the pressures facing wannabe home buyers and high streets across the UK, so news that the country's first-ever "Plot Shop" opened last week in the centre of Bicester, Oxfordshire, will come as some considerable relief. Unveiled by housing and planning minister Alok Sharma and located on the town's high street, the outlet will sell plots of land on the Graven Hill site, situated on its outskirts. Buyers can build their own homes from scratch or to a customised design, and the development will eventually have up to 1,900 self- and custom-built homes. Clearly enthused by the project, Sharma said: "The journey to building your own home can now start on the high street." Indeed. It certainly makes a change from getting your toiletries in the local Poundland …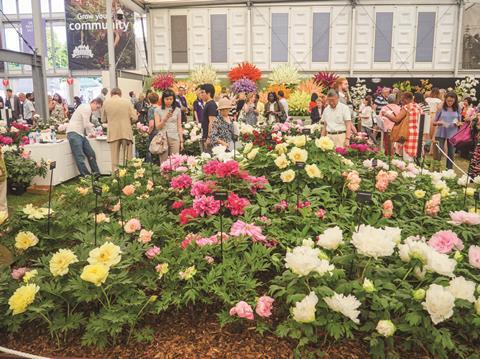 Prize gardens
Nice to see that garden designs put forward by two school pupils in Scotland will become a reality thanks to David Wilson Homes. The housebuilder recently launched a competition with a pair of schools to design gardens at two of its show homes. Alexander Glass, of St Columba's school in Kilmacolm, and Archie Hopley, of Kilbarchan
Primary school, were chosen by the panel of judges for their bee- and bird-friendly garden designs.
The designs will now be brought to life by the firm at its Weirs Wynd development in Brookfield. Will, I wonder, the two As end up at the Chelsea Flower Show in a few years' time?
Send any juicy industry gossip to hansom@ubm.com