Some of the biggest names in construction have called time in recent weeks, but the founder and chief executive of Morgan Sindall is not one of them. In fact, he tells Dave Rogers, business is booming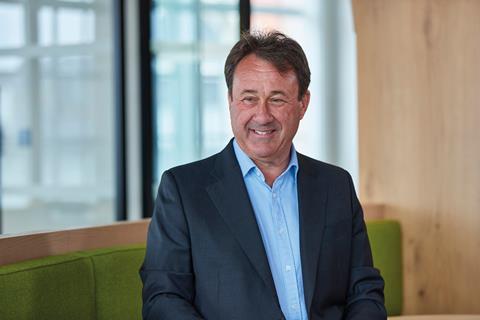 "Cash is king," goes the phrase and never more so than at Morgan Sindall, the contractor which this year has recorded the unprecedented feat – for a listed builder, anyway – of upgrading its predicted annual profit four times. This is an industry, remember, where, the opposite usually happens.
"We're going to have a record year by a country mile," concedes its chief executive, John Morgan, the man who helped to set up the company, originally as a fit-out firm, in 1977 with Jack Lovell. Morgan, who turns 66 on New Year's Eve, does not go in for big statements – it's not his style – so what he is saying is quite some admission.
The firm's previous best performance was the near £89m pre-tax profit it posted in 2019, but this year analysts are expecting the figure to be around the £127m mark. It last slipped into the red in 2015 – the result of two problem contracts it inherited when it bought Amec's construction and regeneration business in 2007 – and has not racked up an exceptional item since, of which Morgan is equally proud.
John Morgan CV
1974-77 Studies for a BSc in estate management at the University of Reading
1977 Co-founds Morgan Lovell with Jack Lovell using £1,000 of joint savings. The firm was originally based in Golden Square, Soho
1985 Acquires Overbury, a fit-out contractor in business since 1942
1990-94 Studies for a master of business administration qualification at the Open University
1994 Morgan Lovell enters into a reverse takeover of William Sindall plc and secures listing on the London Stock Exchange. Becomes chief executive
1998 Morgan Sindall buys Lovell Partnerships for £15m. Becomes chairman in 2003
2007 Morgan Sindall buys construction arm of Amec
2010 Morgan Sindall buys repairs division of Connaught
2012 Returns as chief executive
"We're not the people who want to go out and do the trophy jobs, necessarily," Morgan says from the firm's head office in central London. "We're a bit cautious, a bit careful. We do small jobs." The firm's typical contract size is £6.5m.
As befits the chief executive's description of the firm, its headquarters just off Oxford Street in central London are functional rather than showy, although there are stylish touches courtesy of its fit-out business. He works there at a desk in the middle of an open-plan office alongside a handful of others. The whole space takes up half a floor.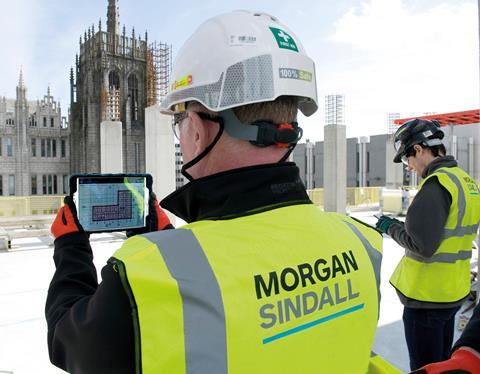 It must be one of construction's smallest head offices, certainly not the grandiose brass plate address normally found for a FSTE 250 listed company. "We are so decentralised," he says. "We are very simple as a business; we don't go in for big meetings.
"The office here is pretty straightforward. If you run a site at Morgan Sindall, you have more powers. My job is to make sure I've got some great people in making decisions. It's as simple as that."
This niftiness helped last spring when the covid-19 pandemic briefly threatened to bring Armageddon to construction and saw site after site shut down. Listening to the prime minister's announcement about the first lockdown that Monday evening in March 2020, Morgan quickly realised that construction was not being told to shut its doors.
>>See our 2021 rankings of the top 150 contractors and housebuilders

"A lot of people were waiting for head offices to give a little memo telling them what to do. We didn't do that. We were like a load of speedboats as opposed to an oil tanker. We finished off our jobs, on the whole, on time."
The pandemic reduced Morgan Sindall's bottom line last year, but the firm remained healthily in the black with a pre-tax profit of £61m. It made this after returning the £9.5m in furlough money that it had received from the government's coronavirus job retention scheme. "As soon as we realised we didn't need it, we paid it straight back," Morgan says.
People don't just come to work to make money. They want to work for the right company that does the right things

John Morgan
The firm was the first to announce that it would do so, and Morgan adds: "It's amazing how many people didn't, people who didn't need it. For us paying dividends out on a handout from the government was just morally wrong. All our shareholders backed us on it."
It was important to be doing the right thing for the firm's 6,000-plus staff as well, he adds. "I got such good feedback from our staff. They really thought [paying furlough money back] was the right thing to do.
"People don't just come to work to earn money. They want to work for the right company that does the right things. Younger people are very different to people my age. The way we dealt with people and the way we looked after people [during the pandemic], I knew was going to be important."
The power of cash
For Morgan, the most important thing a company can have is a good balance sheet. "It allows you to take long-term decisions rather than a whole load of short-term ones. It is absolutely fundamental.
"Cash enables you to make the right long-term decisions. It is so important to say, 'We don't need that job.' So important."
In a trading update last month, the firm said that its average daily net cash position this year would be £290m. Morgan sees the cash figure every day, which allows him to act quickly on early warning signs when cash becomes squeezed. "If a client is slowing down on payments, it's usually because he's unhappy or there's an issue of some sort. I get involved if it's bad."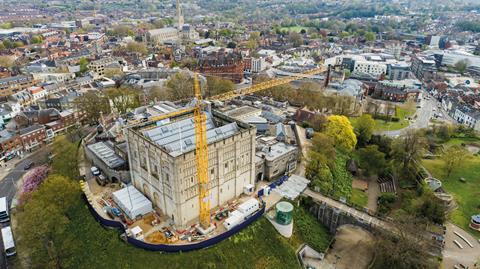 There are other advantages to having a good balance sheet. "We're good payers, and that makes a big, big difference." It takes an average of 27 days for the firm to pay its suppliers, and just 9% of invoices are not paid within agreed terms.
For Morgan, paying suppliers on time is simple. "If you've got a shortage of something [like labour], why don't you give it to somebody who's going to pay you quicker? For me, our supply chain is just as important as a customer."
Every year the firm has a supplier day when 1,500 firms turn up to meet each other and other parts of the Morgan Sindall business. This year's took place at the Silverstone race-track in Northamptonshire at the end of September. "That's a big day for me, probably my most important day of the year," Morgan says.
People said the office was dead. It's not. It's changing, and covid has accelerated the existing trends rather than changed them

John Morgan
"We want our suppliers to be strong. We need the best, not just the cheapest. We need them to give us their best resources and priority."
When the pandemic first struck, he remembers: "I got the top team together and said, 'Right, we're in a strong position; people will remember us afterwards for how we dealt with them during these tough times.' People have long memories."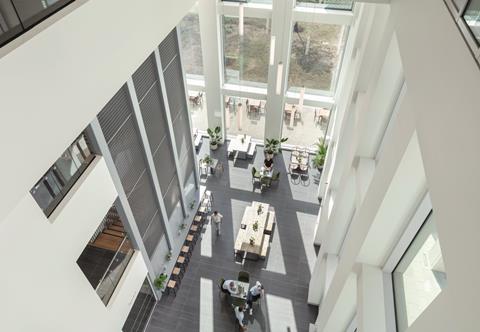 Morgan says the headwinds seen this year – notably those on the availability of labour and materials – will spill into next year too. "Inflation is the issue," he says.
"You might win a job on a two-stage tender and then, nine months later, it's 20% more. Luckily, clients are not surprised because they're reading about inflation everywhere. But it either means decisions are delayed, a job could be cancelled or funding has to come from a different source."
These issues have not stopped the firm from upgrading its profit for 2022, but Morgan expects some of the froth of the market to blow away. "This has been a boom period. Everybody is busy; it's a bit of a post-pandemic catch-up. You don't know what next year is going to be like. I think the market could tighten up a little bit."
One sector that had been expected to slow down significantly in the wake of lockdowns and working-from-home orders was Morgan Sindall's fit-out business. In fact, the opposite has happened. At the end of September, fit-out had an order book of £944m – a record – and a rise of 130% from the end of last year.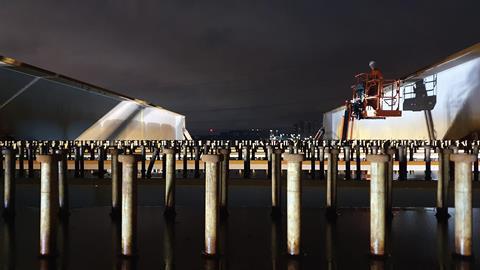 "Fit-out is not as big a surprise to me as it is to other people. People said the office was dead. It's not. It's changing, and covid has accelerated the existing trends rather than changed them."
For the future, Morgan thinks that the bigger firms will get bigger organically – rather than by taking other companies over. "Acquisitions are very difficult," he says. He also says that the firm's days of doing joint ventures with others are numbered. "A JV hasn't got your culture; you haven't got complete control."
For Morgan that is key: the ability to turn down jobs and to say no to unnecessary risk. "You can be very arrogant and think we've got the skills to do [a particular job] and the skills available to do it. In some areas now, we've got plenty of work and we're saying we're not going to take any more on, otherwise the quality of what we'll deliver will suffer."
The past few weeks have seen announcements that two of the industry's best-known figures are calling time. Former boss Steve Pycroft leaves Mace in the next few days, and Ray O'Rourke is giving up the chief executive's role at Laing O'Rourke at the end of next summer.
Morgan has a lower profile than both, but his association with Morgan Sindall is just as important as that of Pycroft and O'Rourke with their firms. Between them, all three have been in the industry close to 130 years.
"I'll have to retire at some stage," Morgan replies when asked about it. "Don't expect me to go any time soon – unless the board think it's the right thing for the business. But we haven't had that sort of discussion."
With a year like the one Morgan Sindall has just had, it's not hard to see why.