Second public enquiry into Henderson's scheme set to open as rival developer Cathedral Group submits 11th hour alternative plan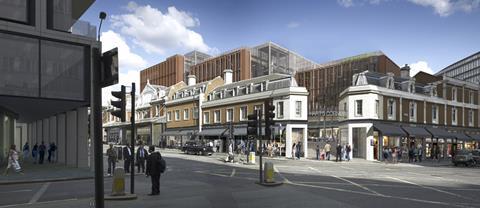 A cast of architects and architectural historians is lining up on opposing sides over John McAslan's Smithfield redevelopment plans on the eve of the second public inquiry into the historic market.
A three-week inquiry opens tomorrow at the City of London Guildhall, with John McAslan himself the first person due to give evidence, on behalf of his client, developer Henderson Global Investors.
Meanwhile, today it emerged that rival developer Cathedral Group made an 11th-hour request on Friday night – after the deadline had passed – to submit detailed evidence backing the preservationists' case that there is a viable alternative.
Martyn Evans, Cathedral's creative director, told Building's sister title Building design that they had been working for several weeks on an appraisal of the viability of retaining the buildings, as envisaged in proposals drawn up by Save Britain's Heritage, architect Burrell Foley Fischer and market entrepreneur Eric Reynolds.
"We are hopeful the inspector will allow our evidence," said Evans. "We feel it's right that it's heard. This is not a spat between property developers, but an important issue about London's heritage. That place is amazing and it needs to be carefully thought about."
He insisted he had "enormous respect" for John McAslan and argued the brief was wrong not the architect.
Henderson accused Save of a "blatant breach" of procedure and vowed to "vigorously" oppose Cathedral's attempt to speak at the inquiry, for which a detailed timetable has already been published.
At the enquiry this week, McAslan will be followed by Peter Rees, planning officer for the City of London, which owns the market in Farringdon, and Nigel Barker, English Heritage's London planning and conservation director.
Among those giving evidence for the other side are Chris Costelloe, director of the Victorian Society, engineer Alan Baxter, heritage consultant Philip Davies and John Burrell of Burrell Foley Fischer Architects.
He submitted an alternative planning application with Save Britain's Heritage and market entrepreneur Eric Reynolds in a bid to disprove Henderson's argument that the McAslan scheme was the only viable option for the crumbling buildings.
A number of other architects and academics have lodged letters of support and objection.
David Warrender, a director at Foggo Associates whose offices face the northern side of the market, described the McAslan design as an "excellent, understated and elegant scheme of considerable subtlety, by a distinguished architect with a proven track record of producing high-quality successful commercial architecture and public realm".
The retention of the perimeter buildings, designed by Horace Jones*, would retain the character of the area while increased accessibility through the site would revitalise the public realm, he said.
But Tom Holbrook, a director of 5th Studio whose London office is half a mile from Smithfield, warned the City's planning committee had a "fragile and neglected piece of the city in their hands, faced by an asymmetrically powerful opponent".
He wrote: "It is for precisely this situation that the protective mechanisms of conservation were established, together with planning rules that attempt to rebalance and protect valuable urban fabric."
He said it was "astonishing" that the City could countenance replacing the historic buildings with "bland and homogenous offices and clonetown retailing" after the "lessons" of Covent Garden and Les Halles in Paris and the success of Borough and Camden markets.
Tim Knox, director of Cambridge's Fitzwilliam Museum, who lives in east London, also wrote to object, alleging that the site had been "deliberately neglected" for 30 years.
Knox, an architectural historian and former director the Soane Museum, said the "poor-quality and destructive" scheme would "gravely damage and in part destroy a great Victorian London landmark".
The market was the subject of previous redevelopment plans that were thrown out at a public inquiry in 2008.